Anne Heche Dead at 53
Actor Anne Heche Dies at 53 After Car Crash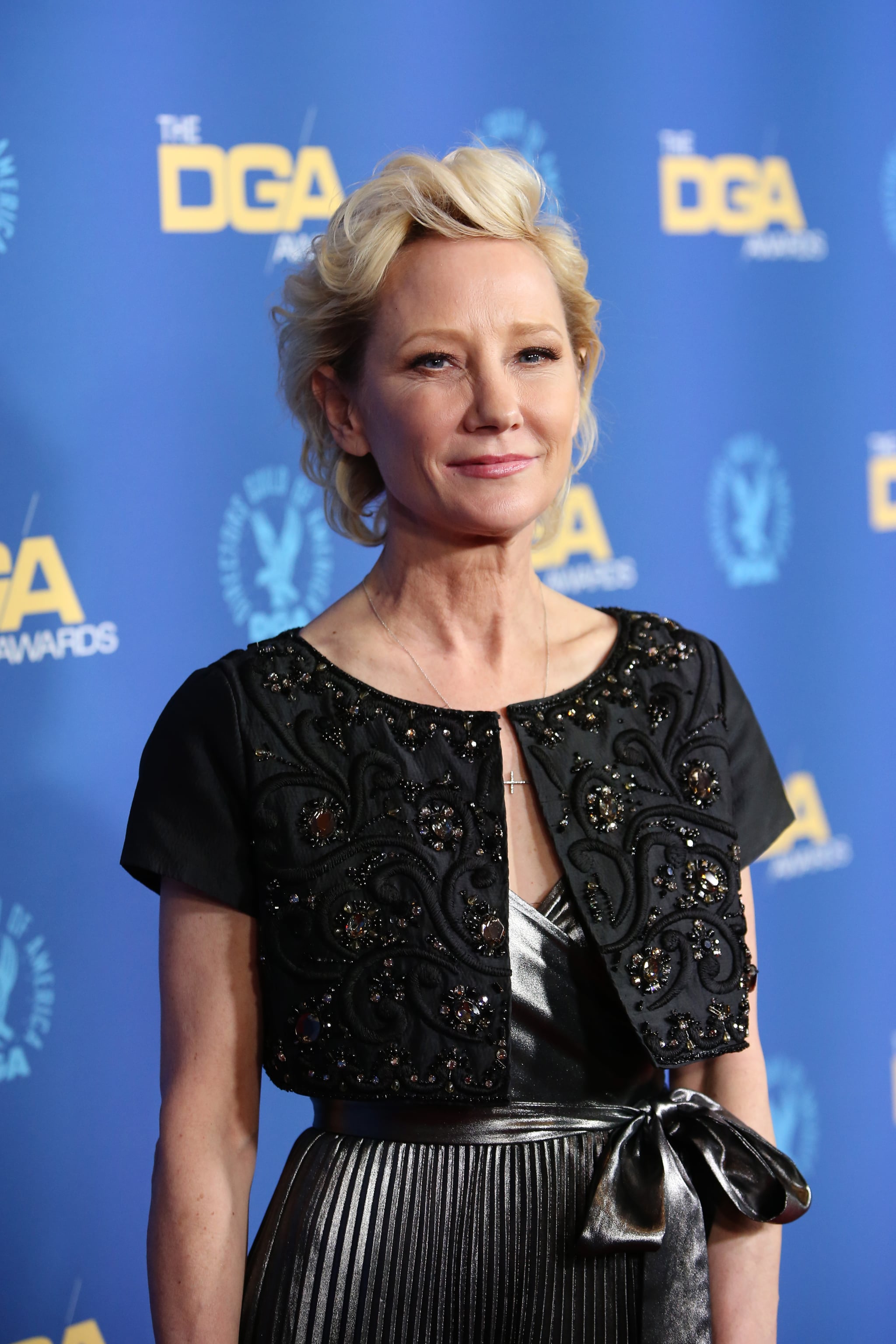 Anne Heche, known for movies like "Six Days Seven Nights" and HBO series "Hung," has died at age 53 following a car crash in Los Angeles on Aug. 5, People confirmed. While a rep for Heche did not immediately respond to POPSUGAR's request for comment, People shared a statement from Heche's rep on behalf of her family and friends: "Today we lost a bright light, a kind and most joyful soul, a loving mother, and a loyal friend. Anne will be deeply missed but she lives on through her beautiful sons, her iconic body of work, and her passionate advocacy. Her bravery for always standing in her truth, spreading her message of love and acceptance, will continue to have a lasting impact."
The rep also confirmed that while the actor is legally dead according to California law, "her heart is still beating and she has not been taken off life support in order to allow OneLegacy Foundation enough time to find recipients who will be a match," People wrote.
Heche suffered a severe anoxic brain injury in the accident, as previously reported by People, and was in a coma leading up to her death. On Aug. 11, Heche's rep said that the actor was not expected to survive and was being kept on life support to determine her eligibility for organ donation.
Heche crashed her car into a residential home in Los Angeles's Mar Vista neighborhood on Aug. 5. Her car caught fire, the LAPD confirmed in a press release. In an Aug. 11 statement, the LAPD said that a blood sample collected from Heche is still pending final toxicology results and additional evidence in the investigation into the crash. A spokesperson for the LAPD told the Los Angeles Times that an initial blood test showed the presence of narcotics but could still be invalidated following a second test.
The actor had been outspoken about her personal struggles and released a memoir in 2001 titled "Call Me Crazy," getting candid about a tumultuous childhood filled with abuse that created long-lasting psychological trauma. While promoting the book, Heche said during a "Larry King Live" appearance that she wanted to tell her mental health story "and get to a place where I could move on from the darkness in my life and find light and joy and peace and balance in the now."
Heche began her career on the soap "Another World," later going on to appear in projects like 1997's "I Know What You Did Last Summer" and "Wag the Dog." She led series "Men in Trees" and appeared alongside Thomas Jane in "Hung." Heche competed on "Dancing With the Stars" in 2020 and has a role in upcoming Sam Levinson HBO drama "The Idol."
The actor, who was famously in a relationship with Ellen DeGeneres from 1997 to 2000, was married to Coleman Laffoon, a cameraman, from 2001 to 2007, and the pair share a son. She dated "Men in Trees" costar James Tupper until 2018; they share a son as well.