Annie Gonzalez Shares Her Hopes For Lidia on Gentefied, Because We 100% Need a Third Season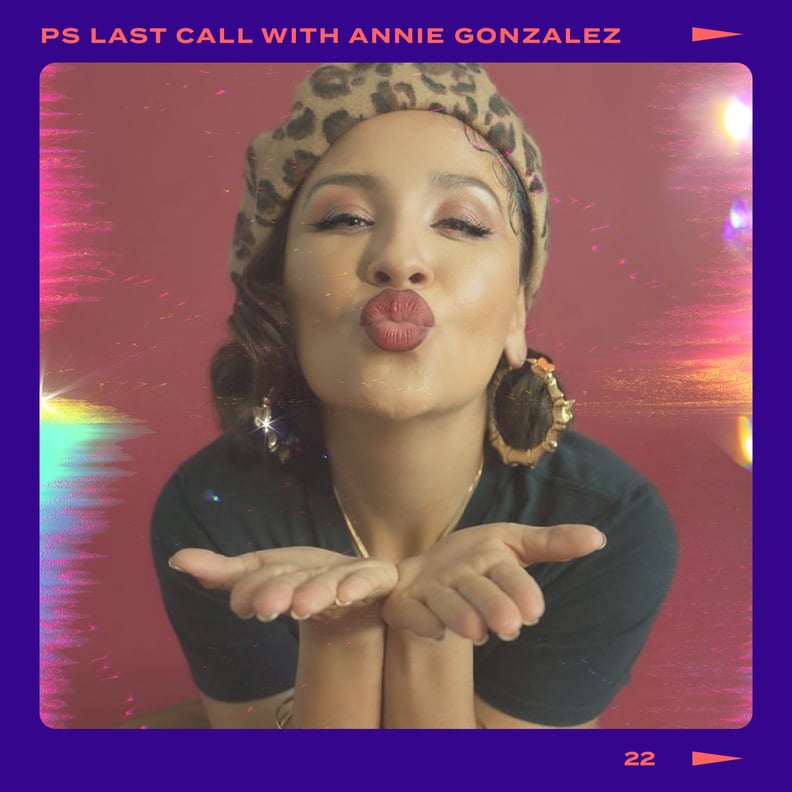 Courtesy of Annie Gonzalez
Courtesy of Annie Gonzalez
In our Q&A series Last Call, we get down to the bottom of every last thing with some of our favorite celebs — from the last time they were starstruck to the last song they listened to. This week, Annie Gonzalez takes our call.
Season two of Gentefied marked the beginning of a new chapter for Annie Gonzalez's character Lidia Solis. She became a mom, moved to Palo Alto, and started a new job at Stanford University. There were a lot of big changes in her life, but what Annie loved most about getting to play Lidia this season was getting to showcase her character's flaws. "I love that we get to see more of the human complexities surrounding her. I think in the first season, she has a lot of self-righteous boundaries because she has to," Annie told POPSUGAR. "But she's not just thinking about herself [anymore], she's thinking about her baby . . . I love that you really see her struggle with a lot of the foundation that she's built her life on kind of getting thrown off kilter."
"Cross-generationally, cross-culturally, it's so transcendent and just so brilliant."
The second season of the Netflix series is quite the emotional ride for Lidia and Erik [J.J. Soria]. They are still trying to figure out how to make their relationship work, all while raising a newborn, dealing with the family losing the taco shop, and supporting Pop [Joaquín Cosío] with his deportation case. "Throughout the whole season, everything that she has been going through feels like it's very parallel to my life and how I process emotions sometimes," Annie said. "I think her learning how to ask for help has been a tough one . . . Every piece of what every character in this series goes through, I feel like everyone is going to resonate with it. Cross-generationally, cross-culturally, it's so transcendent and just so brilliant."
Gentefied hasn't been picked up for a third season yet, but if it does, Annie would love to continue seeing more of Lidia's vulnerability. "I'd love to see her breakdown for real and not break down out of frustration," she explained. "I'd love to see her talk about her mom; I'd like to see what that [relationship] is. I'd love to see Erik go back to work and how she deals with that. All of these things that she's asking from him, I'd like to see that happen and see how she handles it. Because sometimes you want that and then it happens and you're like, 'Wait, but what about me?'"
As we wait for a season three confirmation, check out the rest of Annie's Last Call interview ahead.
What was the last day on the set of Gentefied season two like?
It was beautiful. It was really cold. The last thing that I shot was on the beach with Pop and he's telling Erik and Lidia, "I want the love that me and Mama Fina had for y'all." Which they have — they're just in their own way. So it was a lot of fun. I remember I was kind of going through some personal things that day, so I would find myself sitting on the beach, trying to be in the present moment, and having moments of a cathartic cry wanting to come up because it's like, "My dreams are coming true." It's surreal and so real at the same time.
What is the last thing you did with your Gentefied costars off set?
Honestly, we hang out so much. Like Carlos [Santos] came to my house the other day and I made him a little dessert. Julissa [Calderon] and I hang out frequently; we go on hikes. J.J. and I went out the other day. We're all actually friends. The last thing we did as a group was probably Julissa's taco night. Oh no, my birthday. I had a birthday party and everyone came.
Who is the last Gentefied costar you texted?
I actually texted the group chat. I sent them a picture of a screenshot of someone in my DMs saying that their college professor made it a part of their grade to download Netflix and watch Gentefied because they're teaching that in her college class.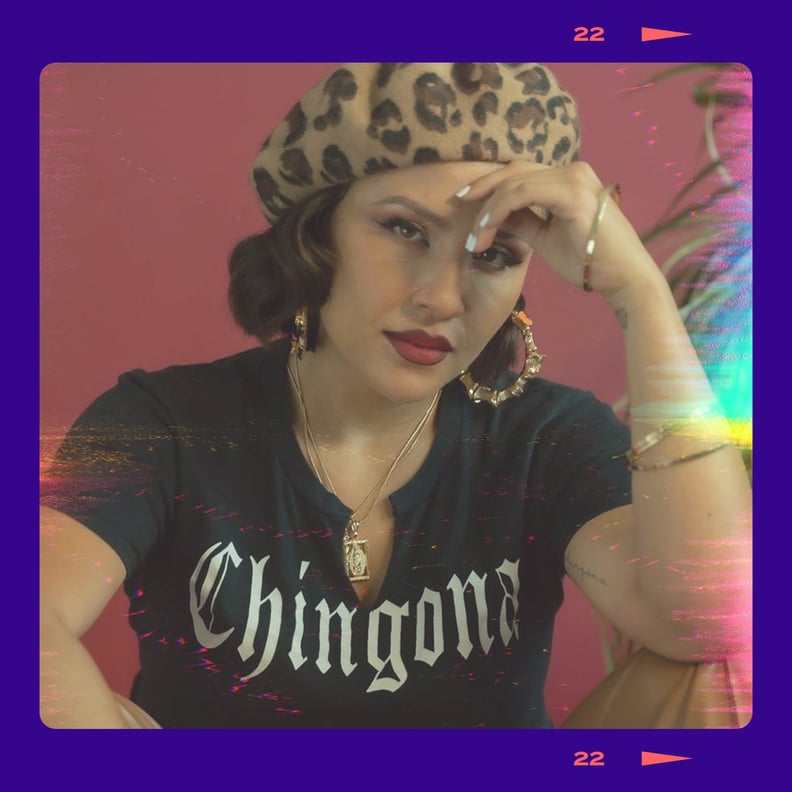 Besides your show, what is the last series you binge-watched?
I just recently finished watching the Rita Moreno documentary on Netflix and this series called Hunters. It's this mystical, fantasy story [that takes place] right after Hitler's regime. It talks about the people who left the camps, came to New York, and are hunting Nazis in the US Government. It's nuts.
What is the last song/album you listened to?
Ooh, Summer Walker's latest album [Still Over It]. Girl, I'm in my feels. I'm going through a moment right now and I was just like, "We'll get through it, girl. We're going to get through it."
What is the last book you read?
It's called Courage. It's about stoicism and these philosophies: wisdom, temperance justice, and virtue. It's an ancient philosophy that has been around for thousands of years and something that I'm really trying to formulate my life around these days.
What is the last thing you did for self-care?
I made no plans last weekend and I spent it completely by myself. I got a massage. I went to go get dinner and a drink by myself.
What is the last trip you went on?
Ooh, I went to St. Croix. It was a beautiful place . . . I got a really beautiful bracelet from there. It's called a Crucian Hook. Depending on how you wear it, it signifies to the community that you're taken or you're single.
When was the last time you were starstruck?
I got to meet Meagan Good recently, and I love her. I just wrapped a film this summer with DeVon Franklin and Eva Longoria as the executive producers, and DeVon is married to Meagan. I was so starstruck to meet Meagan, even more than I was to meet Eva and DeVon for some reason. I think I just always saw her as like the archetype for every woman. In every early 2000s film, she was the It Girl. And even in everything she's in now, she is the It Girl. I told DeVon later, I was like, "I'm so nervous." And he's like, "Really?" And I was like, "Yes." He's like, "You're so crazy." And I was like, "I love her so much. [She's] so beautiful."
What is the last piece of advice you received that changed your life?
Be brave. Do things in spite of fear. Have courage. My dad's been sending me a lot of things like that lately, which has been so helpful in this transition in life. To remain my authentic self, to trust and show up as who I say I am. I feel like we hear a lot of the time, "God's testing me, God's testing me." I just like to reframe it in a different way like, I'm not being tested. I'm being given the opportunity to show up as who I say I am. I say I'm patient; the universe is going to bring something into my sphere that is going to call for my patience. I'm kind; the universe is going to bring something into my sphere that calls for kindness. And I'm really excited that I'm finally moving through life like that. Nothing lasts. That's a big thing. Nothing lasts. The good or the bad, appreciate it all and do not assign a value to it.