Cara Delevingne Confirms Romance With Ashley Benson as They Celebrate 1-Year Anniversary
It's official: Cara Delevingne, 26, and Ashley Benson, 29, are a couple! Cara publicly confirmed their romance for the first time on June 14 by sharing a video of her kissing the Pretty Little Liars star in celebration of Pride Month. The clip was shot when the two were filming the 2018 drama Her Smell. "#Pride," Cara captioned the post, followed by rainbow and heart emoji. She also tagged Ashley, who commented three heart emoji under the clip.
During the TrevorLIVE Gala on June 17, Cara opened up to E! News about why she decided to confirm their romance. "I don't know because it is Pride, it's been 50 years since Stonewall happened and I don't know," she told the outlet. "It's been just about our one-year anniversary so, why not?" Though they've been together for a year, Cara still isn't putting a label on their romance. When asked if her video post meant that they were Instagram official, she replied, "Sure, I don't like the official thing, but it's a little something."
Dating rumors about Cara and Ashley — who met on the set of Her Smell — have been circulating for quite some time. Last May, they were seen at a Lauryn Hill concert together and were spotted kissing at a London airport in August. Those rumors continued to swirl when fans also noticed Ashley wearing a necklace with the initials "A" and "C" in an Instagram post and wondered if the letters stood for their names. Back in September, Cara also posted a photo of herself wearing a shimmery Balmain ensemble at TIFF, and Ashley simply commented, "Mine." Ashley later posted on her Instagram story that her account was hacked but didn't specify whether or not that particular comment was really her.
Thankfully, their relationship status is confirmed, so fans can stop speculating. Keep reading to see how their relationship has blossomed over time!
May 2018: Ashley posted this blurry selfie with Cara.
August 2018: Ashley wore a necklace with the initials "A" and "C."
August 2018: Cara celebrated her 26th birthday with Ashley and friends.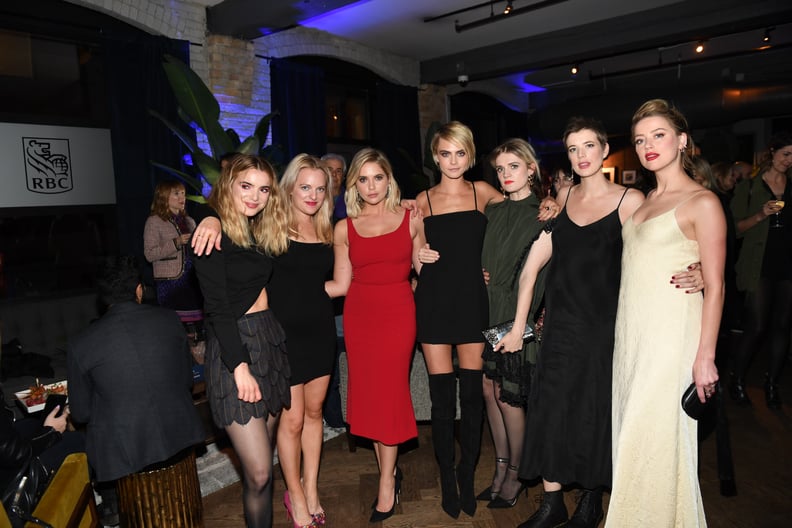 September 2018: Ashley and Cara attended the Her Smell cocktail party at the RBC House Toronto Film Festival.
September 2018: Cara posted this photo, under which Ashley commented, "Mine."
June 2019: Cara shared a video of her making out with Ashley to celebrate Pride Month.