Read Barack and Michelle Obama's George Floyd Tributes
Barack and Michelle Obama Remember George Floyd​ in Poignant Tributes: "Honor His Memory"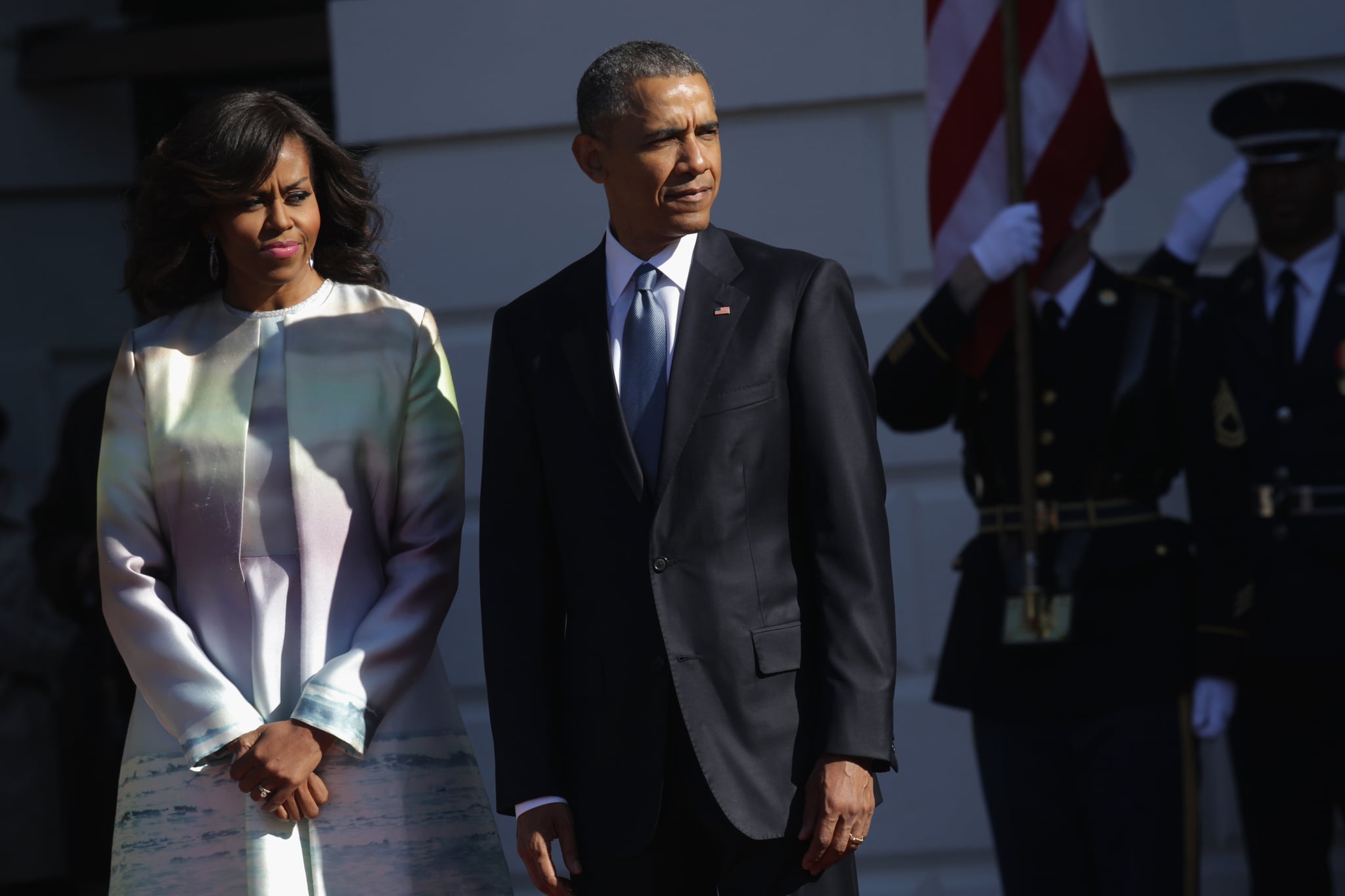 Barack and Michelle Obama are remembering George Floyd on the one-year anniversary of his murder. On Tuesday, the former president and former first lady shared poignant tributes on Instagram, touching on George's legacy and the need for political reform in the United States. Alongside a video of George's 7-year-old daughter Gianna, Michelle took a moment to reflect on the next generation of leaders who have "already seen so much, but won't let this world steal their hope." "This was not just a national tragedy, but a human one," she said. "This little girl lost her father. And every time I watch this video, I see someone who loved her dad, who's been forced to grow up a lot faster, and who probably had a lot of moments this past year that weren't quite as joyful as this one. But in her, I also see the truth of an entire generation — a generation that's already seen so much, but won't let this world steal their hope."
"It won't be long before they'll be the ones carrying us forward, urging us to move faster, aim higher, and see the world a little more clearly," she continued. "This past year, we've seen so many young people out there marching, chanting, singing, dancing — and voting. It's just a glimpse of their promise. And it offers such a powerful portrait of what's to come." Michelle then added an important reminder that the next generation's "energy and conviction doesn't absolve us of our own responsibility right now." "We can't let up for even a second. That means holding local leaders accountable, voting in new prosecutors and sheriffs if we have to, and speaking out about our own experiences of injustice and discrimination. That's how we make sure 'Daddy changed the world' isn't a fleeting moment online, but a lasting change all across the country. It's up to all of us to honor his memory and keep changing it for the better."
Barack also paid tribute to George by noting the need for more political reform in this country. "Today, more people in more places are seeing the world more clearly than they did a year ago. It's a tribute to all those who decided that this time would be different — and that they, in their own ways, would help make it different," he wrote alongside a wall mural of George. "When injustice runs deep, progress takes time. But if we can turn words into action and action into meaningful reform, we will, in the words of James Baldwin, 'cease fleeing from reality and begin to change it.'"

Following a three-week trial in April, former Minneapolis police officer Derek Chauvin was found guilty on all counts in the murder of George. Shortly after the verdict was announced, Barack shared a powerful statement on Twitter, writing, "True justice requires that we come to terms with the fact that Black Americans are treated differently, every day. It requires us to recognize that millions of our friends, family, and fellow citizens live in fear that their next encounter with law enforcement could be their last."
Image Source: Getty / Alex Wong