Billy Ray Cyrus and Firerose Confirm Engagement: We Evolved From "Musical Soulmates to Soulmates"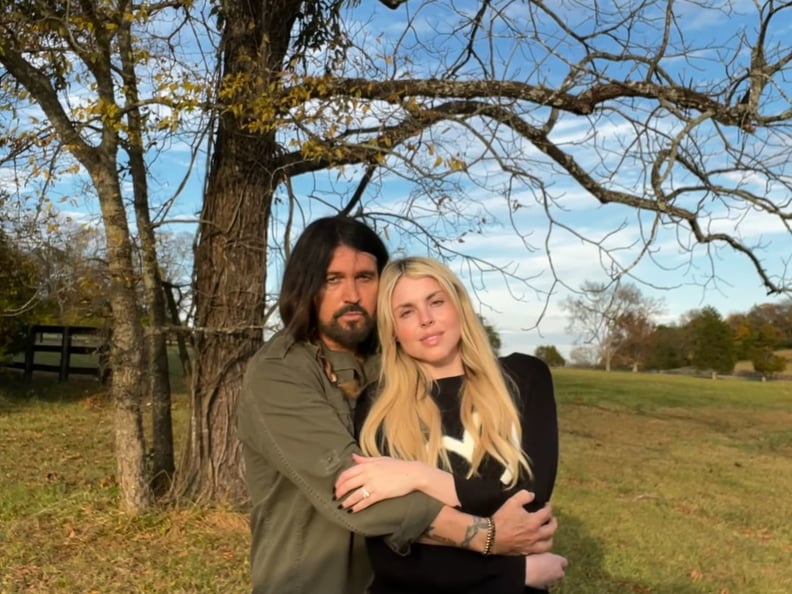 YouTube | Firerose
YouTube | Firerose
Billy Ray Cyrus is officially engaged. In an interview with People, published Nov. 16, the country singer, 61, opened up about his relationship with his 28-year-old (via ET) fiancée Firerose while promoting their new single, "Time." Billy Ray revealed that the pair met while he was filming "Hannah Montana" and stayed friends ever since, recounting the story of the day Firerose approached him to pet his dog, Tex.
"She told me she'd had an audition and I said, 'Well, I'm sure you got the job,'" he told People. She didn't get the job, however. "I just thought, well, the casting agents, the producers, the writers, they're all on the floor of where we do 'Hannah Montana,'" Billy Ray continued. "And I actually said to her, 'Don't ever take a strange man up on this offer, but, in this case, Tex will testify that you will be totally safe. I'm going to introduce you to a producer and you can kind of make yourself at home and watch us rehearse and you know, maybe it might lead to a role or just another contact at Disney.' And so, off me and her and Tex went back to the studio . . . In a lot of ways, we became friends."
Billy Ray didn't mention the exact year the pair met, but "Hannah Montana" was on the air from 2006 to 2011, so they've likely been friends for at least a decade. The singer said their relationship developed into something more than friendship amid the COVID pandemic and asked her if they could explore it after he finalized his divorce from Tish Cyrus in April 2022.
"[Firerose] had been such a light of positivity, such a best friend [during the pandemic]. And then when we began sharing the music, it just evolved more into, as musical soulmates, to soulmates, happy, pure love that to me, I didn't know could exist," Billy Ray said. "Again, we're musicians, first and foremost, both of us. And we found this harmony, and this rhythm, this melody to life."
Billy Ray proposed to Firerose in August. "[He] looked at me and said, 'Do you, do you wanna marry me?' And I was just like, 'Of course I do. I love you,'" Firerose recalled to People. "He said, 'I love you. I wanna make this official. I wanna be with you forever.'"
Billy Ray insists there are no hard feelings among his family regarding his new love, following his divorce from Tish. "Everyone knew that that relationship was over a long time ago," he said. "Everybody's turning the page. It's been a lot, but everyone knew that it was time for a change."
Billy Ray first alluded to his upcoming nuptials to Firerose on Oct. 18 on Instagram, where the pair shared a joint selfie captioned, "Happy Autumn🧡." While neither of the two shared the news explicitly, their photos posing against fall foliage drew attention to Firerose's sparkling diamond engagement ring.
The Australian singer-songwriter first confirmed her relationship with Billy Ray on Instagram in August. "The world is a better place with you in it. Happy Birthday Billy❤️" she wrote alongside a photo of the two. They sparked rumors of an engagement just a month later when Firerose was spotted with a ring on that finger. "They grew close while working on music together," a "Cyrus family source" told People in September. "It is what it is. He and Tish were over before he started dating her."
News of Billy Ray and Tish's separation broke earlier this year, with Tish filing for divorce on April 6, citing "irreconcilable differences." In a joint statement, the former couple said, "It is after 30 years, five amazing children and a lifetime of memories, we have decided to go our separate ways — not with sadness, but with love in our hearts. . . . We have not come to this decision lightly or quickly but with so much going on in the world, we wanted to provide some clarity and closure, so we can remain focused on what is important." The couple, who had been married since 1993, previously split in 2010 and again in 2013, though they reconciled both of those times.
Ahead, check out Billy Ray and Firerose's new music video for their song "Time."