Christina Applegate stars in the new Netflix dark comedy Dead to Me, and her performance as the acerbic and brazen real estate agent Jen Harding is spectacular to watch as a fan of her work. The 47-year-old actress makes her return to acting in the series after taking a hiatus from TV (she last starred in the 2012 NBC comedy Up All Night) and pours her heart into the role; the show follows Jen as she grieves the loss of her husband with the help of her newfound friend Judy (played by Linda Cardellini) after he's killed in a hit-and-run accident. While it isn't clear if Christina is anything like the hot-headed Jen IRL, there is one element of the character's life that she identifies with — undergoing a double mastectomy.
In the series, Jen opens up to Judy about a recent health scare. After Judy compliments her breasts, Jen retorts that they "aren't mine," and reveals that she underwent preventative surgery after finding out that she carried a mutation in the BRCA 1 gene, making her more susceptible to breast and ovarian cancers.
In April 2008, Christina herself was diagnosed with breast cancer in one of her breasts after discovering the same genetic mutation — her mother, Nancy Priddy, is also a survivor — and she had a bilateral mastectomy months later. Shortly after, Christina spoke to People about her decision: "I just wanted to kind of be rid of this whole thing for me. This was the choice that I made, and it was a tough one." In 2017, she revealed that she also had her ovaries and fallopian tubes removed to prevent any more cancer scares. "That's one other thing off the table," she told Today. "Now, let's hope I don't get hit by a bus."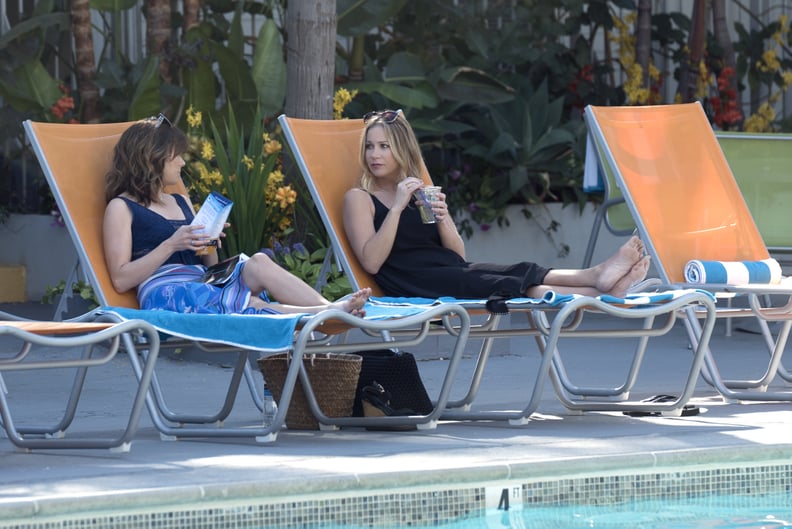 Over a decade later, Christina spoke to The Hollywood Reporter about making the choice to put her real-life experiences on screen in Dead to Me, and opened up about wanting "to be honest" about her health struggles. "[Jen] having a mastectomy was something I brought to [creator and showrunner] Liz Feldman in the middle of filming," she said. "Jen did not have cancer, she did it prophylactically, but the surgery itself and the aftermath of that is hard emotionally and physically. I wanted to be honest about it."
She went on to admit that after speaking out about her breast cancer diagnosis and subsequent surgeries, she was "trying to be positive, and that was how I was dealing with it and surviving. But when I was just sitting there with myself, it's an incredibly painful thing to go through." "It's an amputation of a part of you," Christina said of her double mastectomy. "It's part of being a woman, and I wanted to be honest. So I brought it to Liz and she was like, 'OK, let me see how we can weave this in.' I think she did it beautifully."
Dead to Me is now streaming on Netflix.