Daniel Radcliffe and Sandra Bullock on Their "Traumatizing" Red Carpet Experiences
Daniel Radcliffe and Sandra Bullock certainly need no introduction. Yet, in 1994 for Bullock and 2001 for Radcliffe, these icons were only just setting foot on their very first red carpets. Radcliffe described feeling his "whole body vibrating" as the then-12-year-old actor struggled to maintain his poise in front of the massive throng of fans and paparazzi. Luckily, the actors have subsequently graced many red carpets with their presences, and they clearly had a blast starring in "The Lost City" alongside Channing Tatum.
Radcliffe and Bullock couldn't contain themselves thinking about the work that went into filming a scene where Bullock had to remove multiple leeches from a disrobed Tatum. We were struggling to hold it together as Bullock joked that Radcliffe had to work HR in the film, and the actor gamely went along with the uproarious bit between these two legends. Plus, we also spoke to supporting cast members Patti Harrison, Oscar Nunez, and Da'Vine Joy Randolph, who had some pretty unique takes on original ideas for a romance novel.
Just look at how much fun these two are having: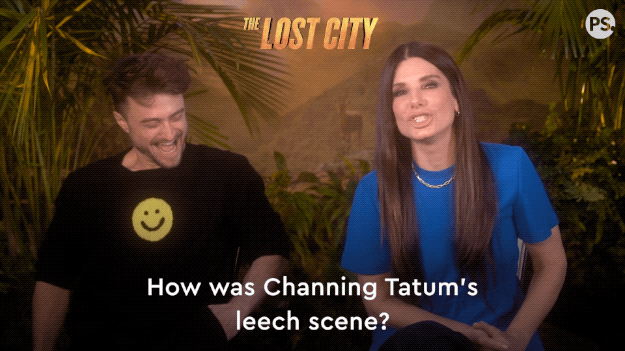 Check out all the hilarity above, and be sure to catch "The Lost City" — in theaters now!