Dexter Darden Talks Saved by the Bell Season 2 and More
You'll Swoon Over Dexter Darden's Latest Romantic Gesture — It's So Sweet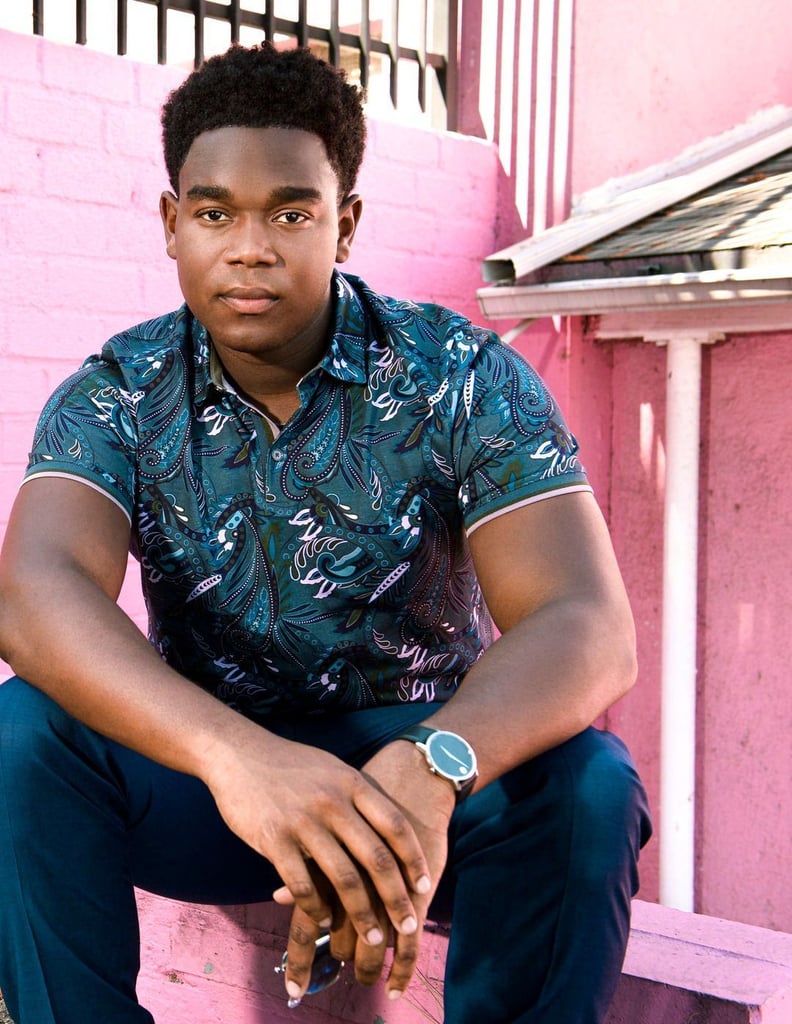 In our Q&A series POPSUGAR Crush, we get to know some of our favorite celebs' more intimate details — from their first celebrity crush to the best love advice they've ever received. This month, we're crushing on Saved by the Bell's Dexter Darden.
Dexter Darden grew up watching reruns of the original Saved by the Bell series before catching the school bus. So reprising his role as DeVante Young in Peacock's Saved by the Bell reboot — which returned for a second season on Nov. 24 — feels surreal for the New Jersey-born actor. "The original cast members have a bigger presence this season, but it's a very different show in terms of content," he told POPSUGAR. "We pay homage to the original, but [creator] Tracey [Wigfield] found a cool way of allowing this reboot to be ours in its own way."
"DeVante and Nadia share the same skin color, but they don't necessarily share the same issues since they come from different socioeconomic backgrounds."
The second season of Saved by the Bell is full of meaningful revelations for DeVante. He is still struggling to fit in and reinvent himself at Bayside High, while caring for his sick grandmother, finding his voice (he sings!), and navigating a new relationship with a rich Bayside student. "We learn a lot about DeVante through this relationship with Nadia, who is from the opposite side of the tracks," Dexter said. "DeVante and Nadia share the same skin color, but they don't necessarily share the same issues since they come from different socioeconomic backgrounds, which is a beautiful dichotomy to watch on screen."
Saved by the Bell hasn't been picked up for a third season yet, but Dexter recently joined the cast of Chang Can Dunk, which is set to premiere on Disney+ in 2022. Produced by Lena Waithe and Rishi Rajani, the film is a coming-of-age story that follows a first-generation, Asian-American teenager (Bloom Li), who wants to learn how to play basketball with the hopes of impressing his crush. Dexter is set to play coach DeAndre, a former pro basketball player and two-time MVP. "I teach him how to dunk," he said, "but he ends up learning much more about himself in the process, so it's a heartwarming story."
Check out the rest of Dexter's POPSUGAR Crush interview ahead, and be sure to check out the second season of Saved by the Bell on Peacock.
Who was your first celebrity crush?
I had the biggest crush on Christina Milian growing up.
What is your favorite pickup line?
I wish I could be more creative, but I'm a "Hi, I'm Dexter, nice to meet you" kind of guy.
What is your favorite flirtatious emoji?
Ooh, the smiley face with the heart eyes.
What is your go-to signature scent?
I love Tom Ford Vanille Tobacco.
What is your favorite form of self-care?
I'm in the process of creating my own music and exploring that journey as a recording artist. Music is therapeutic for me, but I also love to cook. I enjoy getting in the kitchen and playing around with different recipes.
What is your signature dish?
Shrimp and grits! We shot the first Maze Runner movie in Baton Rouge, Louisiana, which is super close to New Orleans. I visited a restaurant, where they serve incredible shrimp and grits. I asked for the recipe loosely, and then I just started adding different ingredients and making it my own. I alternate between fried shrimp or salted shrimp with white cheddar grits. It sounds simple, but it's really delicious.
https://www.instagram.com/p/CVapnearjCO/
What is your biggest turn-off/turn-on?
My biggest turn-on is intelligence; I crave good, hearty conversations that are mentally and creatively stimulating. The biggest turn-off? When you go on a date with somebody and they're always on their phone, I just find it so rude and really difficult to connect.
What is your ideal first date?
A good restaurant because you find out a lot about a person's likes and dislikes by the way they order. Afterwards, we can go dancing.
What is your go-to first-date outfit?
A nice turtleneck with a fly pair of jeans and cool sneakers. I'm such a sneakerhead.
What is the most romantic thing you've ever done?
My girlfriend [JoJo] was preparing for a tour, and I was leaving to go film [Chang Can Dunk]. We weren't going to have the opportunity to see each other for at least a month, so I called her manager to get her flight information. We both had a connecting flight back to Los Angeles that was leaving at the same time but from different cities. I changed my connecting flight to where she was taking off from just so that we could fly back to LA together.
What is your favorite gift that you ever received?
Somebody threw me a surprise party; the thought and effort that went into planning it was a gift itself.
What is the best love advice you've ever received?
Communication is key when it comes to building trust, which is hard to gain and easy to lose. So many people end up breaking up solely because of the fact that they're hiding something from their partner. Having difficult conversations isn't fun, but the outcome of being dishonest will be much more difficult to deal with in the long run.
What is the most memorable fan encounter you've ever had?
At a Maze Runner Comic-Con, a fan handed me a letter telling me about a film I did called Joyful Noise, in which I play a teen with Asperger's syndrome. She, too, had Asperger's syndrome. In the letter, she wrote, "Because of your portrayal of Walter, I'm going to start exploring the idea of becoming a recording artist." We never know who we can impact and why. One performance of mine helped to inspire this young lady's dreams of pursuing music. It made me become much more aware of the projects that I choose.
Image Source: Franz Mahr