Who Is Penn Badgley's Wife? Meet Domino Kirke-Badgley
Penn Badgley Credits His Wife For His "You" Role, Says She "Encouraged" Him to Pursue It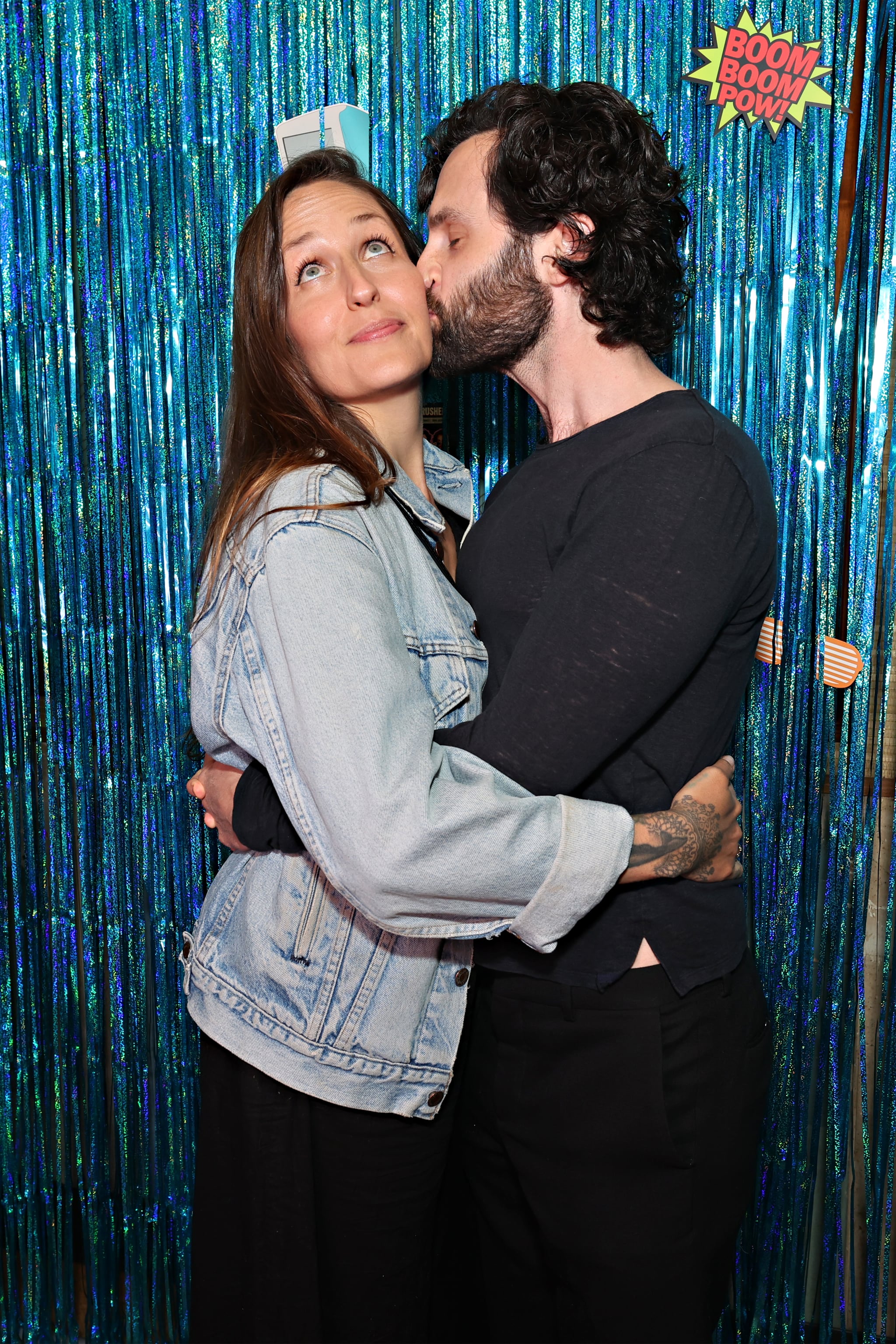 Image Source: Getty / Cindy Ord
Penn Badgley and his wife, Domino Kirke-Badgley, have a pretty sweet love story. The pair got together in July 2014, shortly after the "You" star dated Zoë Kravitz, and have been inseparable ever since. After tying the knot not once but twice in 2017, the couple started a family together, which consists of their toddler son, whom they welcomed on Aug. 11, 2020. Kirke-Badgley also has a son named Cassius Kirke from a previous relationship with musician Morgan O'Kane.
The two have been fairly transparent about their relationship, letting fans in on their romance by way of birthday tributes and silly videos posted on social media. They've also shared how they first met each other after Badgley's "Gossip Girl" days (which Kirke-Badgley said she was completely oblivious to) on his podcast, "Podcrushed," where Kirke-Badgley revealed that the two sort of, almost became roommates.
"Penn and I met at a meatball shop. Penn was sick, he had a cold, was not in a great place," she recalls. "Little ungrounded, come from traveling and couch surfing . . . I was like, 'Do you want to move into my house? I have a room for rent,' and he was like, 'No, I'm not going to live with you.'" Though Kirke-Badgley only got the actor's number at the time, the two have, of course, since moved in together and seem happily in love.
Contrary to popular belief, Badgley's wife has actually played a part in his career, as the actor has consulted her on certain choices, especially when they involve him potentially having to do love scenes. In fact, Kirke-Badgley is a big reason why he even agreed to star in his Netflix drama after almost turning it down.
Read ahead to learn how Kirke-Badgley changed Badgley's mind about "You" and find out more about her.
She "Encouraged" Badgley to Take on His "You" Role
Badgley previously opened up about his "zero"-intimacy-scene policy for "You" season four on his podcast, noting that "fidelity in every relationship, and especially my marriage, is important to me." The actor then doubled down on his reasoning in an interview with Variety, published on Feb. 15, in which he revealed that despite wanting to turn down "You" to avoid any love scenes, his wife actually "encouraged" him to play his charming serial-killer character Joe Goldberg. "I wasn't going to listen to anyone more than her," he said.
She's Appeared on Her Husband's Podcast
In October 2022, Kirke-Badgley made her debut on Badgley's podcast, which focuses on topics about middle school and the "heartbreak, anxiety, and self-discovery of being a teenager," per its description. In addition to sharing how the couple first met, she also opened up about traumatic experiences from her childhood and her career as a birth worker. Badgley referred to her as the show's "most special guest."
It Took Her Years to Get Used to Badgley's Fame
In a January 2022 interview with Glamour UK nearly five years after marrying Badgley, Kirke-Badgley revealed that she was "still getting used to" the actor's fame, even though the couple had already been together for eight years at that time. "I didn't watch 'Gossip Girl,' so I didn't really know what all the fuss was about when I met him. So I'm still sort of — getting used to this, and I think he is too because he was always part of this ensemble. So this is new for him," she explained of Badgley's "You" era.
She continued: "He's the star, the shining star of all of it. I think it's a learning curve for us, for sure. It's very unnatural to be known as well as he's known right now. It feels kind of strange when we're out and about to have the amount of people come up to us — it's pretty crazy, actually. So, I don't think it ever feels normal or healthy, so we're all just getting used to it."
She Works as a Doula
Kirke-Badgley, who cofounded her own Brooklyn-based doula agency called Carriage House Birth in 2012, has been assisting expecting families with births for years now. She's even had some high-profile clients like Amy Schumer, whom Kirke-Badgley helped during the 2019 birth of her son Gene. But the comedian also admitted she fired Kirke-Badgley.
"I suddenly was like, 'I'm good and I don't need a postpartum doula anymore," Schumer said during a June 2022 episode of Badgley's podcast, sharing that she regretted her decision. "The truth was, and this is pretty unfair to her after I had Gene and I was recovering from a C-section. Domino is like a goddess. She's an actual floating siren around the house. And she's so lovely, and when she touches you, like you just kind of melt . . . I just felt so vulnerable that I was like, 'I can't have this Botticelli goddess floating around my home when I am, like, bleeding out.' I didn't have the strength to allow myself the luxury of having her around our home. I was like, 'I think you can't come anymore.'"
She Also Makes Music
Just like her husband, who once played in a band called Mothxr, Kirke-Badgley has musical talent and, according to Harper's Bazaar, has been making music since she was a teenager. She released her debut album, "Beyond Waves," in 2017, and Badgley happily promoted it on Twitter, writing, ".@DominoKirke has released a gorgeous record that will stand the test of time."
She Has Famous Relatives
Badgley isn't the only famous person Kirke-Badgley knows. Her sisters, Jemima Kirke and Lola Kirke, are also actors. Jemina previously starred in "Girls," while Lola has been featured in onscreen projects like "Gone Girl" and the Prime Video series "Mozart in the Jungle." Meanwhile, Kirke-Badgley's father, Simon Frederick St. George Kirke, is a drummer for English rock band Free and Bad Company.