Ex Machina's Alicia Vikander Gets Real About Her Long Road to Sudden Fame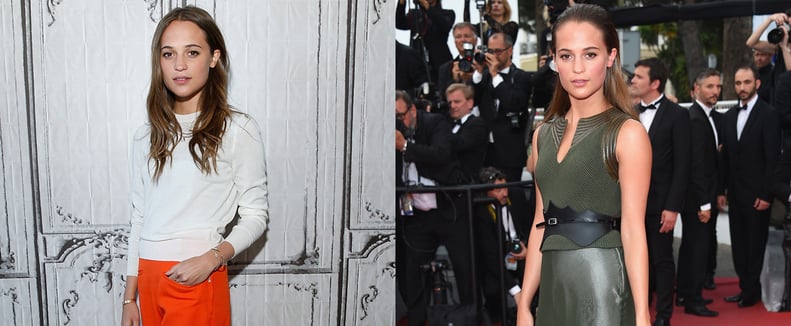 Getty | John Lamparski
Alicia Vikander will make a very good movie star.
It's a curious moment in the life of an actress when the media, evidently in collusion, decides to label her the "Next Big Thing." The designation is, in Vikander's case, well-deserved; moviegoers are in the midst of a nine-month span in which no fewer than seven of her films arrive in theaters. Most recently, she played a robot named Ava in April's Ex Machina and Vera Brittain in the movie adaptation of Brittain's World War I memoir in this month's Testament of Youth. Next, Vikander will appear as a denizen of the swinging '60s in August's The Man from U.N.C.L.E.
"They're all kind of weirdly coming out at the same time," Vikander explained recently as we sat side by side on a patterned sofa at Manhattan's Crosby Street Hotel. "And [I've] been there, doing the work. Suddenly, from the outside perspective, even when I see it, it's a lot [of attention]. It's a lot of press, which is different from being on set, but it all just comes down to: I'm very happy the films are going to get an audience."
To read the rest of our interview, click "View On One Page."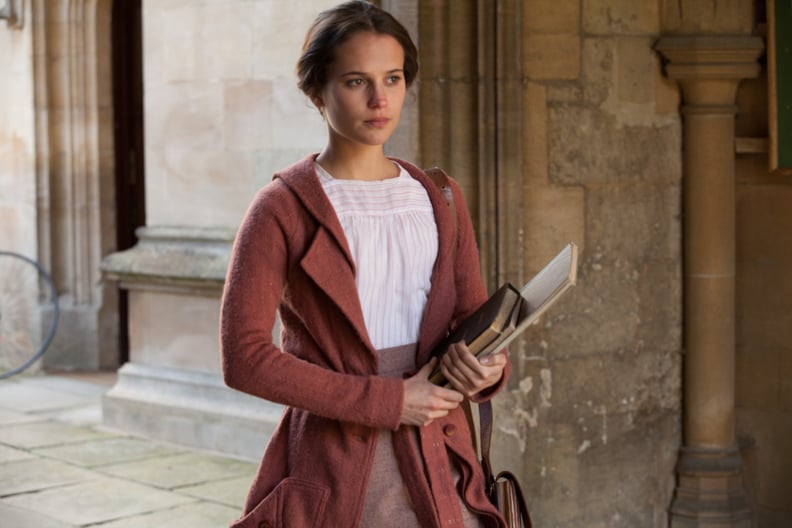 Vikander as Vera Brittain in Testament of Youth.
Vikander is clearly a productive actress. But, more importantly, she's incredibly talented. Vikander's skills are masterfully displayed in Testament of Youth, in which she vividly brings to life the story of Brittain, who overcame serious loss to become a female academic in an era when that was a rare feat.
"I tried to stay true to the character," Vikander said of her portrayal of Brittain. "Of course, my own experiences, emotions, ideas, and fantasies are what I use to create another character. But in the beginning, I liked reading [Brittain's] book. She was an extraordinary woman and she had such dedication to what she later on took on. She was a big feminist and pacifist. I wanted to pay respect to the actual journey that she made."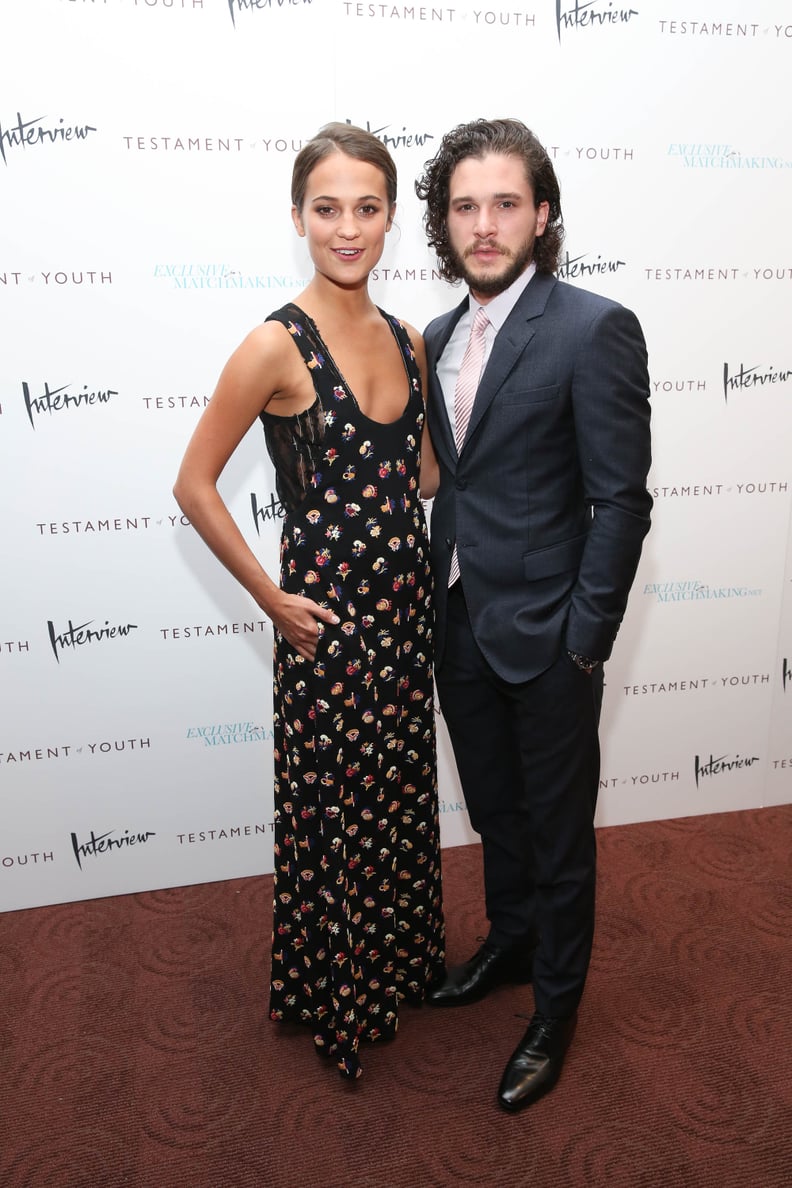 Vikander with her Testament of Youth costar Kit Harington.
Vikander's own journey took some time. She found her first big film role in the 2009 Swedish-language film Pure, and later, she made an English-speaking debut in 2012's Anna Karenina. Her role as the Queen of Denmark and Norway in 2012's A Royal Affair, which was nominated for the best foreign film Academy Award, was a game-changer.
Now, Vikander even considering a film makes headlines; her recent flirtation with the Tom Hanks project The Circle caused a stir, especially when she dropped out to reportedly accept parts in Assassin's Creed with Michael Fassbender and the next Bourne movie with Matt Damon.
A former ballerina, Vikander has the discipline to focus on her work despite the trappings of an increasingly successful film career. One side effect is, of course, increased attention.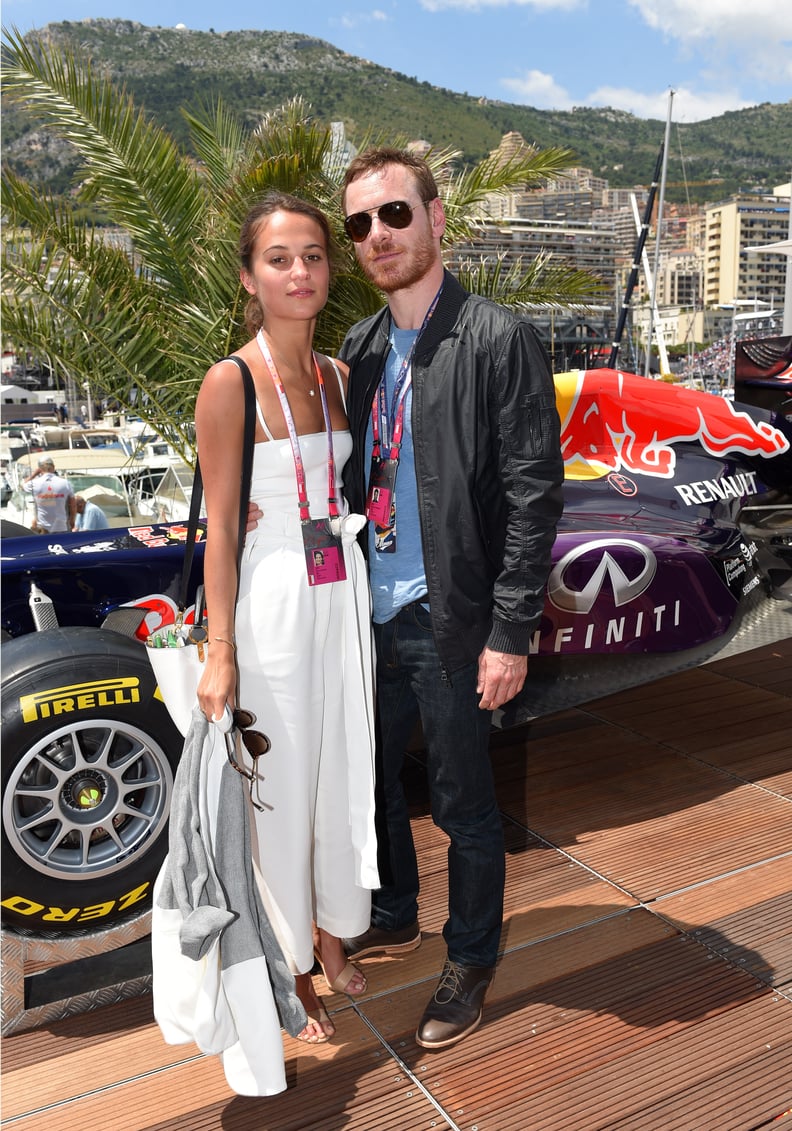 Vikander and Fassbender at the Monaco Grand Prix.
Few things better test one's ability to cope with life in the public eye than dating someone of even greater fame; Fassbender isn't just Vikander's future costar, but he's also reported to be her boyfriend. Vikander and Fassbender connected on the Australian set of The Light Between Oceans, and after being photographed kissing by paparazzi, they made the big-in-Hollywood step of consenting to photos together while at the Monaco Grand Prix in May. The photos are likely the best and only confirmation curious minds will ever get of Vikander and Fassbender's relationship.
"I love to talk about my films and my work, because it's so much excitement to promote a film when it's finally coming out and reunite with all the people you work with and all that," she said. "And then when it comes to the other part of the publicity, or being public, it's really hard to prepare for it, I think. And yet, we kind of know that it's a big part of what [actors] do. But I think if you choose wanting to be private, you can be that."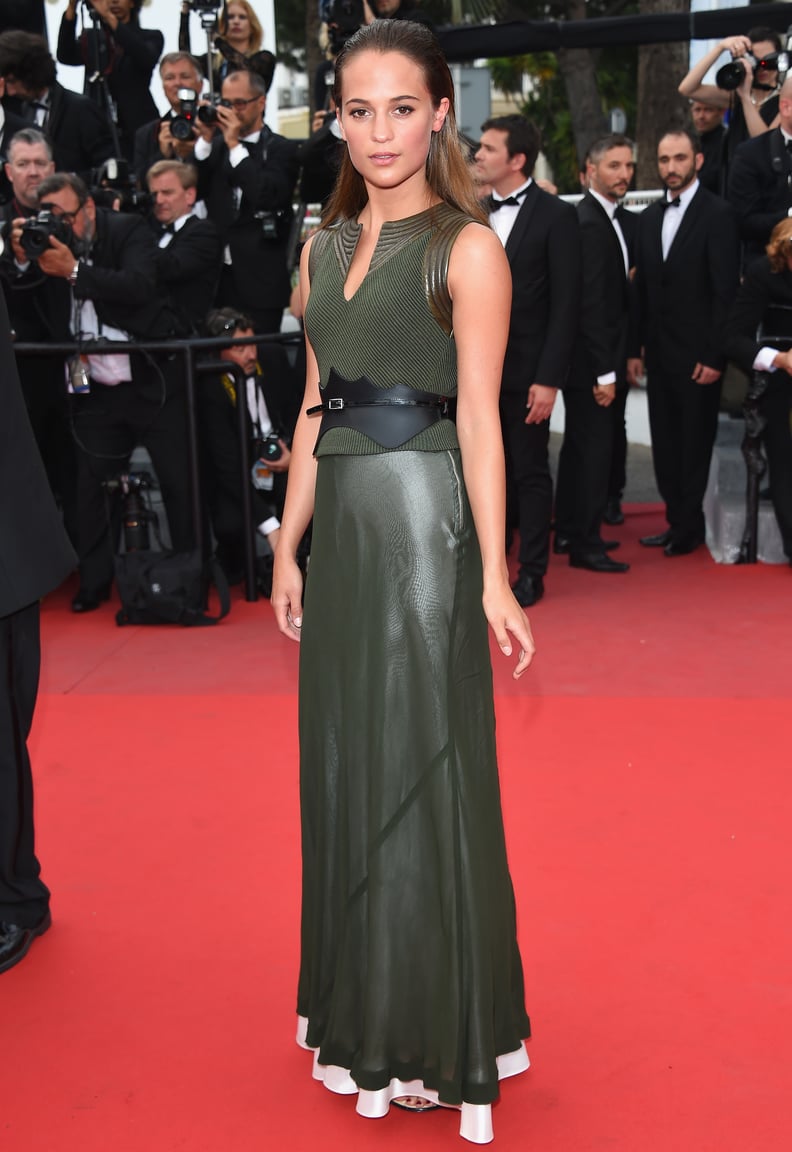 Vikander wearing Louis Vuitton at the Cannes Film Festival.
If there's any further evidence needed that Vikander is on the verge of something huge, it's her new deal with Louis Vuitton. It's a truism that any actress with a hint of buzz — not to mention beauty — sooner or later lands a fashion contract. And Vikander has succeeded, again, in this area; she was recently photographed on the red carpet at the Cannes Film Festival wearing a handful of looks from Louis Vuitton after being named as one of the company's new brand ambassadors.
Between fashion, films, and Fassbender, the next months will clearly be busy for Vikander. Her hectic schedule makes the rare day off, when Vikander likes to see friends and cook, even more precious. She specializes in dishes that are good for sharing, like moussaka and chili.
A day at home may be wonderful, but restless Vikander is ready for whatever is next.
"I tell myself to do nothing," she explained, "and then that day comes. Then, I had a few days off and suddenly, I go somewhere. I have a list of places that I still want to see, places I want to go. I'd say whatever I plan is probably not what I end up doing."