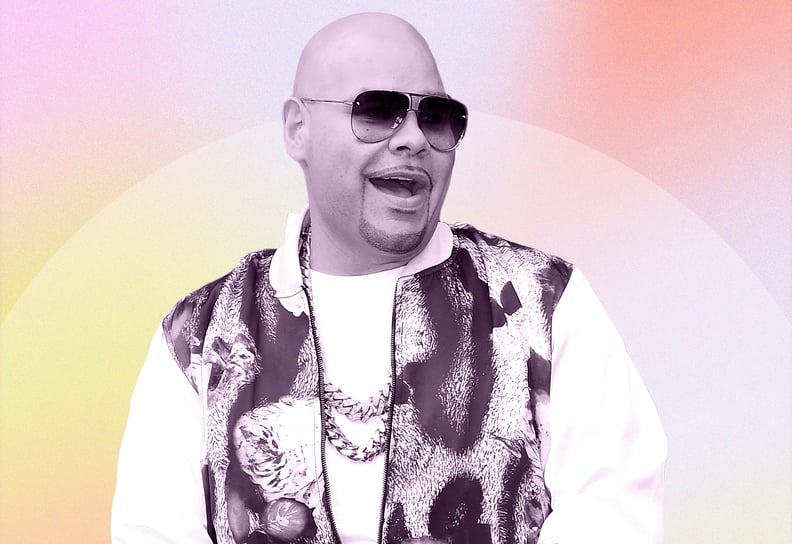 (Photo by Michael Tran | AFP) (Photo by MICHAEL TRAN/AFP via Getty Images)
Photo Illustration: Ava Cruz
(Photo by Michael Tran | AFP) (Photo by MICHAEL TRAN/AFP via Getty Images)
Photo Illustration: Ava Cruz
We can't talk about the greatest rappers to come out of the golden age of hip-hop without mentioning Fat Joe. The Puerto Rican and Cuban rapper from the Bronx, NY, has undoubtedly had a major impact on the culture and its movement, putting out 13 studio albums and numerous hit singles like "Flow Joe," "What's Luv?," "Lean Back," and many more. The Grammy-nominated hip-hop artist also started his own record label Terror Squad Production, where he earned a reputation for cultivating raw talents like legendary Puerto Rican emcee Big Pun, who died on Feb. 7, 2000, at age 28.
While 30 years have gone by since Fat Joe dropped his debut first album, "Represent," in 1993, the Boricua artist still remains relevant as one of hip-hop's GOATs. "I want them to know I'm one of the greats and that I've always been an ambassador for hip-hop and put that first," Fat Joe tells POPSUGAR of his cultural impact.
When it comes to elevating hip-hop artists, Fat Joe has never had a problem taking a back seat to his own career to prop up gifted acts like Pun — who became one of the hottest rappers and the first Latino soloist to sell two million records before his death, per Remezcla. Signed under Terror Squad Productions, Fat Joe committed himself completely to pushing Pun as far as he could take him. To this day, he considers discovering the late rapper one of his proudest accomplishments.
"I immediately knew he was one of the greatest rappers I ever heard in my life, and I knew the culture needed him. I knew Latinos needed him."
"I saw what Puffy did with Biggie. I was there from day one and I saw how he made him a superstar," says Fat Joe. "And so, on my second album, I was about to wrap it up and I meet Pun. I immediately knew he was one of the greatest rappers I ever heard in my life, and I knew the culture needed him. I knew Latinos needed him." More importantly, the rapper notes, "I knew I had to put my career to the side for a second to make him the Puerto Rican Biggie."
Bronx native Remy Ma is another talented emcee Fat Joe took under his wing, signing her to his record label in as its First Lady. Together, the pair made magic, with Remy's standout version of Terror Squad's "Lean Back" becoming a hit on Billboard's Hot 100 chart for three weeks during the summer of 2004. Even after she was found guilty of participating in a 2007 shooting at a Manhattan nightclub, serving six years in prison, Remy's successful comeback was unlike any other.
She returned to music with projects like 2014's "I'm Around" and 2015's "Remy on the Rocks" while also cultivating a television career as a cast member of "Love & Hip-Hop New York" — which she starred in for five seasons before landing a spinoff with her rapper husband Papoose titled "Remy and Papoose: Meet the Mackies." But Remy's career skyrocketed once again in 2016 when she teamed up with Fat Joe to release their joint album "Plata O Plomo," which featured their Grammy-nominated anthem "All the Way Up." Once again, their partnership proved to be a winning formula. As Fat Joe puts it, Remy's "got that Terror Squad DNA through and through" — nothing can stop her hustle.
"Her going to prison and coming home, one of the first discussions I had with her was, 'Yo Remy, it's different out here. We gotta be humble. We gotta be focused," Fat Joe recalls. "So she came back no longer a little girl. She came back a married woman and willing to grow and be a businesswoman." The rapper takes pride in how far Remy's come despite the circumstances she's had to face along the way. "We're so proud of her evolution and her growth," he says. "She's the perfect definition of what girls from the hood — from the inner cities — could use as a role model because she changed her life so much. She went from zero to a hundred. She's a businesswoman, she does movies, she acts, she tours — we're so proud of her."
"Once we have unbiased people look back at the history of hip-hop, she's undoubtedly a GOAT in the female rap level of hip-hop."
In Fat Joe's eyes, Remy's one of the greatest female rappers of all time. But as for why she hasn't received those flowers on a bigger scale, the hip-hop icon blames industry politics. Though he does believe true hip-hop fans and critics can't argue that Remy is one of the best in the game. He declares, "Once we have unbiased people look back at the history of hip-hop, she's undoubtedly a GOAT in the female rap level of hip-hop."
Fat Joe's influence in hip-hop is an indisputable fact as Latines were there when the culture was conceived in the boogie-down Bronx in the early '70s. It's something Fat Joe has been vocal about for years. In fact, last year he found himself facing backlash for speaking out about the ongoing social media debate on whether Latines — including Black Latines — played an important role in hip-hop's early days. His response, according to him, "wasn't meant "to be disruptive or controversial."
"My response was just the truth. Me being 52 years old, hip-hop turning 50 this year, and me growing up in the Bronx, just imagine this whole hip-hop culture started in one place and right outside my house," Fat Joe explains. "I was there, you know what I mean? I saw all the Latinos break dancing and doing graffiti . . . growing up with the South Bronx, it was all Blacks and Latinos . . . it was all of us together like gumbo. like a soup; a sancocho."
He continues, "This all started from poor and oppressed people in the South Bronx. The irony is that the South Bronx is still the poorest congressional district in the country and [hip-hop] has [become] such a rich, valuable art form — it's crazy."
Fat Joe, in many ways, has dedicated recent years to reintroducing himself as not just one of hip-hop's legacy artists, but a man of the people. During the height of the COVID-19 pandemic, he did his nightly Instagram Lives, which he referred to as "The Fat Joe Show," and interviewed prominent guests including Diddy, Snoop Dogg, Jamie Foxx, Alexandria Ocasio-Cortez, Dr. Anthony Fauci, and more. Then in 2022, he released his memoir, "The Book of Jose," along with a one-man show that dives into his entire life and musical career, Billboard reported.
The rap star is also partnered up as an advocate for the non-profit organization Power to the Patients, which helps patients, particularly patients of color, learn how to obtain knowledge regarding their hospital visit bills. And this year, in honor of hip-hop's 50th anniversary, he participated in Amazon Music's recently released "Hip-Hop X Siempre" documentary — which celebrates the Latines, from emcees to DJs, who were a foundational part of hip-hop and contributed to the genre's music and culture in the past 50 years.
No matter what endeavors Fat Joe tries next, the rapper believes hip-hop will always play a part in his purpose. And looking ahead, he wants people to know that the genre, despite its rapid evolution over the decades, isn't going anywhere anytime soon. "It is for everybody. It's God's music. It's the truth," he says. "We call it the CNN of the streets. If you want to know what is really going on [somewhere], hip-hop is always going to tell you the truth."