"The Summer I Turned Pretty" Star Gavin Casalegno on One of the Most Fun Summers of His Life
In our Q&A series "POPSUGAR Crush," we get to know some of our favorite celebs' more intimate details — from their first celebrity crush to the best love advice they've ever received. This month, we're crushing on "The Summer I Turned Pretty" star Gavin Casalegno.
When Gavin Casalegno first auditioned for "The Summer I Turned Pretty," his connection to Jeremiah felt pretty cosmic. The show is based on the series of novels by "To All The Boys I've Loved Before" author Jenny Han, who also serves as the showrunner for the new series.
"He's exploring his identity and who he is, his sexuality, his relationships."
"I actually told Jenny this the first time [I met] her. I was like, 'Did you talk to my mom or something? How? Did you read my diary? What's going on?'" Casalegno tells POPSUGAR. Casalegno actually was about to give up acting to go into real estate when he found out about the audition. "I was like, you know, this character is so similar to who I am, it would be a shame if I didn't do it," he says of his decision to try out for the show. When the actor realized he was going to be moving further along in the audition process, he immediately ordered the books series. "I would just power read through it for eight hours straight, and I was like, 'Man, this is such an amazing project to be a part of,'" he recalls.
Casalegno plays Jeremiah Fisher, the younger son of Susannah (Rachel Blanchard) and younger brother of Conrad (Christopher Briney). The show follows Belly (Lola Tung) as she and her family spend the summer with the Fishers. She tries to handle her long-standing crush on Conrad. But Jeremiah, who Belly considers a best friend, has his own feelings that come to a head. There's also Cam, played by David Iacono, an old classmate of Belly's who makes a play for her heart.
Casalegno can list a lot of similarities between himself and Jeremiah. "Just Jeremiah's happy-go-lucky attitude, his wanting to be the life of the party, that golden retriever kind of feel, but also deep down that insecure and maybe lacking confidence Jeremiah that you don't get to see very often," he explains. "And I think he carries a lot more weight on his shoulders than is shown. And man, it was just so beautiful to be in his shoes for four months. I was so lucky."
Though lots of fans will watch the series for the romance and the love triangle at its center, Casalegno thinks its real strength is in its coming-of-age stories. "This series is about people discovering who they are and growing into the person that they're supposed to be. And that's with Conrad, Laurel, Susannah, and every character in the series," he says. One major change the show makes from the books is that Jeremiah in the show is bisexual, and Casalengo thinks this ties into the same themes of growing up. "He's exploring his identity and who he is, his sexuality, his relationships," he says. "There's just so much to be explored, and I feel like that was just a very fun part to really bring to life that would make the series more up to date and more relatable to today's world."
The cast filmed the show in North Carolina in summer 2021, and Casalegno describes it as "one of the most fun summers" of his life. The first time he met some of the cast, he was sitting in his apartment. "I heard a car zoom by honking the horn and Sean [Kaufman] screaming, 'Gavin!' because they didn't know where I lived, so they were just driving and screaming my name," he says. "That really just set the tone for the whole summer." The experiences their characters have on screen, the cast actually lived out in real life. "We just had so much fun exploring our little town, our little beach town, going to the beach late at night, playing pool, going to the pool, and all kinds of fun stuff," he says.
Another special part of the show for Casalegno was the relationship between Jeremiah, his mom, and his brother. Casalegno has two siblings, though he's the eldest, and he drew from his relationship with his own mom to ground his work in the show. "She's such a rock in who I am and my foundation for everything that I've done as far as my career, my identity, everything," he says.
All seven episodes of "The Summer I Turned Pretty" will be released on Prime Video on June 17. Check out the rest of Casalegno's "POPSUGAR Crush" interview ahead.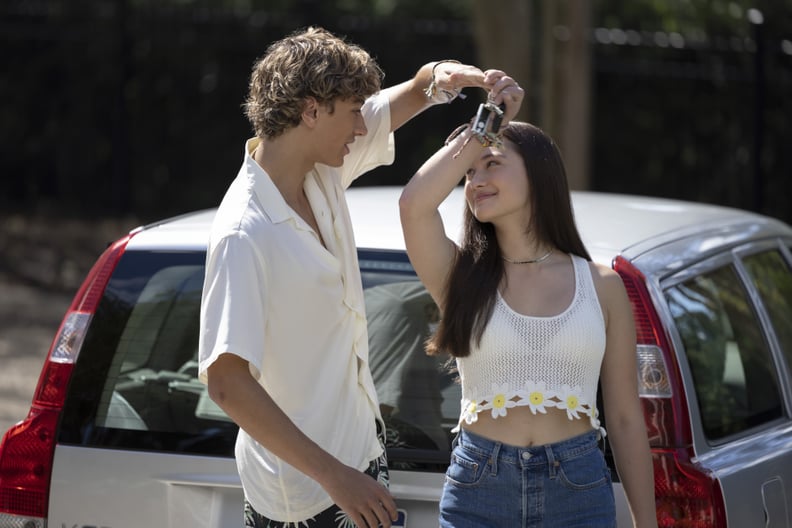 Are you Team Jeremiah, Conrad, or Cam?:
I have to honor Team Cameron, because personally when I read the book, I was like Cam Cameron all the way. [But filming the show], there's no harm done to David, he played that character so amazingly, but man, I just loved who Jeremiah was, that golden retriever with deep-down insecurities and fears and responsibilities. I felt like I could relate to that a lot just in where I am in life. And man, it was just so much fun to get to be in Jeremiah's shoes. So I would say Team Jeremiah. Team Jellyfish. There's actually some people right now that are posting Team Jellyfish, and I'm cracking up because I see everyone's posting comments. It's just fun seeing their support.
Favorite pickup line:
I haven't had to use a pickup line in a very long time. I've been in a long-term relationship for the longest time. . . . I'm just very straightforward. When I was younger, I had like pages of pickup lines, and I think I've just matured a little bit to be like, "Listen, I know what I want. If you want me back, let's go."
Favorite flirtatious emoji:
You know the blushing emoji? But the one with hearts? (🥰) Like that one is so cute. It's like a different level when you send the regular blushy versus the one with hearts. I just think it's much cuter and that's kind of what I would use. Or the kiss winky face, I like that one a lot, too. (😘)
Signature scent (go-to cologne/perfume):
I have two depending on my mood. I love a good old Tom Ford Black Orchid. Love it, love it, love it, love it. That's a softer one. And then I love Jean Paul Gaultier's Aviator. That one actually I'm looking for right now because apparently they don't make it anymore. So I'm very sad. I'm getting down on my last bottle.
Favorite form of self-care:
Everyone in my life really dislikes this form of self-care. I will just delete everything on my phone, social media, everything. I'll put it in airplane mode and I'll be like, "Peace out, I'm gone for the day." They won't hear from me. They'll just be like, "Bro, like you have meetings," and I'm like, "Well too bad, I'm gone." So I definitely love just disconnecting. I think that's so vital for my mental health, which has been so crazy during COVID-19 and just life changes. Do your thing, because you know, at the end of the day, it's your mental health that matters, and everything else, the world can wait.
Go-to movie night movie:
"Inception." It's a classic, number one, and the way it was shot was just an art piece. But it also leaves there to be a lot of room for speculation and to talk about it and for opinions. Versus if you watch "Titanic," you're going to be crying, right? Like I've definitely done that a lot of times, love "Titanic" or even "The Notebook," that's like my number one romance movie. But "Inception" just brings there to be a lot of topics and a lot of fun things to discuss.
Getting dressed up or wearing comfy clothes?:
Comfy clothes. No doubt. I mean like you can't beat a good old tracksuit or good old sweatpants and a hoodie. That's my jam.