See George, Charlotte, and Louis in New Father's Day Photo
Prince William Celebrates Father's Day With New Photo of George, Charlotte, and Louis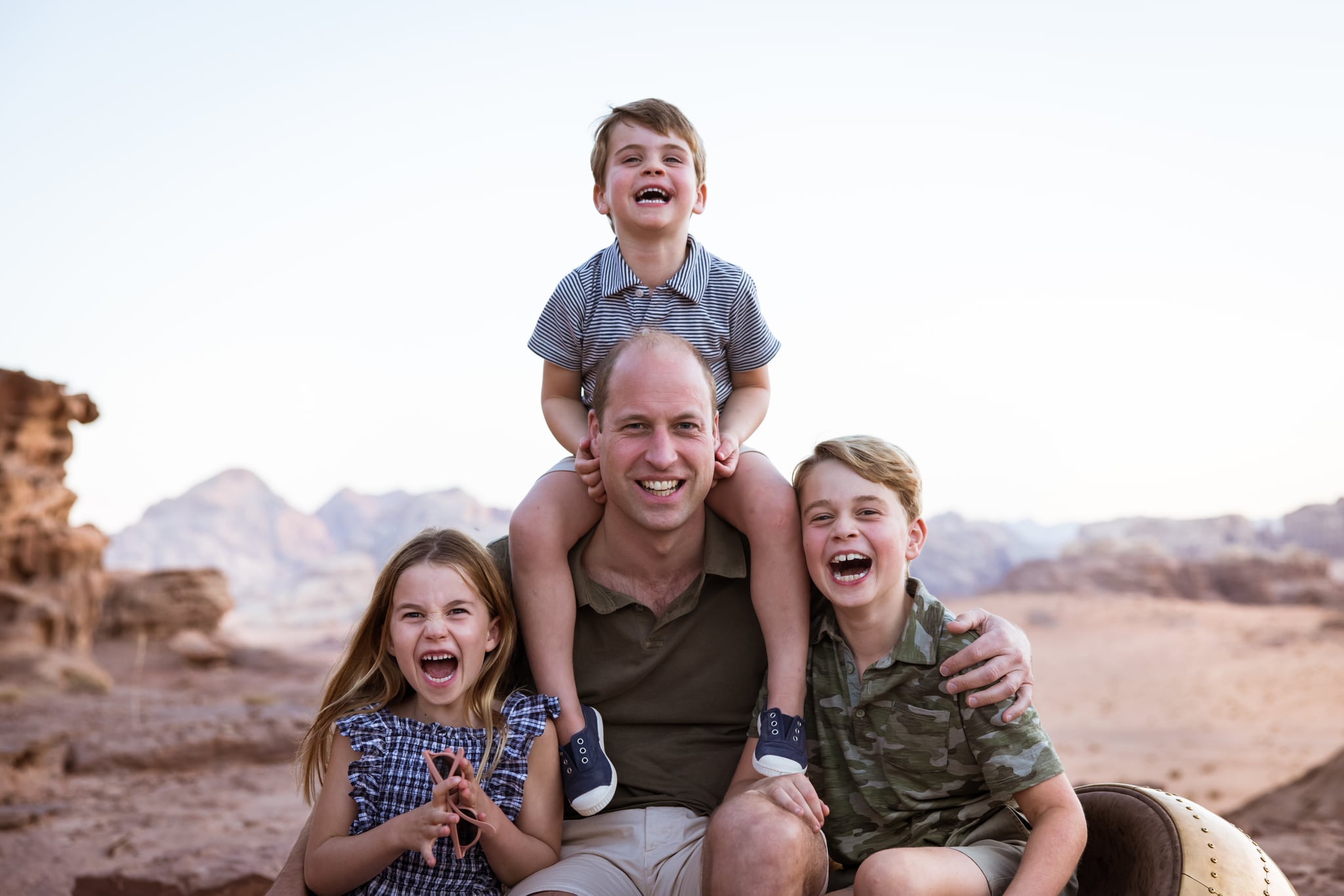 Even the Duke of Cambridge can't help but giggle with his kids. In a new photo released by Kensington Palace in celebration of Father's Day, Prince William is seen posing with his youngest son, Prince Louis, on his shoulders, while Prince George and Princess Charlotte sit at his sides. While their dad is all smiles, the kids totally steal the pic as they appear to have been caught mid-laugh.
William and Kate Middleton shared the festive snap on Instagram alongside the caption, "Wishing a Happy Father's Day to fathers and grandfathers across the world today!" The photo was taken last fall while the Cambridges were on vacation in Jordan.
The photo comes just a few weeks after Prince Louis made headlines at Queen Elizabeth II's Platinum Jubilee when he couldn't stop pulling faces or shushing his mom. William and Middleton's youngest son is beginning to join his older siblings at royal events, and he has been taking every opportunity to show off his wonderfully cheeky personality. Even Louis's parents couldn't help but comment on their energetic son's antics after the Queen's Jubilee.
On June 6, the Duke and Duchess of Cambridge tweeted their thanks to everyone who celebrated the queen's historic moment. "Thank you to everyone who turned out to show their gratitude to The Queen and her inspiring 70 years of leadership," they tweeted. "From the crowds on the Mall to communities hosting street parties up and down the country, we hope you had a weekend to remember." The couple went on to give Louis a special shoutout in a second tweet, writing: "We all had an incredible time, especially Louis . . . 👀."
Now that little Louis is joining his siblings during royal outings, it's clear that William and Middleton's trio is growing up right before our eyes. However, sweet photos like the snap the Duke and Duchess of Cambridge shared for Father's Day are a reminder that even though they are royals, George, Charlotte, and Louis are still normal kids who love pulling faces and keeping their parents on their toes.