How George Lopez and His Daughter, Mayan, Rebuilt Their Relationship
George Lopez may star in sitcoms, but his real life has also had a made-for-TV story — in fact, it was the plot of NBC's "Lopez vs. Lopez." Lopez and his ex-wife, Ann Serrano, whom he was married to from 1993 to 2011, share daughter Mayan Lopez together. Mayan once revealed that she had gone nearly four years without communicating with her father. In November 2022, Mayan spoke to the "Today" show about how her parent's divorce negatively impacted her as a teen because "having it be so public made it a whole other dynamic that makes it so much more difficult."
"You read these headlines and people sometimes forget that there's a family behind those headlines," she explained. "It's been like 11 years since my parents have been divorced . . . I think the longest I didn't speak to my dad was almost three-and-a-half years because it was just painful. I think time was really the biggest healer."
Their relationship has healed so nicely that in June 2023 Mayan reflected on how much George means to her in a touching Instagram post for Father's Day. "Happy father's day to my partner in laughter ✨ I love you so much dad," she wrote. "oh how far we have come and how much further we have to go.. I wouldn't wanna be doing it with anyone else. I celebrate you today and always."
To find out more about Mayan and how her dad inspired her work in TV, read ahead.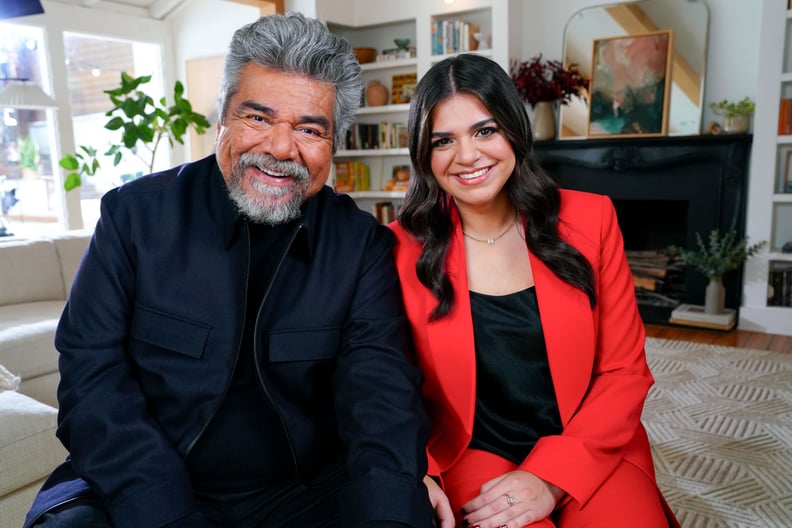 Mayan Lopez
Mayan was born on April 2, 1996. From a young age, she fell in love with performing. As a child, she went to Second City training camps in Hollywood and went on to study writing and performance in college. "Ever since I can remember, I've always wanted to be a performer," Mayan told POPSUGAR in October 2022. "I got the acting bug or the comedy acting bug from watching 'I Love Lucy.' I've probably watched it from the beginning four or five times."
Mayan spoke highly of her dad at the time, crediting him with teaching her how to be "very quick, very witty, always being able to pop out joke after joke after joke." Not only that, but seeing her dad's career firsthand gave Mayan an inside look at how hard the industry can be. "And so I have the unique perspective of knowing what it would take," she explained. "And I was always prepared and ready to do that."
Now, as a young adult, Mayan has credits in acting, producing, and writing. When POPSUGAR asked her how she defines herself, she stated: "I am an actress, writer, and producer, as well as a content creator."
In 2022, following some trying times, Mayan and George had finally gotten to a good place and decided to work together on the "Lopez vs. Lopez" series. "For both of us being performers, I think when we got presented with this opportunity, we kind of just jumped on it because I think our story can be so many other people's stories," she told "Today" about the show being based on situations that happened in their lives. "Whether it's divorce or your parents are estranged or you have one parent that you're closer to than another, it's universal themes of family and love and the pain of reconnection."
"You don't have to be perfect to heal. You just want to have to start," Mayan added.
That same year, Mayan got her real-life dream come true, which was to spend Christmas with both of her parents together. "My first Christmas with both my parents in over a decade. Real life Mayan finally got what TV Mayan always wanted," she wrote alongside a post documenting the holiday. "I love my family and no matter what, we always laugh together. I am so grateful and can't wait for what the new year will bring. We are ready 🎄✨🥹❤️ I'm the happiest woman in the world."
As for George, he's more thankful than ever for his daughter, and he loves to praise her whenever he gets the chance. In April 2023, he penned a birthday tribute to her, writing, "Happy Birthday @mayanlopez ♥️✨🍾♥️✨🍾 Watching your dreams come true over and over again has been one of the greatest gifts of my lifetime. This is only the beginning. This next trip around the sun will be one to remember. Love you always♥️✨✨."
More Photos of George Lopez and His Daughter, Mayan