Goldie Hawn and Kurt Russell first met while starring in 1968's The One and Only, Genuine, Original Family Band, but it wasn't until 1983 that they began dating while working on their second joint film, Swing Shift. The couple recently rang in their 34th anniversary, an incredible feat for any couple but especially one made up of Hollywood A-listers. But what is particularly unique about Kurt and Goldie's relationship is the fact that they aren't married. Over their three decades together, they haven't felt the need to "make it official," and it's something that still seems to both fascinate and perplex the public.
It feels like in nearly every interview Goldie does with a major publication, she is asked about her choice not to marry Kurt. Despite the fact that she has made her reasons painfully clear over the years, Goldie is still bombarded with questions about how she could so bravely stay in a relationship with a man and have the audacity not to enter into a legally recognized union that has a large chance of ending in divorce. Like, how dare she?! Goldie has answered these questions with aplomb because she's Goldie f*cking Hawn, but it might officially be time to maybe trust that she knows what she's doing in her own relationship and accept that maybe their arrangement isn't that hard to wrap a head around. Goldie certainly isn't the only celebrity to eschew marriage in favor of a more modern, independent romantic lifestyle, and we should stop acting like it's some wacky concept.
"There's something psychological about not being married because it gives you the freedom to make decisions one way or the other. For me, I chose to stay, Kurt chose to stay, and we like the choice."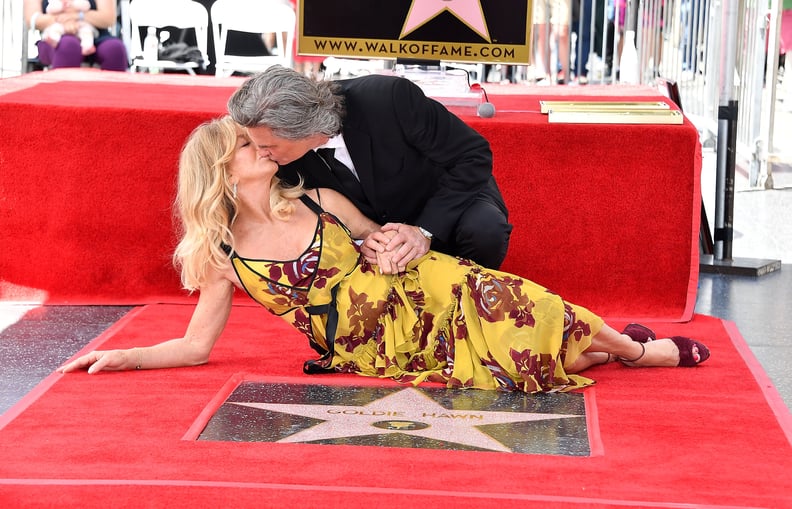 What's worth noting is that being a woman with 50 years in the entertainment business, a woman who scored a spot in The Nutcracker at 10 years old, opened her own ballet academy, and founded a charity dedicated to improving the academic lives of young kids, should warrant some more interesting, thought-provoking questions than why she hasn't felt the need to marry a man who she has been in a committed relationship with since many of us were in diapers, a man with whom she has built a beautiful family and a complete life full of love, understanding, respect, "fun, laughs, and sex."
"The question is, 'Why (get married)?' it's not, 'Why not?' We love each other. We fight the way people are supposed to fight. We love our lives together."
The societal pressure to get married is everywhere and usually focused on women. Getting hitched is touted as the ultimate goal for us ladies, which could explain why we rarely hear about Kurt Russell being asked these types of questions — for some reason it falls on Goldie to constantly explain their joint decision to enjoy life without a marriage license. But instead of putting the emphasis on Why haven't you guys gotten married? we should shift the conversation to include more questions about their commitment to keeping things fresh after 34 years, helping their children become Hollywood stars in their own right, and staying fly as hell on the red carpet. After all, not being married might actually be the biggest "secret" to Goldie and Kurt's relationship success — so can't we just celebrate it?