How Pharrell Williams Convinced Gwen Stefani to Go Solo Again
Gwen Stefani's solo comeback is a total surprise to Gwen Stefani. In fact, so many things in the past year of the superstar's life have been unexpected. The baby, her infant son Apollo; The Voice, the TV singing competition show she credits with changing her life; and the return to an individual music career, something she publicly said she was done pursuing — end stop — back in 2010.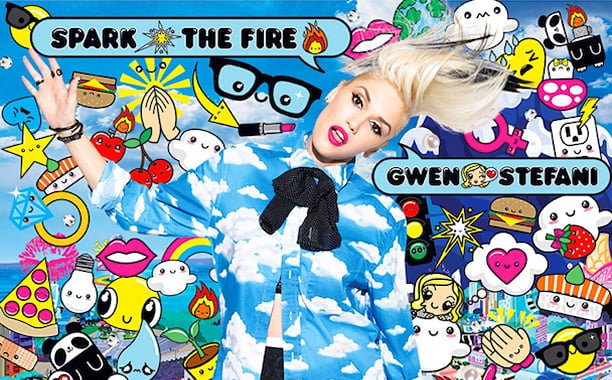 "I didn't know I was going to be doing another record. I always thought those two [solo] records would be back in the day," Gwen told us as we caught up by phone just a few short hours before she surprised crowds at Friday night's Jingle Ball in LA, taking the stage with her longtime collaborator and Voice cohost Pharrell Williams. Gwen credited the multihyphenate producer and artist — whose Zenned-out, positive vibe Gwen described as "Yoda meets Oprah" — with making her reconsider striking out on her own again. "He came in my trailer: 'Knock, knock. I have this song, "Spark the Fire."' It was automatic. Like, yeah, that's it."
Now Gwen's first solo record in eight years is in the works, with a yet-to-be-announced 2015 release date. She's released two singles from the upcoming effort so far: "Baby Don't Lie" and the latest, "Spark the Fire." Both tracks seem custom-made to please fans of both No Doubt and the singer's solo albums. They're tinged with the ska-punk aesthetic that helped No Doubt rise to fame in the '90s and laced with the hip-pop-inspired beats that helped propel Gwen to individual pop queendom on 2004's Love. Angel. Music. Baby. and its follow-up, 2006's The Sweet Escape.
Then there's the video for "Spark the Fire." It blends the cartoonish, rainbow-colored Harajuku girl look that's long been a hallmark of Gwen's look with a gritty, frenetic dancehall party. Gwen teamed up with the same director responsible for the "Don't Speak" video, her longtime friend Sophie Muller, to create the Hello-Kitty-on-acid visuals. As it turns out, Gwen is in the middle of developing a long-simmering "Harajuku Girls" cartoon and had a team of animators at her disposal to help design the emoji that dominate the music video. "It's just so incredible now how we have emojis, because they're so perfect to define feeling," she told us. "Our world is all about reading texts and emails, and if you think about it, we didn't have that before. It's such a great way to show emotion."
These days, Gwen's artistic mind meld with Pharrell, with whom she first teamed up on the 2002 No Doubt single "Hella Good," has changed. They're both parents now. They've both launched successful solo careers after being part of high-profile groups, and, of course, they're the two newest coaches on The Voice. "It's weird," she said. "Our relationship has grown. It's so on a different level now. The song 'Hella Good' was an incredible collaboration. Then I did my solo period, and we did 'Hollaback Girl.' And when we wrote that song, we were jumping up and down on the couch. We knew that we did something new. When I was way pregnant [with Apollo], and my kids would come home from school and be, like, 'We wanna watch the "Happy" video!' I'd try to explain to them that that's my friend."
If the overarching theme in Gwen's life and career these days is being open to the unexpected and taking new risks, she's definitely not ready to chalk it up to any newfound wisdom or confidence that's come with age. (The ever-stylish and porcelain-skinned singer is actually 45 years old, despite all evidence to the contrary.)
"In some ways, I think you become less confident to take chances," she reflected. "The longer you're alive, the more kids you have, the more scared you are to fly. It's like everything is more sensitive, because you're smarter. You're more aware. We're living in a time where you're more and more criticized, and you're more susceptible to everyone's voices, and you have more access to what people think of you. It's harder than ever. I think that I've always been sort of naive and just done things because I just did them."
Meanwhile, Pharrell has been loudly applauding "Spark the Fire" as a new feminist anthem. With lyrics like, "It is time for the girl species to grow/2015 we take off our shells/I am a Libra let's balance the scales/The world should be ready 'cause we will prevail," it seems an apt description. But Gwen, who has raised eyebrows in the past for sidestepping the word "feminism" in favor of less fraught phrasing like "pro-woman," still seems a little wary of embracing the F word.
These days, though, you get the sense that her hesitation might come more from a place of humility than an attempt to avoid controversy. "This song is not a feminist anthem for me. It's a very personal song. It's my journey: it's about me. But I love that Pharrell sees that and thinks that this is a moment, and I should carry a torch for that. I would never take that responsibility on, but I love when people discover their own opinions about a song. And if that's the thing they find in it? Wow. I would be honored. But really, I didn't write 'Just a Girl' as a feminist anthem," she said with a laugh. "I wrote it because my dad wouldn't let me drive late at night!"
In so many ways, Gwen seems mostly unchanged from the Orange County girl who catapulted to fame nearly 20 years ago and sounds just as in awe of the way her life and work have unfolded as ever. "Every moment along the way, I always remember thinking, 'Oh my God. Is this happening right now? How did this happen? How did I get this baby? How do I have this husband? How do I have all these opportunities?'" she marveled, a smile creeping into her voice. "It's mind-blowing that anyone wants to even look my way. I don't take it for granted. It just feels really magic."