Hailie Jade and Evan McClintock Relationship Timeline
Eminem's Daughter Hailie Jade's Relationship With Evan McClintock, From College to Getting Engaged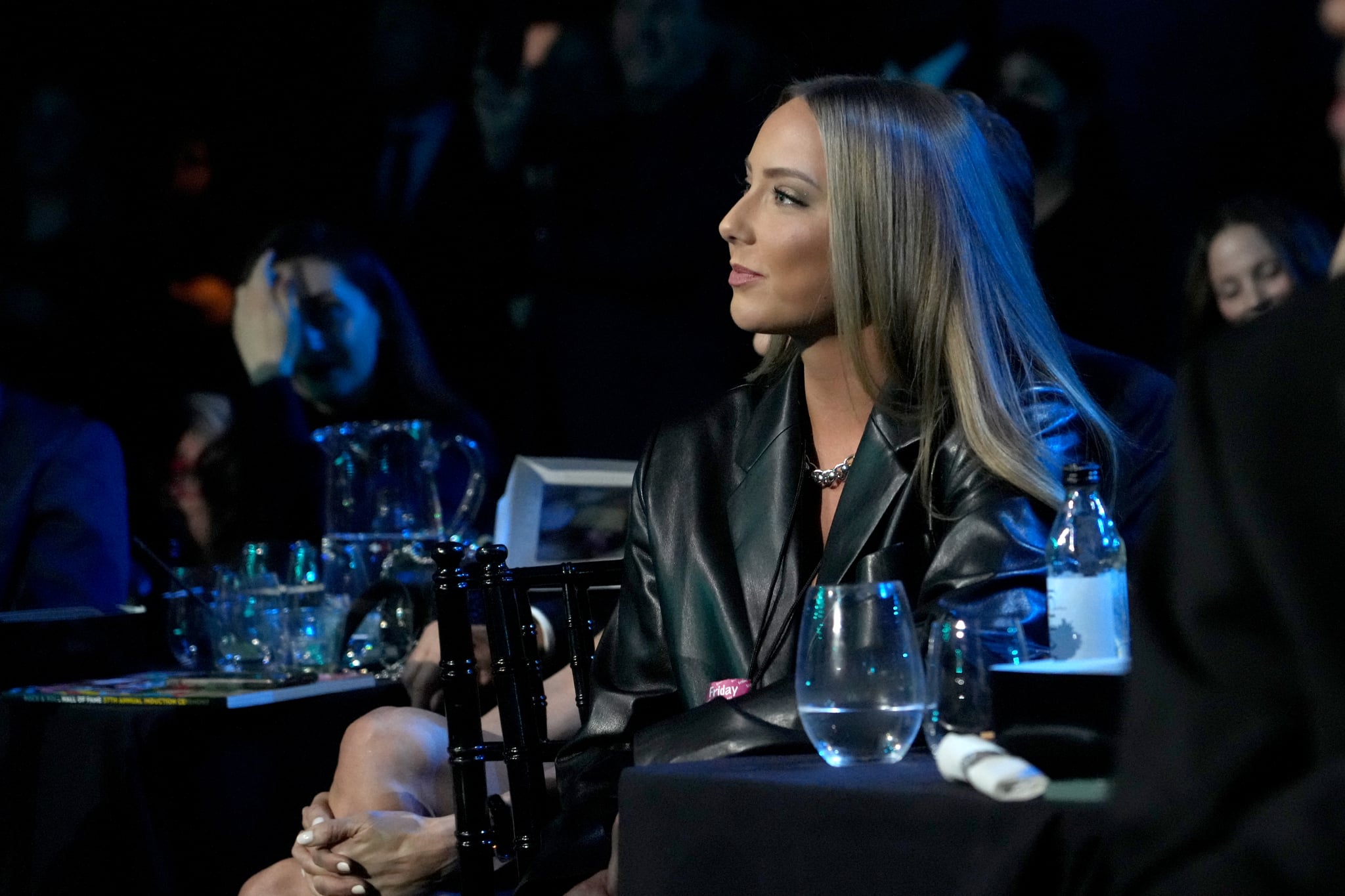 Image Source: Getty / Kevin Mazur
Hailie Jade is now engaged to her boyfriend, Evan McClintock, and she commemorated the romantic moment with an Instagram post. "Casual weekend recap… 😭💗 2.4.23 💍," she wrote beneath the photos, which she shared on Feb. 6.
The 27-year-old, who runs the podcast "Just a Little Shady," has kept her relationship with McClintock pretty private over the years. She's a little more public about her famous dad, Eminem, sharing insights into her childhood on her podcast and occasionally making public appearances with him. Most recently, she attended the Rock & Roll Hall of Fame induction ceremony with him back in November 2022, which she called "an experience I will never forget."
In February 2023, though, she officially told the world that she and McClintock are taking things to the next level. The pair reportedly met while studying at Michigan State University, per The Daily Mail. After graduation, McClintock began working at the software company Scout, where he is currently an enterprise growth executive, per People.
Reps for Jade and Eminem did not immediately respond to POPSUGAR's request for comment, but ahead, check out what we know about their relationship.
2016: Hailie Jade Reportedly Starts Dating Evan McClintock in College
According to The Daily Mail, Jade and McClintock started dating in 2016 while they were students at Michigan State University. Jade graduated with a degree in psychology in 2018.
December 2016: Hailie Jade Goes Instagram Official With Evan McClintock
Jade shared a photo of McClintock for the first time in December 2016. "Couldn't have asked for a better 21st birthday celebration (or a better guy to have by my side)," she wrote in the caption underneath a photo of herself and McClintock all dressed up and holding champagne flutes.
December 2019: Hailie Jade Posts a Birthday Photo With Evan McClintock
Jade posted to Instagram to provide a rare glimpse of her and McClintock in December 2019, sharing a glimpse of her '70s-themed birthday party. In the photo, the pair snuggle up at a diner while decked out in glittery ensembles.
March 2020: Eminem Mentions Hailie Jade's Boyfriend
Eminem gave an update on his daughter in a 2020 interview on "Hotboxin' with Mike Tyson," and he sounded pretty supportive of her choices. "No babies. Just a boyfriend. She's doing good," he said of Jade. "She's made me proud for sure."
July 2021: Hailie Jade Shares Another Glimpse of Evan McClintock
Jade provided a small window into her relationship in a July 2021 Instagram post, acknowledging that she prefers to keep her life pretty private. "i rarely share my feed, but when i do i'm happy it's with you ❤️‍🔥," she wrote beneath a caption of her and McClintock lounging outdoors.
February 2022: Hailie Jade Posts a Sunset Photo With Evan McClintock
Jade posted a romantic shot of her and her boyfriend on the beach on Valentine's Day in 2022. "yesterday & everyday 💖," she wrote.
July 2022: Hailie Jade Starts Her Podcast — and Talks About Her Love Life
Jade started a podcast called "Just a Little Shady" in July 2022 alongside her friend Brittany Ednie. She keeps fairly quiet about McClintock on it, but in a Sept. 30, 2022, episode that features her sister Alaina Marie Scott, she revealed he doesn't have trouble falling sleep, while she has a bit more difficulty. "Me and Evan had a big discussion about — I can't fathom the peace that he feels to be able to sleep in silence. I go, do you not hear your own thoughts?" she said. "I used to have an industrial-sized fan on the floor of my room, and I miss it every day, and the only reason I don't have it now is because Evan wants it silent and I want it as loud as can be, so we have compromised to a not-so-loud fan." She also said that McClintock sometimes talks in his sleep. "We go to bed, and I swear to God like three seconds — his head hit the pillow," Jade says. "He goes, 'What?' . . . There's been time that we've had full conversations and he wakes up and he's like . . . 'What were we talking about?'" She also revealed he can "fall asleep anywhere."
February 2023: Hailie Jade and Evan McClintock Get Engaged
Jade and McClintock took their relationship to the next level on Feb. 4 when McClintock proposed. Jade shared a glimpse of the memorable moment on Instagram, posting a slideshow of photos taken by Erika Christine Photography that showcase McClintock popping the question and the couple celebrating with champagne.