The Pick-Me-Up You Definitely Need: Hollywood Hotties Hanging With Their Dogs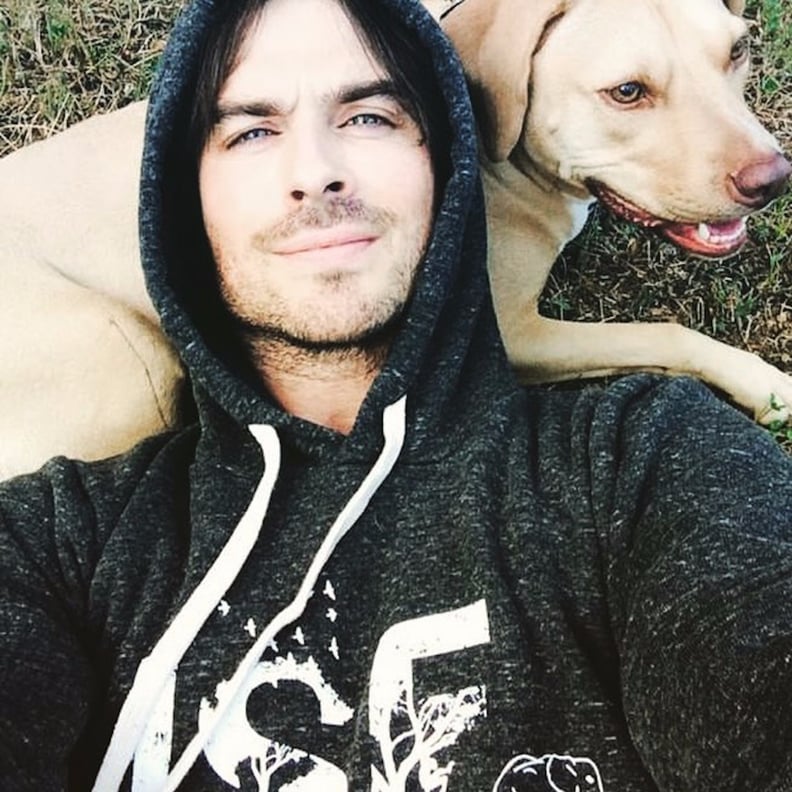 On a daily basis, we're searching for something to brighten our day or distract us from our overwhelming workload, the annoying test we haven't studied for, or that pile of dishes we know we have waiting at home. Luckily, we've found just the thing to make your day, week, and possibly month better. You're welcome!
What is this magical day-fixer, you ask? It involves hunky men and dogs, but that's all we can say. Just kidding, we can say a lot more, and we will. In celebration of you — or perhaps just because we know you need it — we've rounded up pictures of some of Hollywood's hottest stars and their adorable pups.
Some of these men are shirtless, so prepare yourself accordingly, and all of the dogs are precious, huggable, lovable, and so stinking cute. Seriously, if you've ever wondered what would be better than scrolling through a gallery of dogs, the answer is hot actors and singers holding them, snuggling with them, or just smiling next to them. So, again, you're welcome.
David Beckham
Any photo of David Beckham is good for us, but add in the Beckham family pup Olive, and it instantly gets cuter. Seriously, it's David with a dog that is wearing a sweater. Christmas came early this year thanks to this photo, and we are so grateful.
Channing Tatum
Technically these aren't Channing Tatum's puppies, but we're not going to tell anyone — oh wait, we just told you, but who really cares, there are puppies and lots of them! PS: that sweetie in the front is the Magic Mike star's actual dog, Lulu, and he's obsessed with her, which makes us love Channing even more.
Josh Hutcherson
This throwback photo courtesy of the Hunger Games star is exactly why #ThrowbackThursday was created. Well, that's probably not true, but what better way to use #TBT than to feature a picture of your precious pet when she was just a baby. PS: this is Driver, and according to Josh, she's "my tiny little angel who is so big now."
Jimmy Fallon
There is nothing we love more on The Tonight Show — besides a Justin Timberlake appearance, of course — than all of the puppies that Jimmy Fallon decides to bring on stage. Just look at this cutie; we can't even stand how fluffy this guy is.
John Stamos
We don't even know where to begin with this snap. It's John freaking Stamos in a pool, wearing bunny ears, and hanging out with his adorable dog, Frieda, who has her own Instagram account. It features a lot of fun John photos (some of which are shirtless), so it's worth a follow.
Barack Obama
Barack Obama loves his dog Bo, and therefore we love Bo. Be honest, seeing Barack pet Bo makes you want a dog to pet and at the same time want to hug the former president.
Ian Harding
The Pretty Little Liars alum is a sucker for his pet pal, and we don't blame him; look how adorable that face is. Even their selfie game is on point.
Kellan Lutz
OK, this is actually cuteness overload. The Twilight alum has always been one handsome man, but put him with his blue-eyed Australian Shepherd puppy (who is now all grown up, sadly), and our hearts skip a beat.
Josh Peck
Josh Peck and his pooch are black and white and cute all over.
Andy Cohen
Your eyes are not deceiving you: that is Andy Cohen rocking pajamas that have his precious pooch's face on them. Oh, and of course it wouldn't be a hunky celebrity and dog photo without the muse for Andy's PJs . . . Wacha Cohen. If you want your dog's face on your pajamas, you're in luck, because Bravo's Southern Charm star Patricia Altschul is the mastermind behind Andy's wardrobe.
Chris Hemsworth
How does Chris Hemsworth spend his New Year? Soaking up the sun with his pup by his side, obviously. It's not a bad view, either . . . for Chris or the pretty pup.
Paul Wesley
Surprise, surprise, Paul Wesley's dog is just as brooding and mysterious as he is . . . and we're not complaining.
Hugh Jackman
You might not have known this, but Hugh Jackman is low-key obsessed with his two dogs, Dali and Allegra. He posts photos with them all the time, and it is officially our new favorite pastime — scrolling through the photos, that is, not actually playing with the dogs, although that would be lovely, especially if the Logan star were there with us.
Shemar Moore
Just when you thought Shemar Moore couldn't get any hotter, he took this picture, and we instantly started to melt. The S.W.A.T. actor has two Bulldogs, as you can tell, and they are equally stylish as their handsome owner. Side note: Shemar does workouts with his pet pals, and it's awesome.
Liam Hemsworth
Like his fiancée, Miley Cyrus, Liam Hemsworth is a serious dog-lover, and it shows. When he's not posing for pictures with all of his pets, he is snuggling up to this girl, Dora, who is a rescue dog. We don't know about you, but we sort of see a shaggy resemblance between Liam and Dora!
Ian Somerhalder
The Vampire Diaries alum is a lover of all animals, and it's probably why he has so many fans — that and the fact that the guy can act. This picture makes us smile, because these two look so happy together, just lying there. What a life.