Jake Gyllenhaal and Hugh Jackman Troll Ryan Reynolds Again For Best Friends Day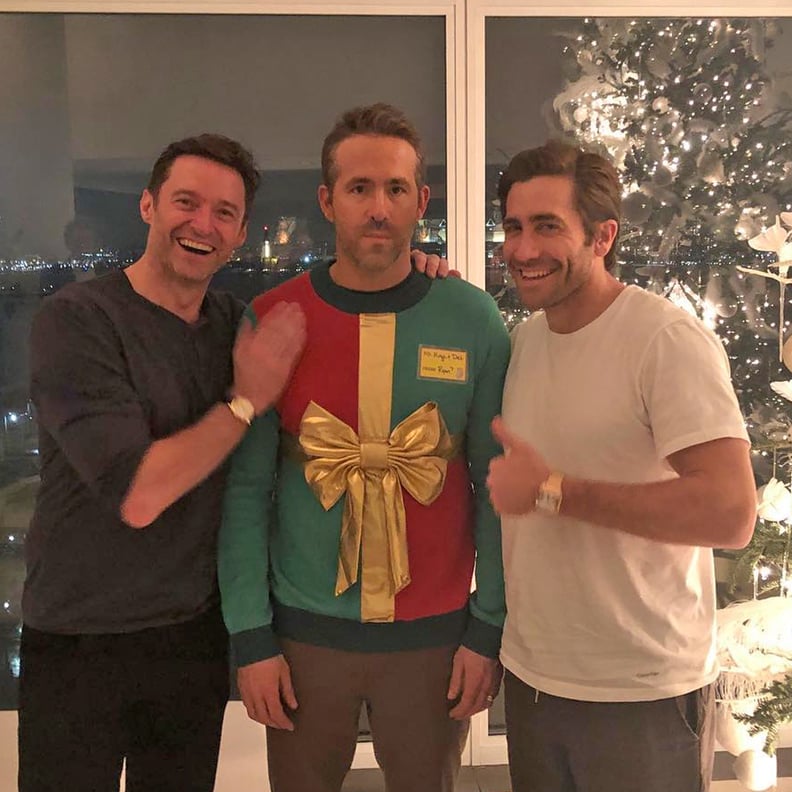 Jake Gyllenhaal, Hugh Jackman, and Ryan Reynolds have a very unique way of showing appreciation for each other. The actors all celebrated Best Friends Day on June 8, but they approached the day a little differently than most BFFs.
Ryan started off the back-and-forth by posting a photo of himself and Hugh on Instagram, with the caption "Happy #BestFriendsDay to Jake Gyllenhaal! (Not pictured)." Yeeouch, that burns. But don't worry, Ryan's roast of Hugh plays right into the faux feud they've had going on for years now.
Ryan and Jake are longtime pals, but Hugh wouldn't stand for being excluded on this special occasion. In turn, he posted a photo of his own, writing "Stage 4 clinger" under a snap of Ryan. Jake got in on the fun and shared his own picture with Hugh, and turned the tables back on Ryan. "Happy #bestfriendsday to Ryan Reynolds (not pictured)."
This Hollywood trio are known for mercilessly pulling pranks and teasing each other. Back in December 2018, Hugh and Jack gave Ryan the wrong dress code to a holiday party. These grudges friendships run deep!
Ryan Reynolds Roasts Hugh Jackman in This Best Friends Day Instagram Post
Hugh Jackman Responds to Ryan Reynolds' Best Friends Day Post With His Own Diss
Jack Gyllenhaal Shares a Best Friends Day Post of His Own With Hugh Jackman
A Throwback to When Hugh Jackman and Jake Gyllenhaal Pranked Ryan Reynolds