Even the Babies Came Along For the Kardashian Family Vacation to Bali — See All the Pics!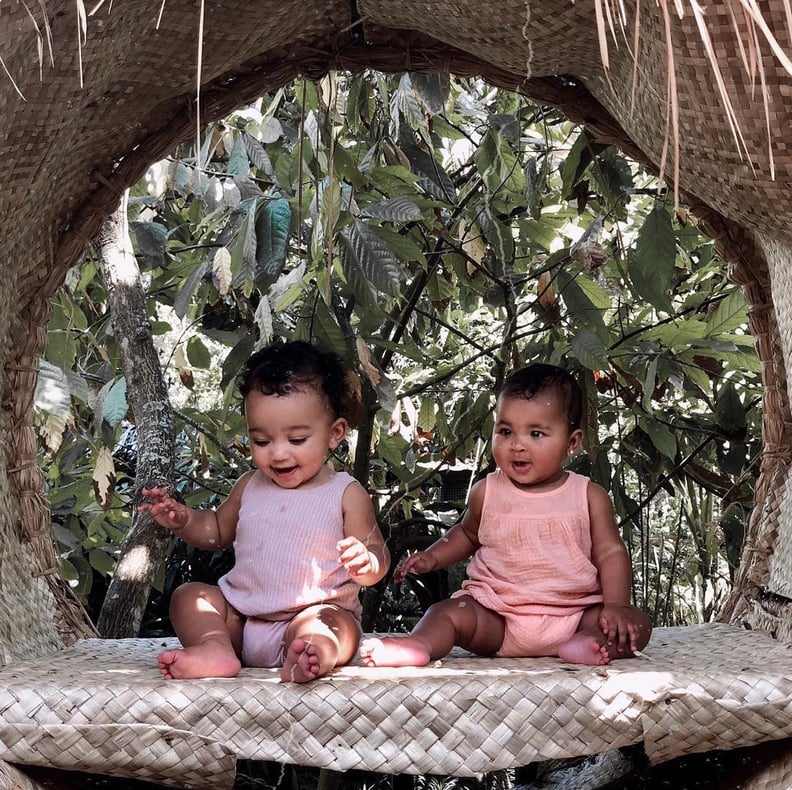 There's no vacation like a Kardashian vacation, and this time, they brought the babies along! Kim, Kourtney, and Khloé Kardashian embarked on a gorgeous family vacation to Bali, Indonesia, and if the location itself isn't enough to give you the travel bug, the photos from their trip will. With Mason, Penelope, Reign, North, Chicago, and True adorably in tow, we have a feeling this trip was unlike anything they've ever been able to experience together.
Not only did they hit the gorgeous beaches, but Kourtney gave an inside look at the temples and villages they visited in the Island of the Gods, calling it her "Eat, Pray, Love" moment. Although they didn't pose for any photos together, Kourtney's ex Scott Disick joined in on the family vacation fun, sharing photos of the kids and their luxurious activities (including a fabulous boat trip). It's the first big family trip that babies Chicago and True attended, and boy, are we glad — Khloé wrote on Twitter that she "wouldn't have been able to go emotionally" if True wasn't there. Read on to see photos of their beautiful escape, but you might want to have your passport handy for when you subsequently catch a serious case of the travel bug.
Cute cousins, alert! Kourtney's son Reign and Khloé's daughter True are living it up together on vacation.
Kourtney and her 6-year-old daughter Penelope are appreciating the local culture.
Kourtney is having her very own "Eat, Pray, Love" moment, as she notes in her Instagram caption.
It wasn't only beaches and boats for the family, as they visited temples throughout the "Island of the Gods."
None other than 8-year-old Mason snapped this fashionable photo of his mom.
Kourtney and her kids spent time with families in a nearby village. "They all loved Reign and he loved them," naturally.
Scott and Kourt hanging out with their kids Mason and Reign.
There she goes! Kim flaunted her hot pink bikini during their family vacation.
Baby Chicago and baby True are so cute! These "Besties in Bali" are only three months apart!
The Lord is "just sailing." Kourtney's ex and father of their three children joined in on the family festivities, where he's enjoying the sunshine and chillin' out maxin' relaxin' all cool.
North and Penelope are best friends in neon bikinis, or as Scott properly referred to them as "double the trouble ❤️❤️❤️."
Sorry, y'all, Penelope is the captain of this ship!
Khloé shared this photo of the beautiful Bali sunset, writing that their vacation experience was "everything and more."
Mama and True! Khloé thanked Bali "for the memories" she's creating with her daughter alongside the "black sand beaches that sparkle and cotton candy sunsets."
Scott hanging out with Mason, North, and Penelope.
Kourtney, Khloé, and Kim at the temples in Bali.
Kim working that pink bikini while on their boat ride.
And she's back at it again, but this time, it's a neon bikini stealing the spotlight.
Kim and North looking gorgeous in matching pink bathing suits!
Kourtney taking in the sunset.