Here Are All the Possible Katy Perry Digs in Taylor Swift's "Bad Blood" Music Video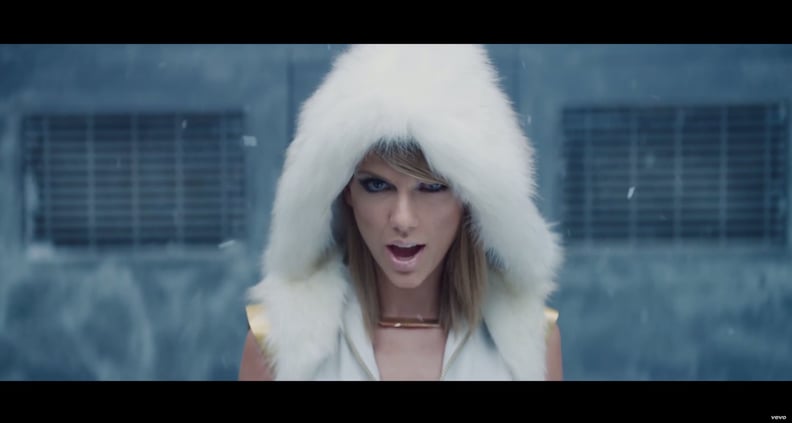 Taylor Swift brought the fierceness when she debuted her action-packed, Sin City-inspired music video for "Bad Blood" at the Billboard Music Awards on Sunday night. And while we loved every second of Taylor's new tough side, we also couldn't help but wonder what parts of the video were subtle digs at the woman who reportedly inspired the song, Katy Perry.
While Taylor has never directly said that "Bad Blood" is about Katy, she did reveal in an interview with Rolling Stone last September that she wrote the feisty anthem after a female pop star wronged her. "For years, I was never sure if we were friends or not," Taylor said. "She would come up to me at awards shows and say something and walk away, and I would think, 'Are we friends, or did she just give me the harshest insult of my life?'" It wasn't until professional lines were crossed that Taylor decided to put pen to paper. "She did something so horrible," Taylor continued. "I was like, 'Oh, we're just straight-up enemies.' And it wasn't even about a guy! It had to do with business. She basically tried to sabotage an entire arena tour. She tried to hire a bunch of people out from under me." Now, we realize some of the following points could be a total stretch on our part (there's no way to choose between Team Katy and Team Taylor!), but who didn't watch the video on loop looking for clues? Keep reading to see some of Taylor's possible digs, then sound off in the comments on what you think about the video.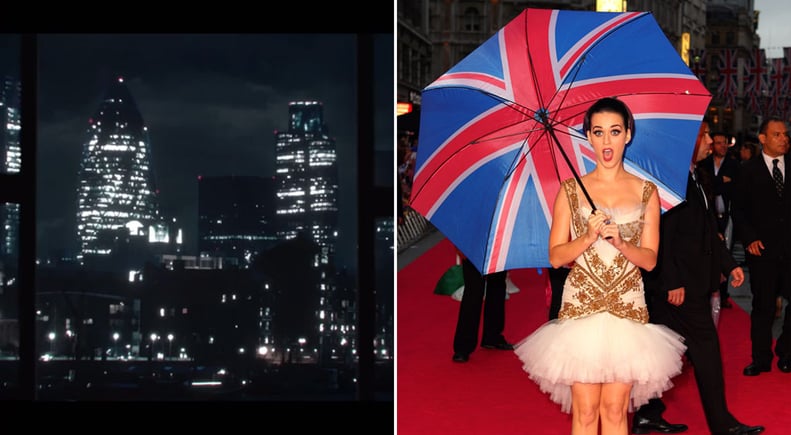 It's set in London.
Taylor could have used any major city as the setting for the epic battle that takes place in the video, but she chose London. She also made it obvious by including numerous panoramic shots of the city. So how could this be a dig? Well, Katy was married to British comedian Russell Brand from 2010 until 2012, which meant she spent a lot of time in London. Taylor could be saying that the city is now hers, or she could just really like the pretty architecture (and fish and chips).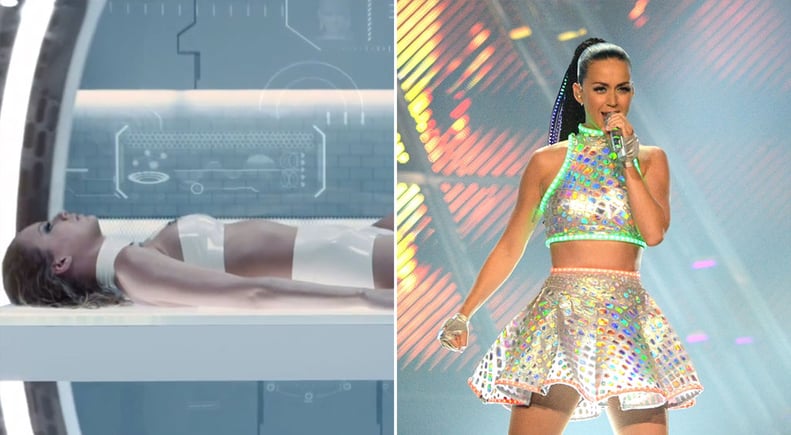 It's futuristic.
In the video, Taylor undergoes a Hunger Games-inspired makeover in a futuristic lab. All of the technology and gadgets remind us a little bit of Katy's Prismatic world tour. While the tour and the video are completely different, the ideas of a futuristic world are definitely on the same page.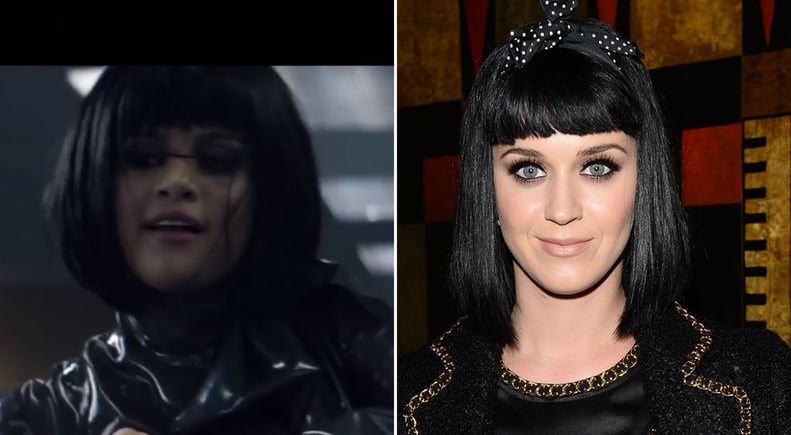 Selena Gomez's look is very familiar.
Selena Gomez plays Arsyn, Taylor's ally-turned-enemy. In the video, Selena sports a black wig and dark makeup, something Katy has turned into a bit of a signature look.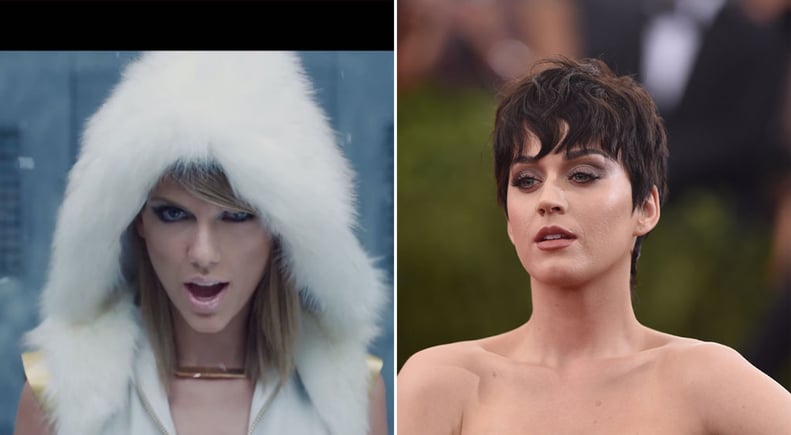 Taylor is dressed in white.
Taylor's white and fluffy outfit could very well be a reference to Katy's September 2014 tweet that happened shortly after Taylor's Rolling Stone interview came out. Katy tweeted, "Watch out for the Regina George in sheep's clothing...," and Taylor seems to be dressed like a sheep in this scene. Too much?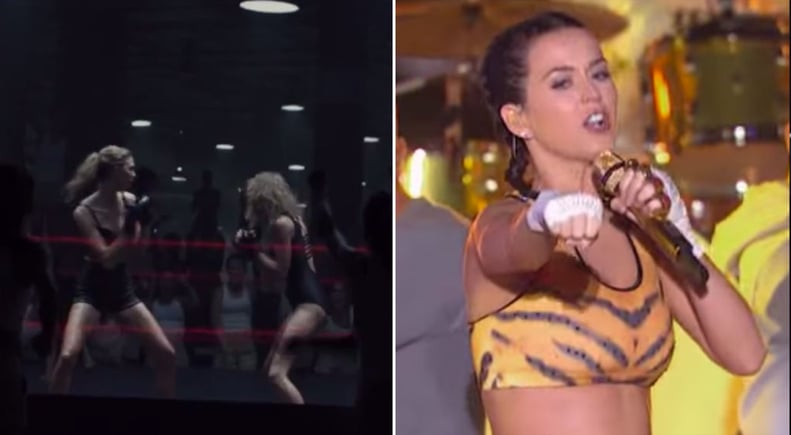 There is a boxing scene.
Taylor goes up against her BFF Karlie Kloss in a rough and brutal boxing match in the video. The scene, which is one of the longer ones, could be referencing Katy's performance at the 2013 MTV Video Music Awards, when she sang "Roar" in a boxing ring underneath the Brooklyn Bridge.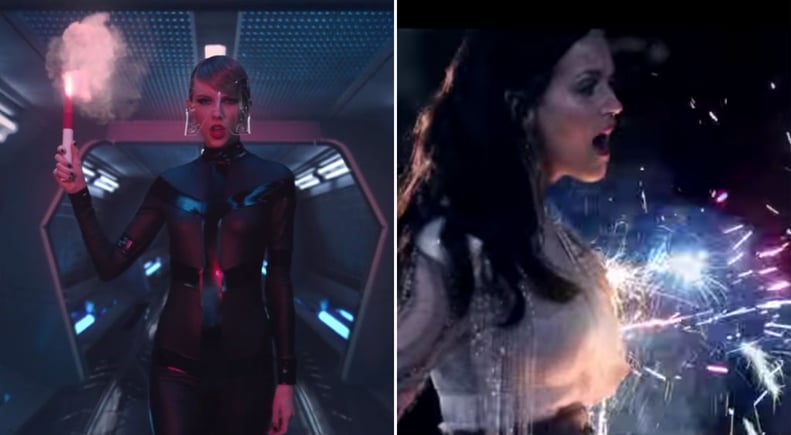 There are fireworks.
OK, this one is pretty obvious. In a short scene from the video, Taylor walks through a dark hallway while holding what appears to be a flare torch, or, in our minds, a firework. If that's the case, then this is definitely referencing Katy's hit song "Firework."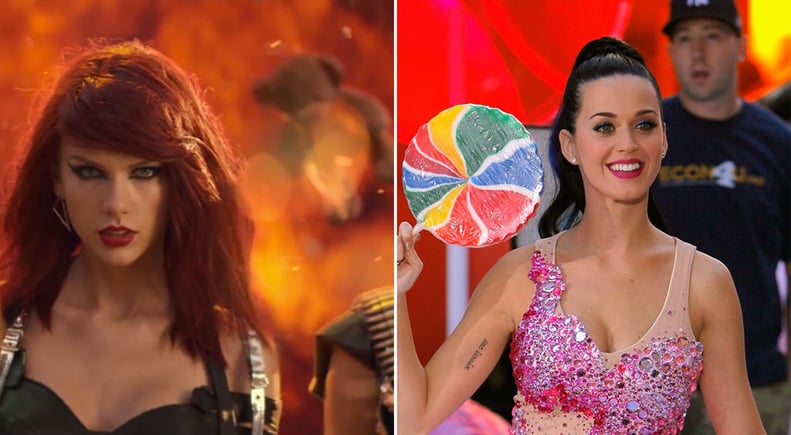 There is a burning teddy bear.
Katy Perry's California Dreams tour represented everything fluffy, flavorful, and sweet. Katy is also frequently spotted making her way through airports with a brown stuffed bear. In Taylor's video, you can see a teddy bear being burned in the fire in the background. While even we admit this connection is a bit out there, Taylor could be saying "so long" to everything sweet and nice.