Keke Palmer Reveals When Her Baby Is Due While Discussing Their Zodiac Sign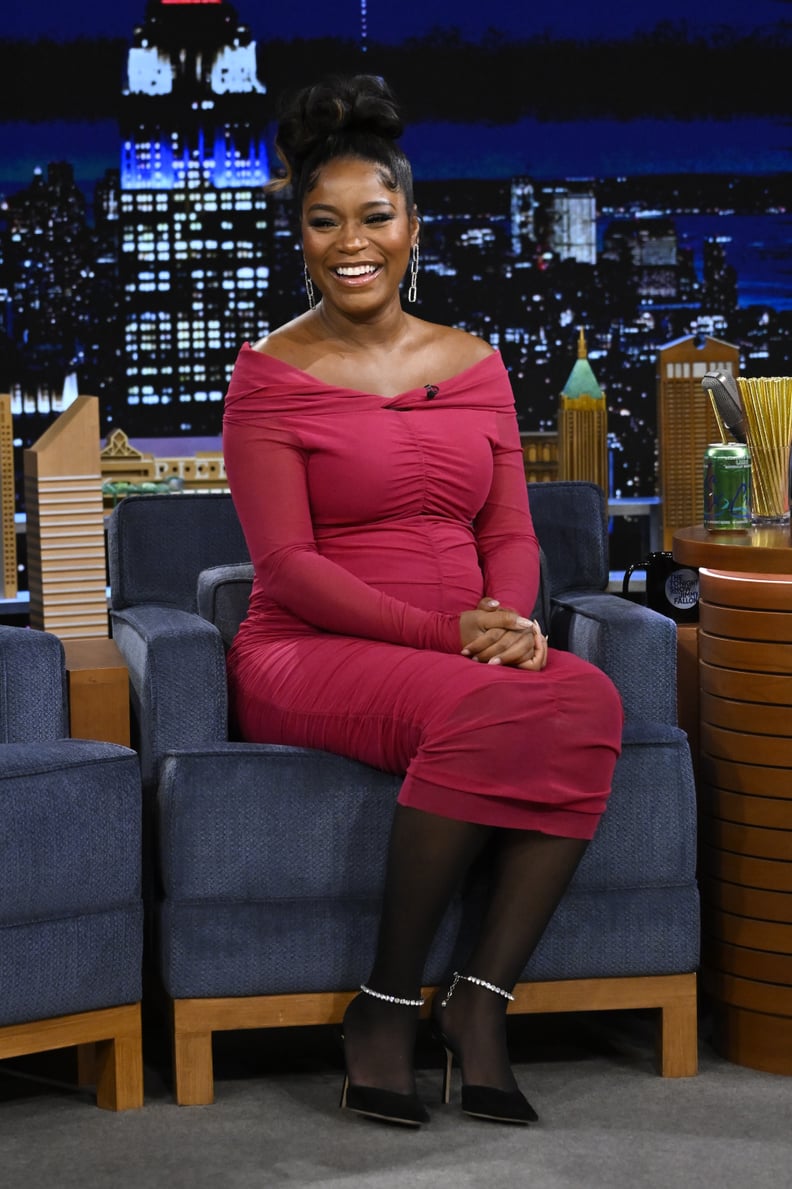 Will Heath/NBC
Will Heath/NBC
Multihyphenate star Keke Palmer's "Saturday Night Live" hosting debut on Dec. 3, 2022, was memorable in more ways than one. In addition to starring in a series of hilarious sketches, she kicked off the show by announcing she was pregnant with her first child during her monologue. And she's been revealing bits and pieces of information about her pregnancy ever since, like when she's due to give birth and what the sex of her baby is.
In her "SNL" monologue, Palmer noted her fans had been speculating that she was expecting for some time. "There's some rumors going around, people have been in my comments saying, 'Keke's having a baby, Keke's pregnant,' and I wanna set the record straight — I am!" the "Nope" star said before pulling open her jacket to reveal her pregnant belly to the audience.
She added, "I got to say, though, it is bad when people on the internet spread rumors about you, y'all, but it's even worse when they're correct. I mean, like, I was trying so hard to keep it on the down low, 'cause I got a lot of stuff going on, you know? People kept coming up to me going, 'Congratulations!' I'm like, 'Shhh, can y'all stop? I got a liquor sponsorship on the line. Let the check clear, then we can get to the damn baby shower.' But honestly, this has been the biggest blessing, and I am so excited. Guys, I'm going to be a mom!"
The "Alice" actor went on to remind her fans that although she was a child star, she's all grown up now. "Even though some people feel a little weird about me having a baby 'cause I was a child actor, I just wanna say, look, I'm 29, I'm grown, I have sex, I own a home, I stormed the Capitol on Jan. 6, you know? Things adults do," she joked.
While Palmer hasn't formally announced who the father is, her boyfriend, Darius Jackson, posted a photo of her showing off her baby bump on his Instagram Stories on Saturday, captioned, "2023." (POPSUGAR reached out to Palmer's reps for comment on the news but did not receive an immediate response.) Palmer has been adamant about keeping her relationship out of the spotlight as much as possible. The couple have been dating since the summer of 2021, and in August 2021, they went Instagram official.
In November 2021, Palmer appeared on "The Tamron Hall Show," where she revealed why she decided to finally share her relationship with the world. "It became more difficult to hide," she said. "We spend all this time together, and he really is my closest friend, so it just becomes a thing where I'm not gonna hide something that makes me happy."
When Is Keke Palmer's Baby Due?
Palmer got real about when her baby is due during a Jan. 25 interview on "The Tonight Show" while discussing her future child's astrological sign with Jimmy Fallon. "My baby is either going to be a Pisces or an Aries," Palmer told the late-night host. That suggests the baby will be born between late March to early April.
What Is the Sex of Keke Palmer's Baby?
Whether it was intentional or not, Palmer also seemingly revealed the sex of her future baby while discussing astrology with Fallon. "Pisces are known to be very deep, they're emotional creatures, so I just want to make sure I'm not too blunt for my baby boy," Palmer exclaimed, seemingly confirming her baby is a boy.