Kelly Rizzo Pays Touching Tribute to Bob Saget After Death
Kelly Rizzo Recalls Last Conversation With Bob Saget: "I Love You Endlessly"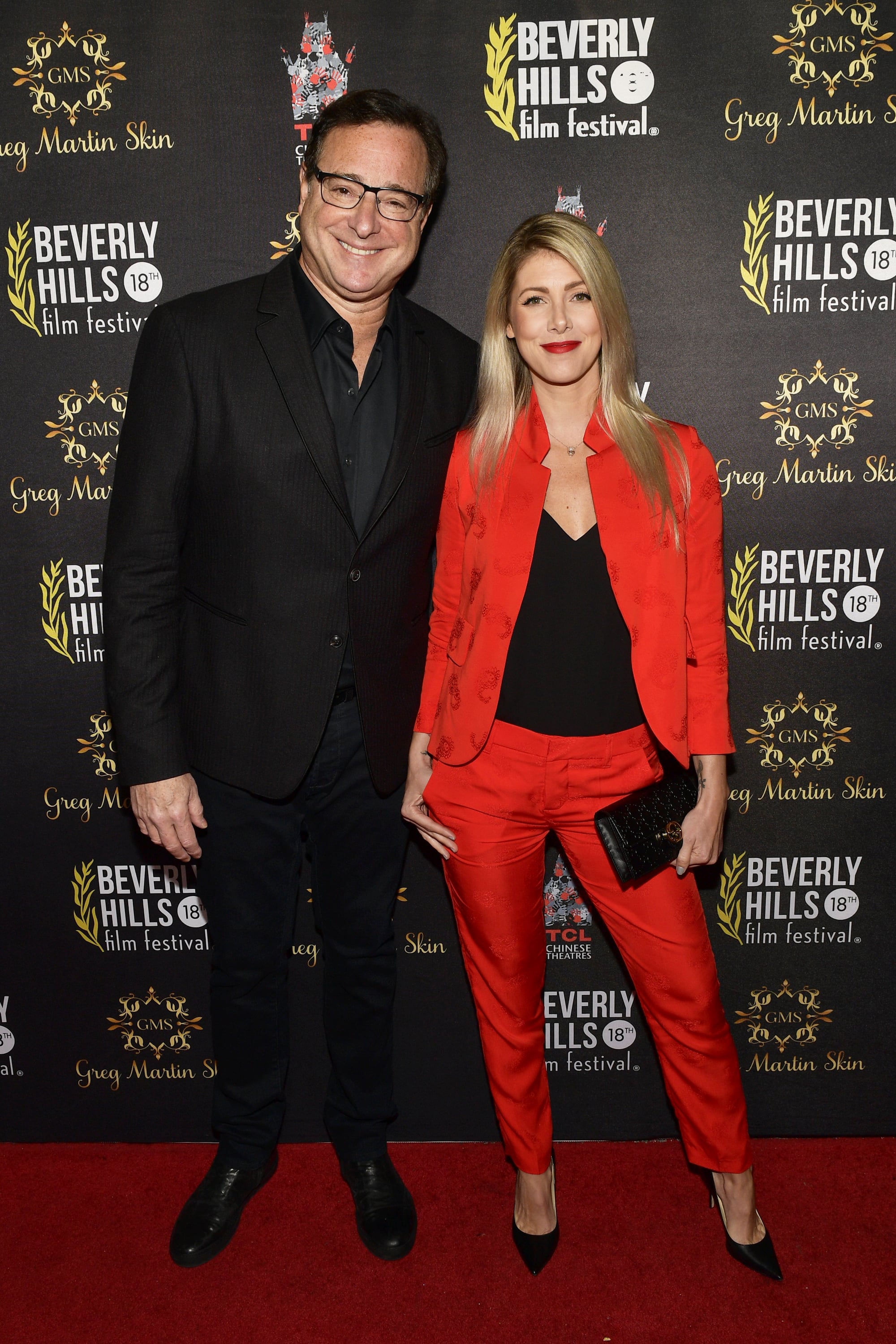 In honor of her late husband, Bob Saget, who died on Jan. 9 at age 65, journalist and blogger Kelly Rizzo shared a heartfelt statement, obtained by People, mourning his loss. "My whole heart. Bob was my absolute everything," Rizzo said, one day after the comedian was found unresponsive in his hotel room in Orlando, FL. "I am so completely shattered and in disbelief. I am so deeply touched by the outpouring of love and tribute from our friends, family, his fans and his peers."
"When the time is right and when this news is not as raw, I look forward to sharing more of Bob with the world."
Saget and Rizzo were first introduced through mutual friends in 2015. Soon after, the comedian messaged her on Instagram, and the pair began dating. Two years later, Saget and Rizzo got engaged, and they tied the knot in October 2018. On Dec. 29, 2021, just days before the Full House star's death, Rizzo posted an Instagram video recapping the adventures she and Saget shared in 2021.
"When the time is right and when this news is not as raw, I look forward to sharing more of Bob with the world," she said. "Sharing how much he meant to me, all of those around him, and how much all of his fans and friends meant to him as well. Thank you for respecting my privacy at this time."
On Jan. 20, Rizzo appeared on Today to speak with Hoda Kotb about the outpouring of love and support she's received since her husband's passing. "I was just telling my family that today there's a little more of a sense of calm," Rizzo said. "I think you get to a point where your body will physically not let you cry anymore, or at least [not] all day. Still, every second is horrible, but you start to come to terms with it a little bit . . . I can't even verbalize the level of support. I'm so grateful for it."
"He was just the best man I've ever known in my life."
About Saget's funeral, Rizzo said, "The whole thing, as painful as it was, was [also] beautiful to be surrounded by so many people who loved him and loved each other . . . If you knew Bob and he loved you, you knew it. There was never, ever a doubt in your mind. Even at his memorial, there were a lot of people there, and every single person was pretty much like, 'Oh, I talked to Bob week.' I'm like, 'How did he have the time?'"
Saget's influence and kindness were widespread, but Rizzo said that he was just as caring when the cameras were gone. Recounting the final conversation she had with her husband, Rizzo said, "I think I said, 'I love you dearly,' and he said, 'I love you endlessly.' And then I said, 'I can't wait to see you tomorrow.'"
Rizzo also went on to recall her late husband catching early flights home and waking up just hours after lying down to spend as much time with her as possible. "He valued every single second that we had together," Rizzo tearfully told Kotb. "That's why this is so heartbreaking. But at the same time, I know that every second that we had together was maximized to the fullest . . . His constant message was [to] treat everybody with kindness because he'd gone through so much in life that he knew how hard life could be. He was just the best man I've ever known in my life."
After Saget's sister, Gay, died from complications due to scleroderma — a rare disease that tightens skin and connective tissue — in 1994, the actor made a point of supporting the Scleroderma Research Foundation, raising more than $26 million for the foundation in his lifetime. Saget's family has not publicly requested donations in his honor following his death, but Rizzo said fans' small gestures of support don't go unnoticed.
In addition to his wife, Saget is survived by daughters Aubrey Saget, Lara Melanie Saget, and Jennifer Belle Saget from his previous marriage to Sherri Kramer. "He was everything to us and we want you to know how much he loved his fans, performing live and bringing people from all walks of life together with laughter," the late actor's family said in a statement. "Though we ask for privacy at this time, we invite you to join us in remembering the love and laughter that Bob brought to the world."