Kylie Jenner and Travis Scott Suit Up as Captain Marvel and Iron Man For Avengers: Endgame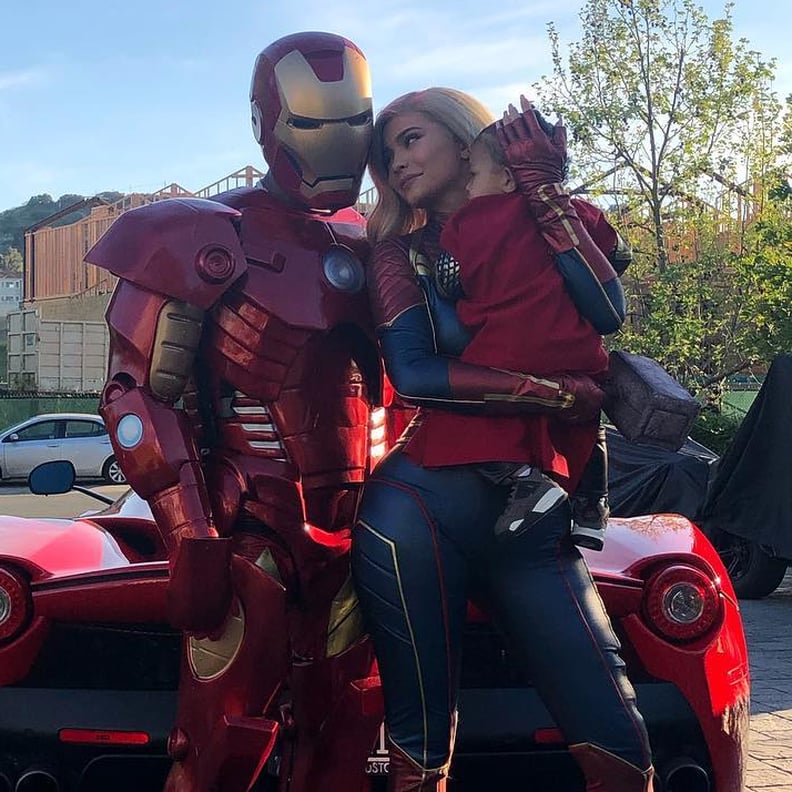 Kylie Jenner and Travis Scott are getting in on the Marvel action! With the record-breaking release of Avengers: Endgame on Friday, fans everywhere are honoring the intergalactic heroes with some impressive cosplay, including the 21-year-old beauty guru and 27-year-old rapper. Ahead of the film's premiere, the two celebrated Travis's April 30 birthday with an Avengers-themed party (where Kim Kardashian and Kanye West also embraced the Marvel motif). Kylie shared a few pictures of her and Travis dressed up as Brie Larson's Captain Marvel and Robert Downey Jr.'s Iron Man. Even their 1-year-old daughter Stormi assembled for a superhero family snapshot. Although we can't see exactly who she's dressed as, the red cape and sleeves from behind suggest she's Chris Hemsworth's Thor.
In a few more photos, Kylie and Travis cuddle up in costume while posing on the hood of a car. "Oh you didn't catch iron flame and captain lip kit in the credits? sucks 4 you," Kylie joked in the caption. The couple seems to love taking on different personas as Travis recently revealed his own Game of Thrones costume inspired by Westerosi armor. We've got to respect the dedication!