Lil $o$o Is Putting Out New Music Since "Florida Girl"
Lil $o$o — the Rising Star Behind Issa Rae's Rap Sh!T, "Florida Girl" — Is Just Getting Started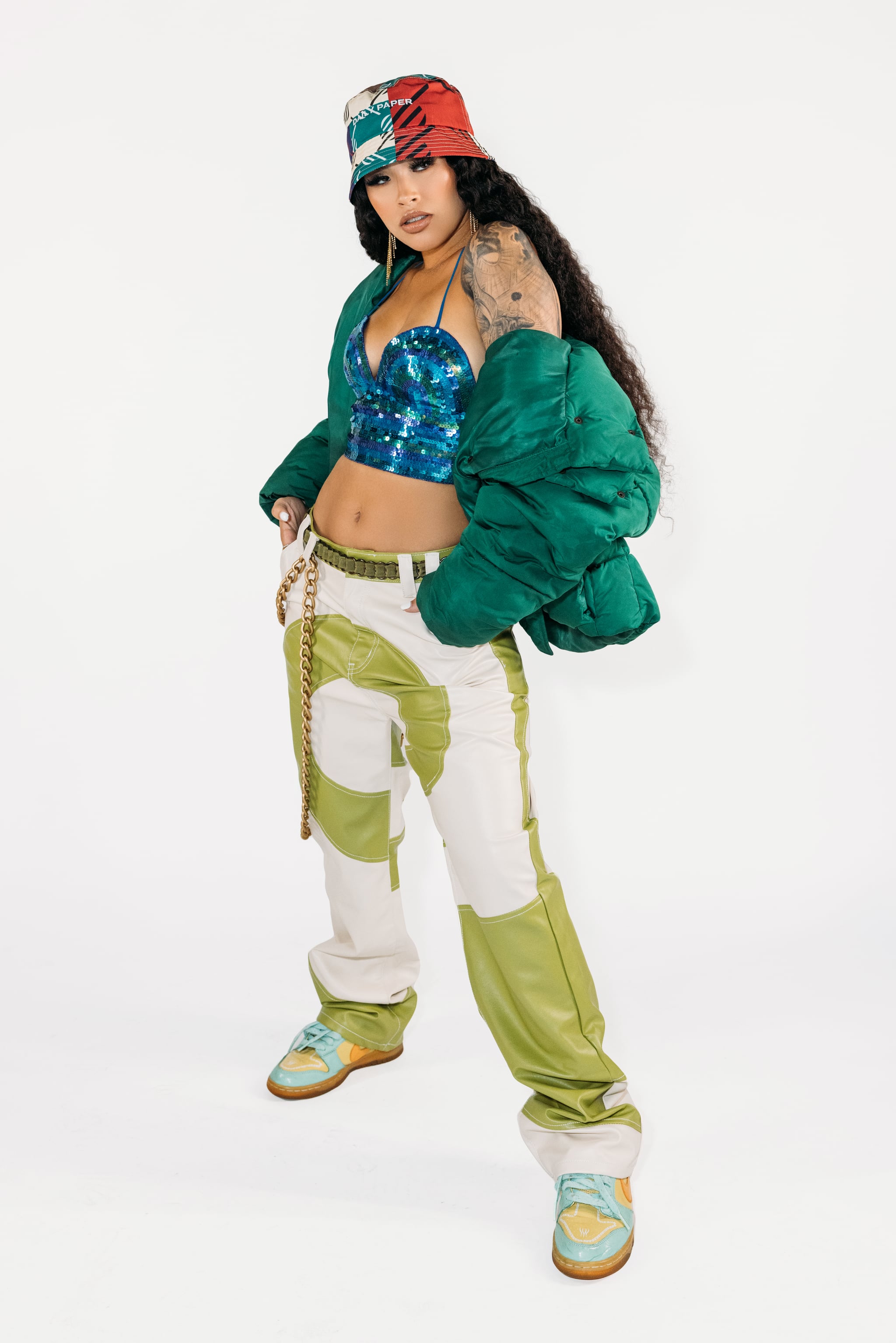 If you've tuned into the HBO Max series "Rap Sh!t" by Issa Rae, chances are you've heard a little ditty called "Florida Girl." And you already know that if you did, you weren't able to stay in your seat. This is what Lil $o$o, the voice behind the hot track, promises to deliver. The up-and-coming emcee is bringing a voice all her own to the rap game, and it's all based on love, laughter, joy, and the power of women to rule the world.
"I see all the women [rappers] now; they're using their voices to empower other women."
"I see all the women [rappers] now; they're using their voices to empower other women," Lil $o$o tells POPSUGAR. "So, that's what I want to do. I want to influence other women, so they know they can do whatever they want and say whatever they want, and they don't need to listen to the standards of what men think they should do."
The 22-year-old Colombiana, whose real name is Sofia Donado, has persevered through trauma and pain and continues to show up for herself and her 3-year-old son, who she's raising as a single mom. Lil $o$o's boyfriend was gunned down in 2019, while sitting in his car, leaving her without a partner and their son without a father. He was in the music business, and after his passing, Lil $o$o found healing in discovering her own musical voice. The result was upbeat rhythms intended to make people dance, smile, and feel free. It was the only way she knew how to make things better. "That's all I ever knew how to do," she says, adding how she's been through a lot of challenges in her young life, but her strong support system and resilient mother are largely what got her through.
"I've seen my mom do it as a single mom her whole life," Lil $o$o says. "She tries to make every situation better, and every 10 years, I was in a better situation because of her. When I fell in love with music, it inspired me to keep doing what I want to do, and hopefully, it changes my life."
As a young girl, Lil $o$o looked up to other female emcees and dreamed of one day being centerstage as a rap artist. At first, her recorded thoughts were more like poems, but eventually, her words came together as rap lyrics. The fabric of her musical tastes and style was heavily influenced by her Chicago-bred mother's musical choices.
"She always listened to Chicago drill, and she loved all types of hip-hop music," Lil $o$o recalls. "She put me onto the old school Diddy and Missy Elliot and JAY-Z and Kanye. My mother loved all of that."
Lil $o$o wanted to be confident in her musical delivery like the artists she heard her mother listening to, but she was initially shy about sharing her art. Regardless, she pressed forward, avoiding the haters and keeping her head on straight. "When you first start out, people doubt you," Lil $o$o says. "So, when you see big things happening and you keep going no matter what anyone else says, you know you can do it. You just gotta go hard and keep believing in yourself."
Today, she stands by that mentality to stay focused on her career in music and take it to the next level. Lil $o$o's goal is clear: as a female emcee, she intends to bring joy and inspiration through her lyrics with fun, bubbly music that reflects her personality and how she aims to live day-to-day life. "We need more music that is positive. We need more fun music that helps you forget about the problems of the world," she says. "That's really the type of music I want to make. I'm tired of listening to all the murder music and killing. To me, it's draining."
These days Lil $o$o is living out her dreams of delivering tracks that get you up and moving. Her latest track, "Expensive Taste," was just released on Feb. 24. Still, there are plenty of peaks she's yet to reach. Collaborations with veteran emcees like Nicki Minaj and Missy Elliott are something the young rapper aspires to manifest. She's also inspired by GloRilla, who she describes as her number one in the hip-hop game right now.
Lil $o$o is a petite powerhouse with a lot of energy, who is showing up to the game with full authenticity and humility. She represents what it's like to be resilient and work hard to create a life all her own. No dream is too big for $o$o, and she strongly believes it's just a matter of time before they all come true for her. In fact, she's already imagining what her Grammys performance will be like.
"I would love to do a big show with dancers and fire and everything. I would love to do that," she says, glowing. "I always see myself when I see those performances and I'm like, 'Oh, yeah, that's gonna be me.'"
Image Source: Kathy Rosario