Mariah Carey Fixed That Horrid Christmas Ornament and Released Her Own Damn Version
Update, Dec. 21, 2021: Mariah Carey finally has the Christmas ornament homage she deserves. Nearly a year after roasting an unofficial holiday bauble meant to resemble her, she took it upon herself to create a far more flattering design and set the record straight. Released in partnership with the National Entertainment Collectibles Association, the new and improved tree decoration is now available to shop in Target stores and online, along with an equally as on-brand Christmas stocking and wrapping paper kit the singer also dropped this season. As Kim Kardashian famously once said, "It's what she deserves."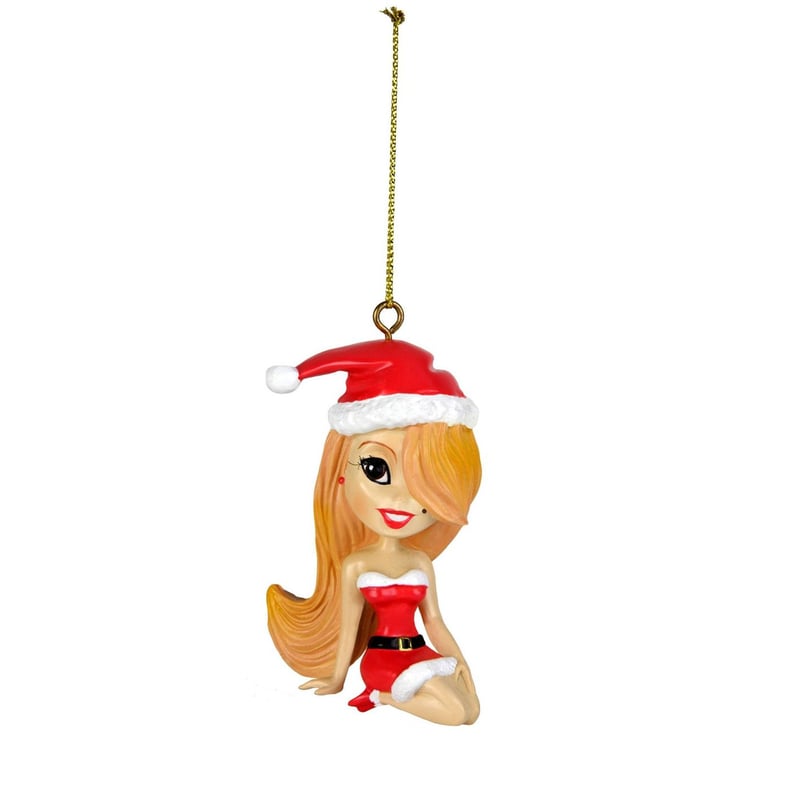 Mariah Carey All I Want For Christmas Ornament ($20)
Original post, Dec. 18, 2020: All I want for Christmas is you an anatomically correct Mariah Carey Christmas ornament. On Thursday morning, one Twitter user sent the Lambily into a frenzy when he shared a photo of an ornament allegedly meant to resemble Mariah, and the holiday queen herself wound up chiming in to show her disapproval.
The contentious bauble is loosely modeled after her Merry Christmas II You album cover, featuring a mini glitter-covered Mariah kneeling while wearing an off-the-shoulder, fur-lined dress and Santa hat. From afar, she looks cute and shiny nestled among the tree branches, but once you zoom in close, you'll immediately notice that the face is rather — how do I put this lightly? — jacked up.
Let's begin with the eyebrows, shall we? In a failed attempt to accommodate the side-swept bangs, the left eyebrow winds up landing in the middle of her forehead, right above her nose. And the poor left eye! It's merely a tiny pupil sagging to midcheek, thanks to those pesky bangs. Add in the razor-thin lips, and you've got an ornament that doesn't even come close to representing the singer's beauty.
When Mariah herself caught wind of the unbecoming tree decor, she didn't hold back while sharing her thoughts. "This is... Not approved . . . (But it's the thought that counts)," she tweeted. In other words, when she famously said "I don't know her" about Jennifer Lopez back in 2001, she was also preeminently referring to this abomination, which is somehow currently sold out online. To whoever designed this monstrosity: please consider a much-needed redesign that has Mariah's endorsement.