Megan Thee Stallion Quotes About New Projects in 2020
Megan Thee Stallion Dishes on Her Powerhouse Aura, Meeting Beyoncé, and Upcoming Projects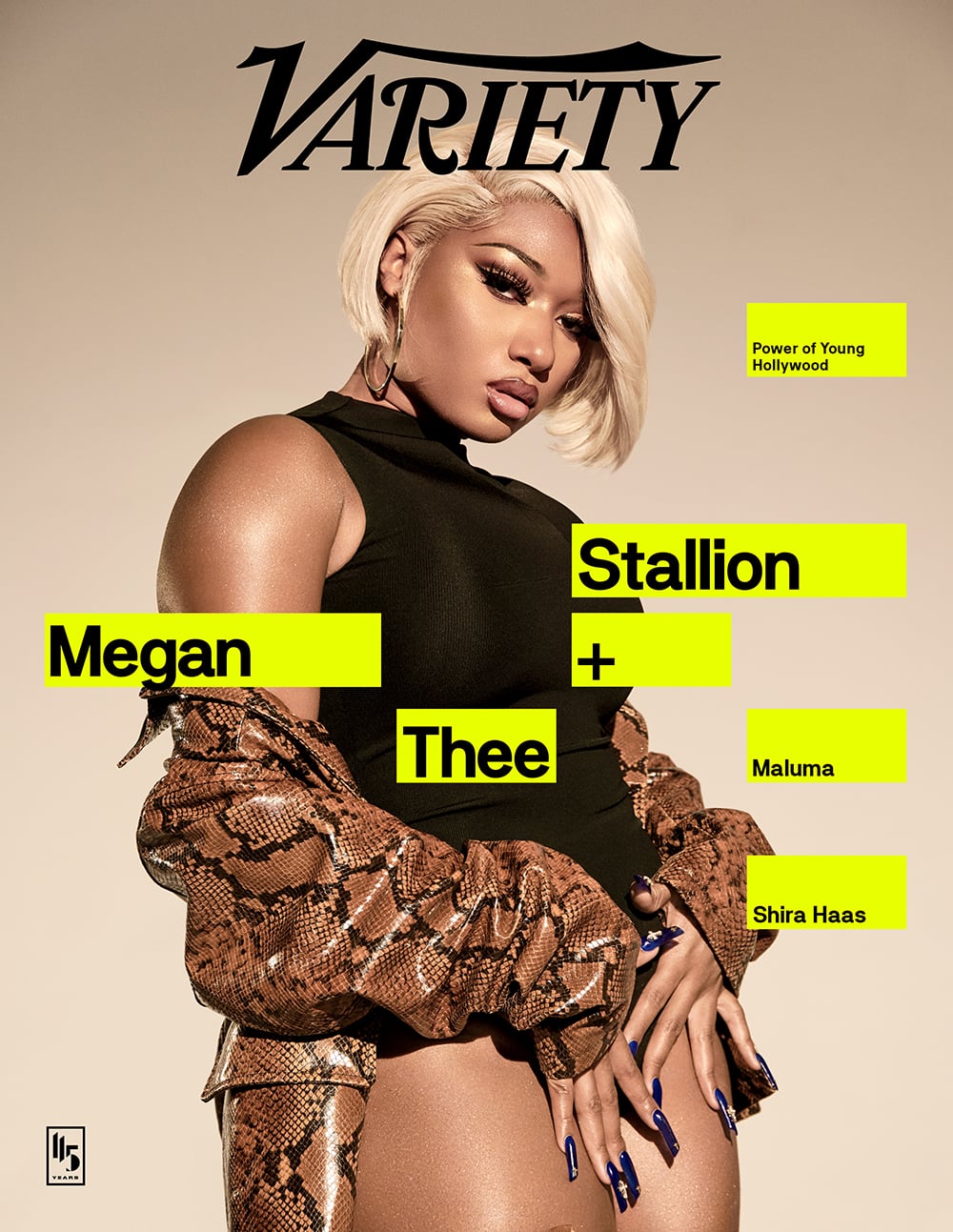 Turn on the AC, because our favorite hottie Megan Thee Stallion is one of the featured stars in Variety's Power of Young Hollywood 2020 issue. As an honoree, the 25-year-old rapper spoke with the magazine about her plans to continue evolving as an artist and a luminary even amid trying times. After suffering multiple gunshot wounds in an incident involving Tory Lanez, the Texas native is focusing on bigger and better things while she recovers. "I'm not the type of person who can stay down for a long time," she told the outlet. "I don't like to be sad or keep myself in a dark place, because I know it could be the worst thing happening, but the pain and the bad things don't last for long."
Instead, Megan is shifting her energy towards other ventures, such as writing a screenplay for a horror film. "It's gonna be something that definitely blows your mind; you've never seen it before," she teased. The dread-ridden project will join a long list of her accomplishments, which impressively includes a collaboration with Houstonian confrère Beyoncé, who hopped on Megan's "Savage" remix in April. Their team-up came about four months after Megan met the Black Is King star at JAY-Z's New Year's Eve party. "In the first five minutes of the conversation, I felt like I've been knowing her all my life," Megan revealed. "She treated me like family, and now I feel like I am family. We talk all the time."
Hanging out with the likes of Queen Bey is among the many perks of fame, though there is one downside that the "Hot Girl Summer" songstress still grapples with. "The only thing I don't like about having all eyes on you at all times is not all eyes are good eyes," she noted. "I still want to be able to walk into Walmart and buy dog food. I still want to party in the club and nobody's recording me and no super-judgey internet police are going, 'Shame!' But all that comes with it, and you have to be prepared for people to be in your business, 24/7."
"I feel like everything that's going on right now, if it hasn't moved you to speak out or try to make some type of difference, then something might be slightly wrong with you."
Her acceptance of fame's deluge hasn't been without its struggles. In the midst of achieving star status, Megan is also pursuing a bachelor's degree in health administration at Texas Southern University — a feat that she's had to balance with her musical responsibilities. "I was late for an awards show because I had to finish a final," she recalled. "I remembered halfway through getting dressed for the event, so I'm finishing the final while my hairstylist is curling my hair and people are calling like, 'Where is Megan?' I got there and went straight onstage." Despite the difficulties, Megan is still determined to open an assisted-living facility after finishing her coursework next year.
Megan is also looking forward to making new music that delves more into the Black Lives Matter movement. "I feel like everything that's going on right now, if it hasn't moved you to speak out or try to make some type of difference, then something might be slightly wrong with you," she said. "Even though I haven't already come out with a song with that messaging, I definitely plan on it."
She attributes her ambition to the strong women in her life, notably her mother Holly Thomas (who was also a rapper and performed under the stage name Holly-Wood), as well as her great-grandmother and grandmother. Although Holly and Megan's great-grandmother died in 2019, their legacy has continued to inspire Megan. "They were all polite Southern women, but so sassy, smart, and strong: 'You don't need a man to do anything for you,'" she said, remembering the lessons she learned growing up. "Because they put that in me, nobody can tell me the opposite: 'My mom told me I was great, so that must mean I'm great!'"
Ahead of Variety's Power of Young Hollywood virtual party on Aug. 6, read Megan's full interview to learn more about her sobriquet's origin, her familial bonds, and her friendship with Nicki Minaj!