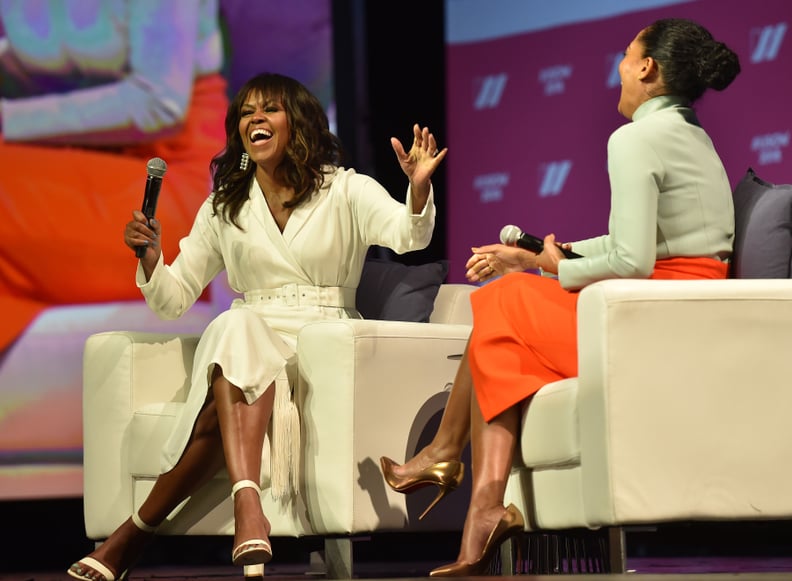 AFP | Chris Delmas
AFP | Chris Delmas
Tracee Ellis Ross might be on a texting basis with Michelle Obama, but she admits she still can't bring herself to call by her first name. "I want to curtsy!" the Black-ish star joked as she sat down with the former first lady at the United State of Women summit in LA today. What followed when the two friends got down to it was one of the most easygoing and candid conversations we've seen from the typically relaxed and candid Michelle — even if some of the topics of discussion may have slightly embarrassed the former first daughters.
Michelle's "Mom Face"
When Tracee asked Michelle how her own mother influenced her parenting, she said she always tries to emulate her in how she mothers — and that includes "mom face."
"Do not go to other 14-year-olds for information, 'cause all you all are dumb. Talk to me."
"You have to get that mom face right, like, 'Oh, did that happen? Tell me more'," Michelle said, striking an unbothered-but-sort-of-bothered expression and cracking up the audience. "Trying not to react so you get the good information. I tried to tell Sasha and Malia, 'Do not go to other 14-year-olds for information, 'cause all you all are dumb. Talk to me.' It's like, 'All of you are dumb. You know nothing. Love you!' So, let's just talk about it. Don't ask Olivia what she thinks about sex. She doesn't know!"
How Women Can Do Better by Each Other
Tracee also asked Michelle how she thinks we can set young girls up to dream bigger, in a "limitless" way not constrained by gender or race.
"The most qualified person running was a woman, and look what we did instead."
"We're still at that stage where we're trying to figure out what it means to be women," Michelle replied. "Sorry, in light of this last election, I'm concerned about us as women and how we think about ourselves and each other and what's really going on. I think more about what is going on in our heads where we let that happen, you know? When the most qualified person running was a woman, and look what we did instead."
Michelle continued on, not-so-subtly referencing the current president without speaking his name.
"If we as women are still suspicious of one another . . . if we're not comfortable that a woman could be our president compared to what, we have to have that conversation with ourselves as women," she remarked, "That's on us."
Tracee brought up the fact that society still puts women in boxes. She herself has never married or had kids and says she's faced a lot of grief for both. "But look where I'm sitting!" Tracee said with a satisfied smile, gesturing at Michelle.
Michelle nodded in solidarity. "Still, societally, we kind of look at that and go, 'Oh, oh, you poor thing.' . . . You start thinking, 'Maybe I'm not happy? What did I do?'"
While Michelle was clear that she, herself, always aspired to having kids and getting married, she said she also wanted a career. (Fun fact: Michelle even revealed that when she played that origami game in school that was supposed to predict how many kids you'd have and where you'd get married, she always got Hawaii — Barack's home state — as her answer for the location.)
Don't Just Take a Seat at the Table, Shake the Table Up
So, Tracee asked, how can we move forward and make a better world for young women like Michelle's daughters? the former first lady wants this generation to shake things up.
"So many of us have gotten ourselves at the table, but we're still too grateful to be at the table to really shake it up," she said. "That's not a criticism, because for so many, just getting to the table was so hard, so you're just holding on. But now we have to take some risks for our girls . . . just holding onto our seats at the table won't be enough to help our girls be all that they can be."
While they may have been in conversation at an event about the state of women, Michelle didn't let men off the hook when it came to making the world a better place for girls.
"Men have to understand things don't just 'work out' for your little precious pea."
"What I've been telling men is, you can't have it both ways," Michelle said. If men tolerate inequality at work, she warned: "You cant whisper these magical thoughts in your daughter's ear about who she can be or what she can do. . . . If you're tolerating that, that is the workplace that's going to be waiting for your little girl, but you sold her a bill of goods. You told her she could be anything, but then you're not working to make sure that can be actualized. And so men have to understand things don't just work out for your little precious pea."
For Once and For All: She's Not Running For President
And finally, everyone: stop asking Michelle to run for president.
"When I hear people say, 'You run!' it's part of the problem. We still didn't get 'Yes we can' right. It's not 'Yes you can,' it's 'Yes we can,'" she told the crowd. "We're the who. We're the answer. Looking for the next person to run: that's been our distraction. 'We thought it was Barack Obama, and he didn't end racism, so what are we going to do now?!' It's like, 'I voted for the black man, and we're still living in racism!'. . . Well, yeah."