Stars Speaking Foreign Languages Might Actually Blow Your Mind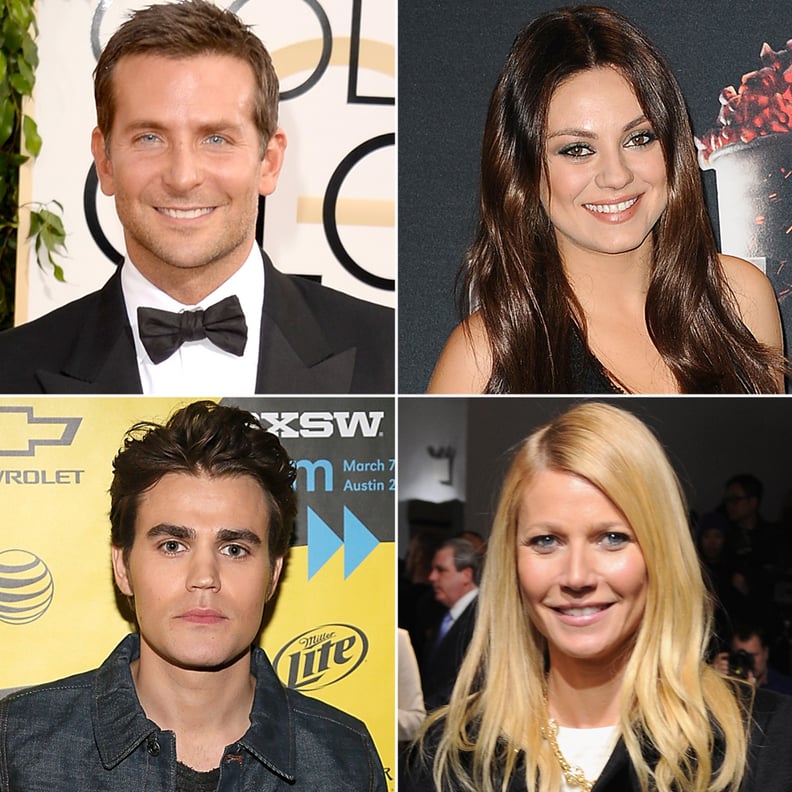 When you're a bilingual celebrity, the opportunities to practice your second language are endless. Press conferences, interviews, and award show appearances abound, and before we know it, Bradley Cooper is wooing us in French and Mila Kunis is telling off a reporter in Russian. Even though we don't always know what they're saying, there's something about listening to celebrities using another language that forces us to see them in a whole new light. Keep reading to watch celebrities bust out their linguistic skills, and then get to know the stars even more with their most surprising name changes and real ages. Source: Getty / Jason Merritt, Jason LaVeris, Gary Miller
02
Mila Kunis: Russian
The actress let a Russian reporter have it in 2011, when her Friends With Benefits costar Justin Timberlake was asked why he didn't make music anymore. Mila picked up the language growing up in the Ukraine before moving stateside with her family when she was 7.
03
Emma Watson: French
Emma is so confident conversing in French that she was comfortable enough to use it in an interview while promoting The Perks of Being a Wallflower.
04
Zoe Saldana: Spanish
Having lived in the Dominican Republic for a portion of her childhood, Zoe knows Spanish like the back of her hand.
05
Joseph Gordon-Levitt: French
A man of many talents, Joseph can sing in French while playing the guitar.
06
Charlize Theron: Afrikaans
Charlize hasn't lost touch with her South African roots, and during an appearance on Piers Morgan Live in 2011, she shared the beautiful dialect she learned as a kid with the CNN audience.
07
Jodie Foster: French and Italian
As a child, Jodie used her knowledge of French to launch a short-lived music career. She even sang in French on TV! It's safe to say she shouldn't have any communication barriers while vacationing in the South of France or Italian wine country.
08
Gwyneth Paltrow: Spanish and French
09
Johnny Depp: French
Just because Johnny Depp didn't finish high school doesn't mean he slacked off on his education. The actor learned French as an adult, which he proved by taking the mic while the camera was rolling.
10
Emma Thompson: French
As this hilarious interview proves, Emma is a ballbuster even when she's speaking in her second language!
11
Diane Kruger: German
A German native, Diane's second language is actually English.
12
Colin Firth: Italian
Not only can Colin convincingly woo women with his looks, but he can also draw on his Italian skills.
13
Shakira: Spanish, Portuguese, English, and Italian
If Shakira hadn't become a global superstar, she totally could have pursued a career as a language teacher.
14
Evangeline Lilly: French
The Lost actress has given several interviews in her second language.
15
Sandra Bullock: German
Sandra Bullock's winning moment at the 2000 Bambi Awards was an opportunity for her to show off her linguistic skills. She learned the language from her mother, a German opera singer who took a young Sandra on tour across the world.
16
Natalie Portman: Hebrew, French, Japanese, German, and Spanish
It's probably not a huge surprise that a Harvard University graduate who was born in Israel can chat in a few languages. When it comes to ideal celebrity travel companions, Natalie is high on the list.
17
Bradley Cooper: French
Is it just us, or is Bradley even sexier when he talks in French on the red carpet?