Why Nina Dobrev Feels the Most Empowered When She's With Her "Squad"
It's not hard to love Nina Dobrev. She's talented, she has an infectiously bubbly personality, and above all else, she understands the importance of strong female friendships. Even as she promoted her new partnership with Reebok and Les Mills, she had her girls with her every step of the way. "I feel my strongest when I'm with my squad," she told POPSUGAR and a group of reporters sitting around an outdoor patio at the William Vale hotel in Brooklyn. "It can be jumping out of an airplane, which we did last year for New Year's, or it can be something just as simple as having brownies with coconut butter and snuggling with the puppy [her precious dog, Maverick]." While she can rock the red carpet like no other, she admitted she feels empowered when she's the most stripped-down version of herself. "Being able to be that person in front of the people that I love, and knowing that they love me back, that's probably when I feel the best."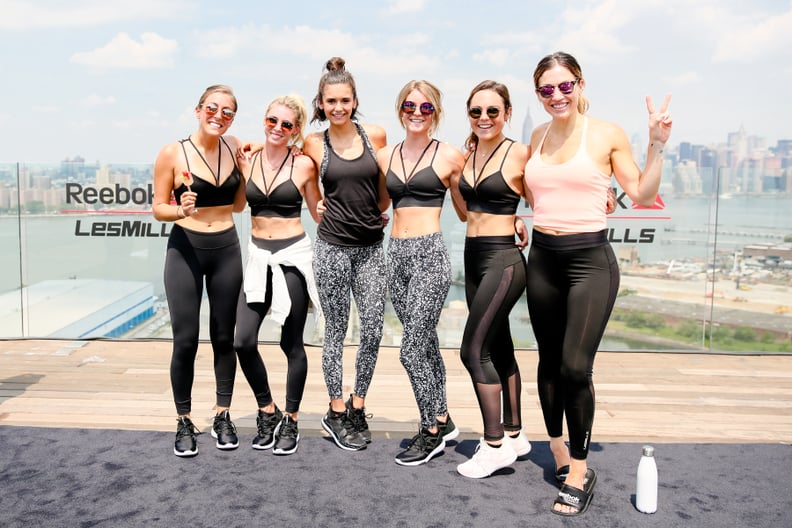 Nina with her girlfriends after a Les Mills workout in Brooklyn.
While she certainly isn't afraid to take adventures with her friends (see: jumping out of an airplane), her typical girls' day is actually pretty relaxed, minus an intense workout in the morning, of course. "We have this group that's called 'We Work Out,' and whoever wakes up first will put in the workout for the day," she explained. After going about their days, they'll eventually come back together to have a Mission Impossible-style cooking session in her kitchen by picking a random page in her recipe book and accepting the challenge. Depending on how well said recipes goes, she said they'll either order food and watch a movie or drink some wine in the hot tub while catching up on each others' days. Even though it may feel like a routine to some, she cherishes the moments she actually gets to spend with her friends since it sometimes doesn't happen for months at a time if she's away shooting. Needless to say, we wish we could join Nina's squad. It sounds like nonstop fun!