Paris Jackson's Convo With Willow Smith on Red Table Talk
Paris Jackson Opens Up to Willow Smith About Her Mental Health and Sexuality in Rare Interview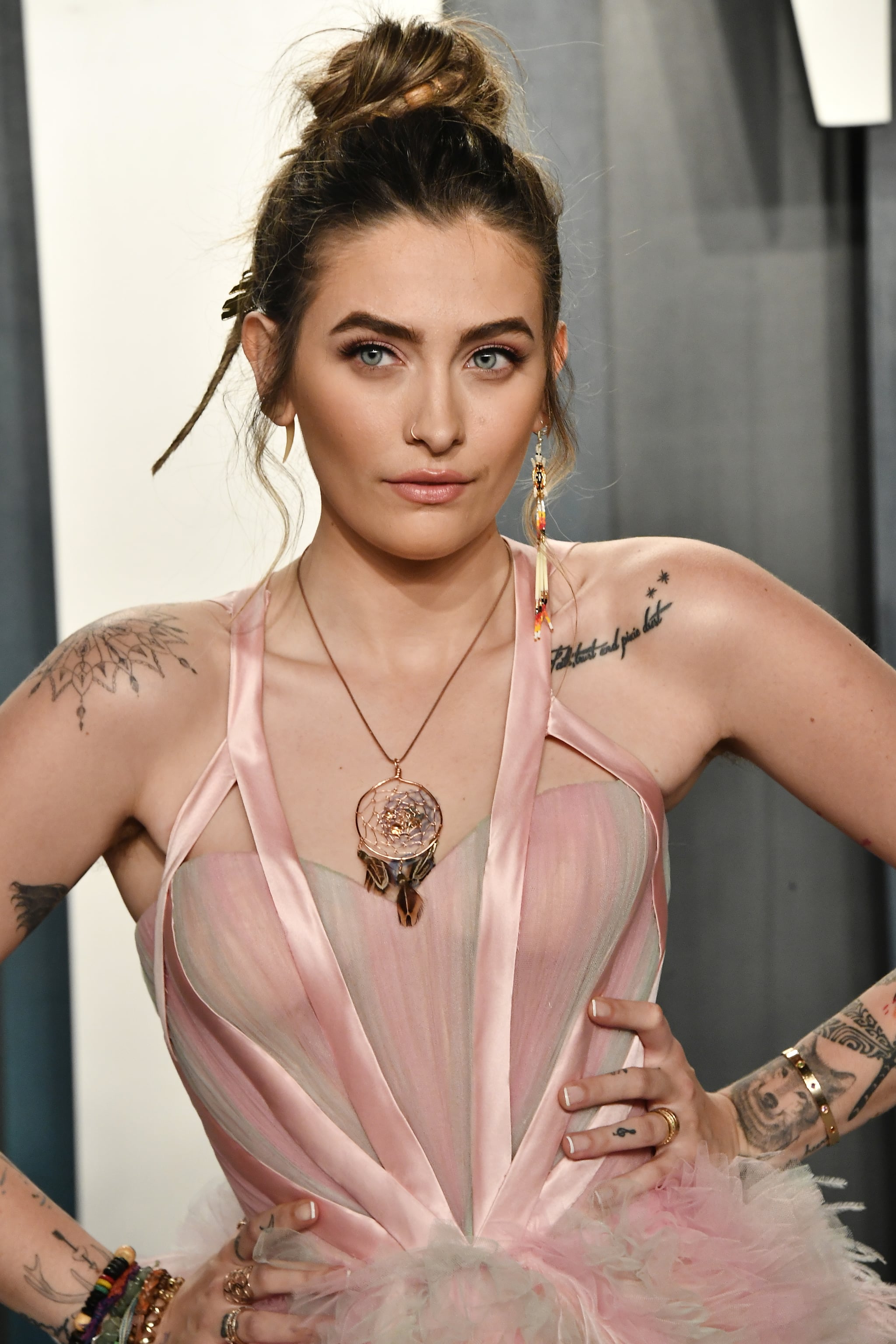 Paris Jackson was thrust into the spotlight since the moment she was born. As Michael Jackson's only daughter, she was hounded by paparazzi, torn apart on social media, and relentlessly examined by the public. This attention and pressure took a toll on Paris's mental health as a teenager and young adult. Today, at age 23, she's found herself in a better space, and on June 16, she opened up to friend Willow Smith about the highs and lows of her experiences in a candid Red Table Talk conversation.
Paris spoke with Willow about the darkness she experienced in the limelight. The constant paparazzi attention she was subjected to left her with PTSD, severe paranoia, nightmares, and audio hallucinations — she hears cameras clicking and trash bags rustling, even when they're not there. She feels the constant expectation to represent herself and her family name well in public, even when she's afraid. "I do catch it affecting my personal relationships, especially romantic relationships," she said. "PTSD can pretty much affect every aspect of your life. I've just started the healing process."
"It took a really long time to get to that point."
In addition to the paparazzi's targeting, Paris has also been a victim of cyberbullying. She received death wishes as a teenager. The daily harassment drove her to attempt suicide more than once. Thankfully, she has some relief from this trauma. "I can say, several years later, I'm really glad that it didn't [work]. Things have gotten better," Paris stated. As she recalled, this past August, she was able to experience self-love "for the first time in [her] entire life." She was having a "rough time," reliving painful memories, when she decided to lean on healthier coping mechanisms like doing affirmations in the mirror. "Once I finished, I saw myself, which was wild, and recognized myself for the first time in like 10 years," she said. Although Paris thinks the whole experience was "corny," she's now filled with a lot of "gratitude" for the acceptance and kindness she's now accepting for herself. "It took a really long time to get to that point."
Paris Jackson x Willow Smith One-on-One

Paris Jackson, daughter of the legendary Michael Jackson, opens up in a rare in-depth conversation with longtime friend Willow about their shared struggles with mental health, sexuality, betrayal and self-harm. Plus, Paris gives an exclusive performance of her brand new song "Freckles."

Posted by Red Table Talk on Sunday, June 13, 2021
Paris is also grateful for the support of her family, namely her two brothers, Prince and Bigi. They've shown her understanding and kindness since she came out as queer at age 14. She said Prince even joined a Gay-Straight Alliance club in high school to get a better grasp for what she was going through. Because of her sheltered life (after Michael's death, Paris was raised by her Jehovah's Witness grandmother, Katherine Jackson), Paris struggled to find her identity amid her sexuality. "I'm still kind of figuring it out," she said.
Now, Paris is following in her father's footsteps and pursuing her dream of becoming a musician. She released her debut album, Wilted, in November 2020; a project fueled by the heartbreak over her split with Gabriel Glen. Paris told Willow she definitely feels the industry's expectation of her being Michael's daughter, but she prioritizes his opinion over anyone else's. "I feel like my dad would be proud," she said. Watch Paris's interview in the video above.