23 Beautiful Photos Bindi Irwin Has Shared of Her Late Father, Steve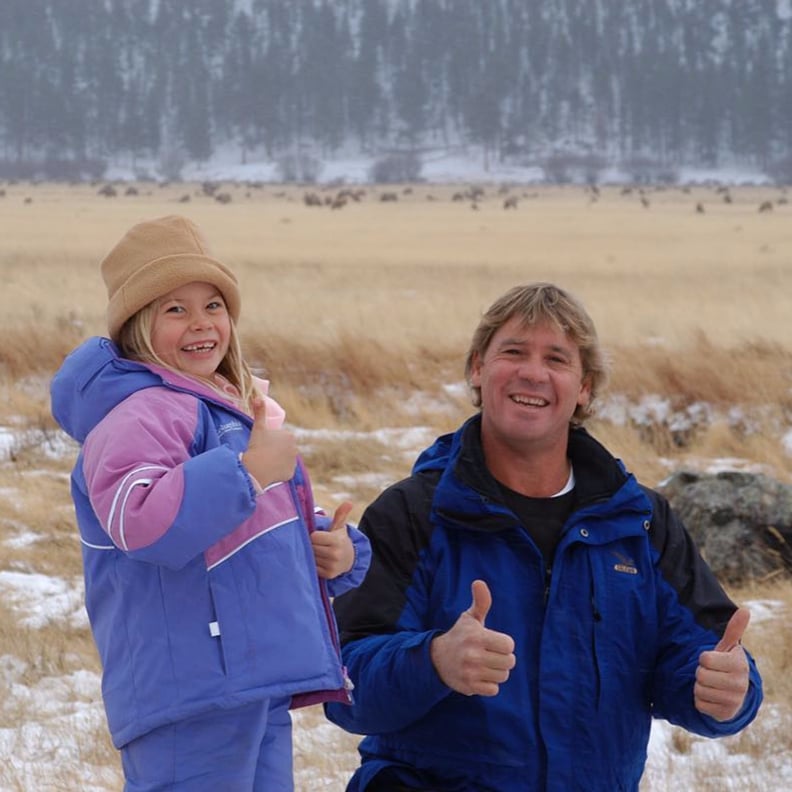 "Looking through old photos - Baby Bindi adventures with my superhero."
"Hello lovelies. Well today marks 18 years of life for me, here in Australia and I really don't know where to begin in thanking so many people for an unforgettable journey so far. So I think that I'll start here, with this photograph. This photo was taken within the first year of my life. To be perfectly honest life has changed in a million ways since this photograph was taken. Along the way we gained another incredible part of our family, my brother Robert. Our conservation work with Wildlife Warriors took off around the world. Our home, Australia Zoo continued to expand and has become the greatest zoological facility on planet earth. Our Dad, Mum's soulmate and a superhero for us all, passed away. However, since this photo was taken, 18 years ago, one life ingredient has remained, unchanged, unbreakable. That is the unconditional love that is shared between my beautiful little family and the loyalty we have to eachother and everyone else who has taken this journey with us. I don't think that when this photo was taken even my beautiful parents could have known what life would evolve. I know that I am endlessly grateful for the love and light I have been given since Day 1 of my life."
"You'll be my hero for my entire existence. I love you more than words can describe."
"My entire world. Forever."
"Dad, you give me strength every day. These memories will live with me forever. I miss you with all my heart but I'm beyond grateful for the time we had. I hope someday we are all together again. I love you."
"I am beyond excited to share with you all that we have just received the news that Dad will be honoured with a star on the Hollywood Walk of Fame. Dad changed the world by reaching out to people through their television screens to bring them on the adventure of a lifetime. To have his name on a Hollywood Star means the world as we carry on his important work. #HollywoodWalkOfFame"
"Our little family forever. Thinking back to the many years of adventure and love.
Happy Birthday, Mum."
"Remembering these days. This is a 3 year old Bindi helping out with Dad's documentary filming. Life is always changing and evolving and I'll always be thankful that I learned so much from my dad. He taught me to treat every being on Earth the way you would wish to be treated. From the tiny ants to the enormous elephants. We are all connected and must respect each other to live in true harmony. I'll forever be thankful to have had these values passed on to me. Happy Australian Father's Day❤️ May your heart be full and your day be filled with the ones you hold dear. Here's to unconditional love and happiness beyond compare."
"Grief does not change you, it reveals you."
"Here's a #flashback to a 6 year old Bindi helping Dad and the croc boys secure a beautiful and giant salt water crocodile. In Far North Queensland, carrying my Dad's knife belt, these were the best days. Please note two things about me - I was so little, the belt had no hope of fitting..so I had to carry it on my shoulder! Also, my epic star hat, because you have to have style when you're catching crocs!"
"How blessed I am that these are my childhood memories."
"The last photo ever taken of us as a family. The day before I had to wave goodbye to my hero, without knowing it would be the last time. But Dad, I know you walk beside me always and your strength lives within me. I love you."
"Father's Day weekend here in Australia.
Dad, I miss you every day.
You are my superhero and my whole world. I wish you could be here, but I will do my best to make you proud.
I love you more than words.
Forever and always."
"Baby Bindi...3 months old. Waiting to grow any hair!"
"#PhoneSnake #BabyBindiSue #ChildhoodLove"
"Flashback to a fun day on the water with my dad. #BestDays"
"Hanging clothes on the line. Yes I am in the clothes basket. My little family, before my gorgeous brother came into this world. The love we share as a family is endless. Sometimes it's hard to look back, but when I do it fills me with love beyond belief. I miss this. I hold onto these memories. I continue to experience my happiness, in all things."
"Celebrating Steve Irwin Day today November 15. Join us in remembering Dad's legacy and making sure that his message lives on forever."
"Flashback to those motorbike days. Dad teaching me how to drive my first motorbike. I was about 5 years old, and mastered my pushbike, so it was time to move up in the world! Those were the best days. Take me back"
"I love you. Thank you for always being with me, wherever I go."
"I love you so much.
And miss you every day."
"'In a person's lifetime there may be not more than half a dozen occasions that he can look back to in the certain knowledge that right then, at that moment, there was room for nothing but happiness in his heart.'
~ Ernestine Gilbreth Carey 💜"