I know the term "squad goals" is overused and outdated at this point, but that's truly the first phrase that comes to mind when I think about Queer Eye's newest Fab Five. The cast of the rebooted Netflix series are gorgeous humans both inside and out, and their bond is unbeatable — both on and off the screen. Whether they're goofing off while filming scenes, slaying the red carpet, or just kickin' back and hanging out together, they always manage to have loads of fun, and look downright fabulous in every selfie together. Need further proof that Jonathan, Antoni, Bobby, Karamo, and Tan are the five best friends that anyone could have? The adorable group photos ahead should do the trick.
Here's the First Group Photo They Took as the Newest Fab 5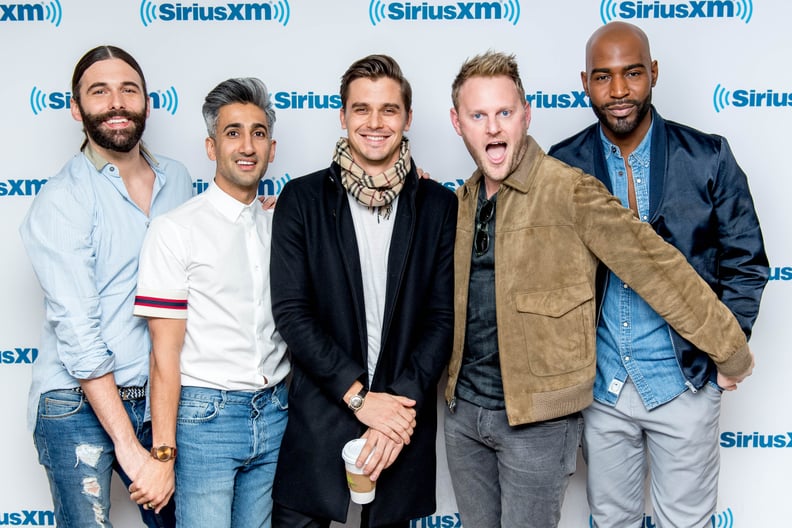 They Dressed to the Nines For a Visit to the SiriumXM Office
Do these guys have the best style or what?!
Tan, Karamo, and Bobby Found Their Perfect Light For a Selfie
We're bowing down to their selfie-taking skills.
Jonathan and Antoni Could Barely Contain Their Smiles For This Photo
Can you guys Photoshop me into this, please?!
Tan and Bobby Took a Waffle House Selfie, as One Does
Even with that goofy hat on, Tan still manages to slay the camera.
Here's Jonathan and Karamo Lookin' Like Two Peas in a Pod
The cutest pod of peas I ever did see.
They're Always Serving Looks For the Camera
This Photo Has Officially Restored My Faith in America
Sidenote: I need Karamo's metallic bomber jacket.
They Casually Posed Together in Front of the Sydney Opera House
I guess my invite got lost in the mail . . .
Jonathan and Karamo Matched in Green For a Boat Ride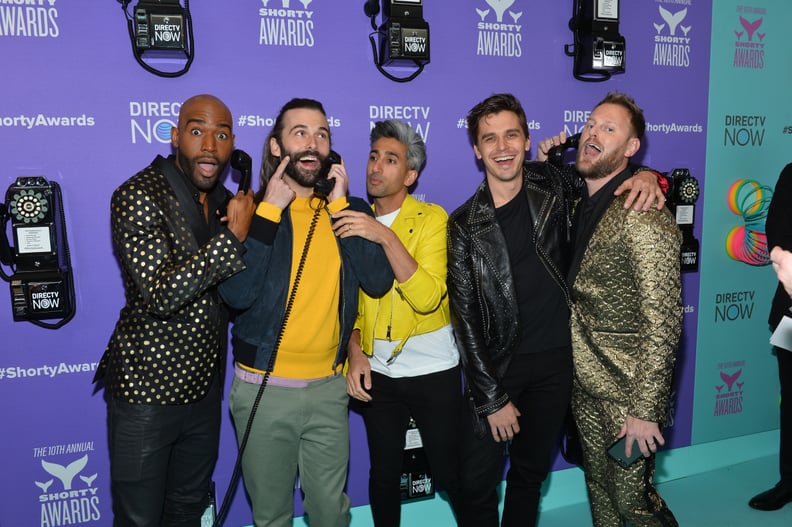 They Had the Best Time Together at the Shorty Awards in New York
Jacket game on fleek all around.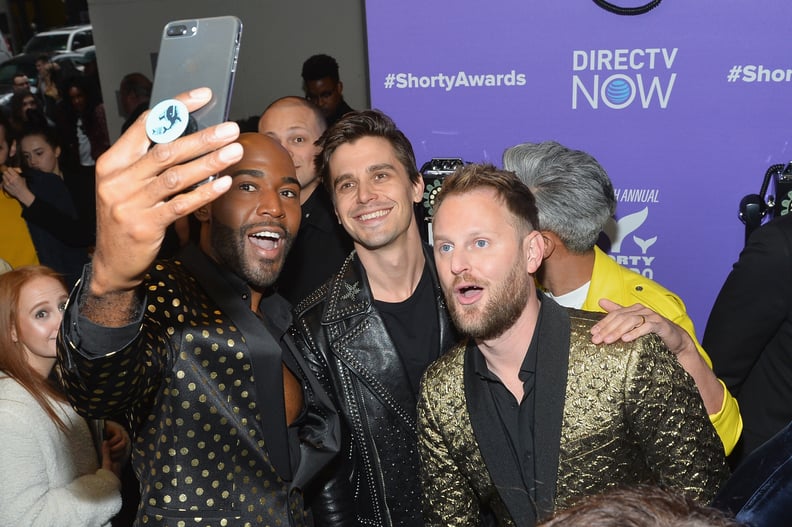 These Dudes Really Love Their Selfies!
I mean, we can hardly blame 'em when they've got gorgeous faces like those.
*Shields Eyes From Their Sheer Perfection*
It's truly too much for my feeble heart to handle.
The Gang's All Here!
By far my favorite quintet of humans to ever grace this planet (sorry not sorry, Backstreet Boys and *NSYNC).
Can These Two Already Teach a Selfies 101 Class?
I'd be the first to sign up.
Serving Bathrobe REALNESS
This officially makes me wish I owned a bathrobe.
OK, How Dapper and Cute and Gorgeous Do Karamo and Bobby Look?!
Answer: VERY dapper, and cute, and gorgeous.
*Heart Melts Into a Puddle on the Floor*
*Grabs mop to clean up said melted remains of heart*
Selfie Central
A quick glimpse into what goes down between filming scenes for Queer Eye.
The Boy Band We Never Knew We Needed
That Time Jonathan Cut Antoni's Hair Before They Started Filming Season One
SOS, My Heart Is Bursting With Love For These Guys
Hey Jonathan, can I borrow those boots sometime?
They Took This Joyous Photo After Finding Out About Their Four Emmy Nominations
The look of pure happiness.
Only Antoni and Tan Can Make #SponCon Look Cool
Suddenly I feel the need to buy some Excedrin.
Serving LOOKS With Those Giant Excedrin Bottles
And holding hands for the photo op like the cuties they are.
Bobby and Jonathan Had to Snap a Photo on This Rainbow-Colored Street, Naturally
They're too pure for this world.
Just Look at These Vacation Babes!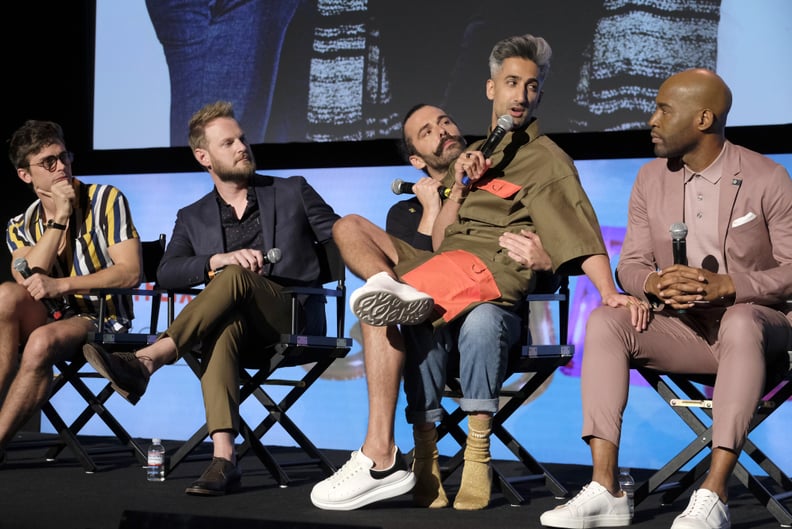 Tan Sat on Jonathan's Lap While Chatting on Stage
The things I would've done to be in that crowd . . .
Soft Smiles
Meanwhile I always look like a troll when I attempt a soft smile.
Family Photo!
[insert moment of silence for Antoni's mustache]
Can We All Take a Moment to Appreciate Jonathan's Outfit?
That kilt! Those shoulder cutouts! Give it to us, henny!
They Truly Are Incapable of Taking a Bad Photo
Share some of your photogenic genes, please!
Hooray For Their First Season 2 Selfie!
Looking like rays of sunshine, as per usual.
OK, I Officially Need to Copy This Selfie Pose
Hand under chin: check. Slightly pursed lips: check. "Like"-worthy selfie: CHECK!
Golden Hour Looks Good on These Two
Here's Tan Having a Flawless Beyoncé Moment
Their outfits are somehow ALWAYS color coordinated.
They're So Angelic, It Hurts
It must've hurt pretty bad when they fell from heaven.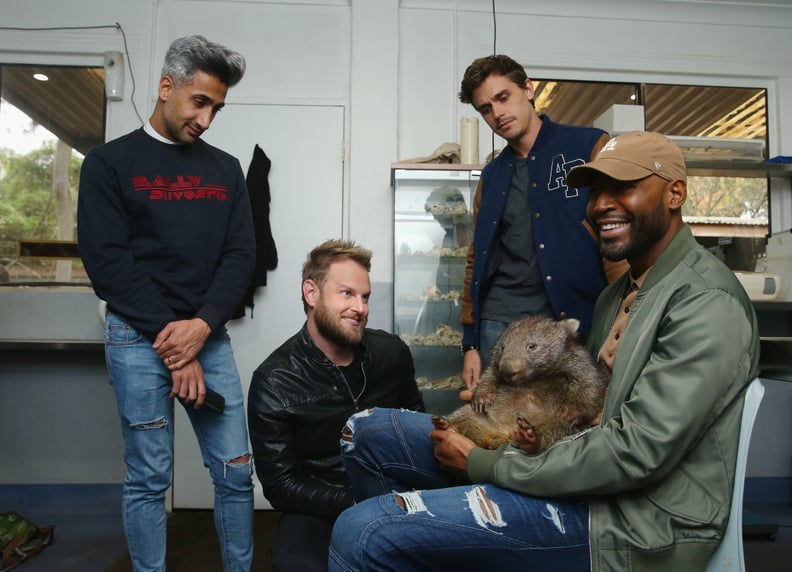 BRB, Getting This Photo Framed For My Wall
I need to wake up to this every morning.
They Snapped a Selfie With a Police Officer in Australia
Karamo and Bobby Posed With Two Previous Fab 5 Members, Carson Kressley and Thom Filicia
Car Selfie Time!
Umm, need to know what toothpaste Tan uses STAT.
Look at These Precious Baby Unicorns!
The unicorn hype is oh-so-real.
These Two Are Absolutely Freakin' Flawless
They Snapped This Group Pic in Gay, Georgia, During Season 2
They have so many cute behind-the-scenes photos, we're losing track.
Jonathan and Antoni Wore Fancy AF Shades Together
Out here being the models they are.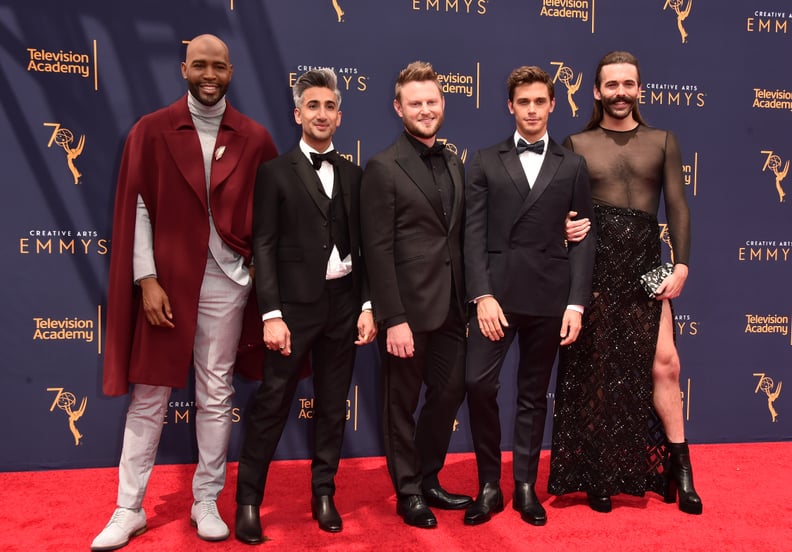 They Brought a HEAVY Dose of Glamour to the Creative Arts Emmys
All eyes were on them when they waltzed down the red carpet.
Oh, and They Took Home a Few Emmys, Too!
Nothing Fuels My FOMO Like Seeing Them on a Rooftop in NYC
*Sets Photo as New Phone Background*
Get a load of those candid smiles!
*Sets Photo as New Desktop Background*
Wouldn't this totally brighten your work day if you saw these beauties on your computer all the time?
Pals Who Hit the Gym Together Stay Together
*Sets Photo as New LIFE BACKGROUND*
I just can't get enough of these five.
A Lesson in Mid-Traffic Selfies
Courtesy of none other than Tan and Jonathan.
Here's Karamo and Bobby Enjoying a Snack on Set
While looking like snacks, might I add.
Look Up Pure Joy in the Dictionary, and You Just Might See This Picture
Their smiles are contagious.
Tanathan Van France, at Your Service
Wearing matching outfits, might I add.
Put 3 Fingers Up If You're Pumped For Queer Eye's Third Season!
This is the new peace sign, ICYMI.
They Snuggled Up to Each Other at a Restaurant
Man, I would've loved to be a fly on that wall.
Just a Couple of Vacation Icons Enjoying Their Well-Deserved R&R
Flip-flops don't seem nearly as heinous when these two rock 'em.
We Must Protect These Men at All Costs