Rosalía and Rauw Alejandro Are Engaged
Rosalía and Rauw Alejandro Announce Their Engagement With PDA-Filled "Beso" Video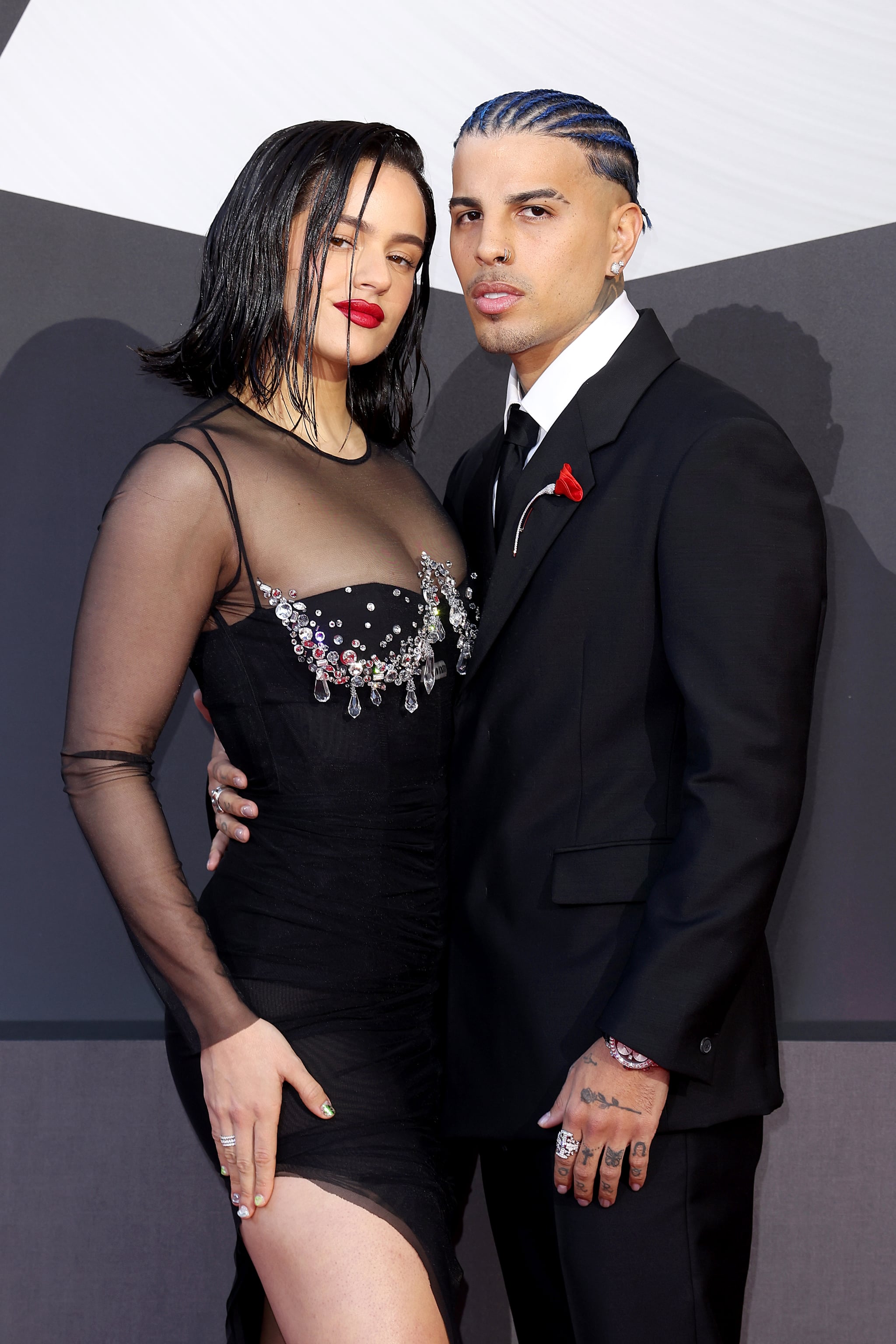 Image Source: Getty / John Parra
Surprise, Rosalía and Rauw Alejandro are engaged! The couple revealed the big news on March 24 when they dropped the music video for their new song "Beso," which appears on their joint "R&R" EP, released on the same day. The three-and-a-half-minute visual features several selfie-shot clips of the pair basking in their love and traveling around the world, but the video ends with a tearful Rosalía wearing a giant diamond ring and sharing a kiss with her fiancé.
"Oh my God," she says in Spanish, per People, before telling Alejandro, "I love you."
Rosalía and Alejandro, both 30, went public with their romance back in September 2021 when she posted a cozy photo of her and her beau on Instagram as they celebrated her 28th birthday. "BlisssssSSSS🙏✨💖librA y bendecidA," she captioned the post, which translates to "BlisssssSSSS🙏✨💖free and blessed."
Since then, the two have shared more glimpses of their relationship on the red carpet and on social media, including snaps from their romantic getaway to Greece in July 2022. The couple also sparked engagement rumors on that vacation, as Rosalía was spotted sporting a diamond ring on that finger at the time, though the pair hadn't confirmed their engagement until now.
It's unclear when exactly the two got engaged, or if Rosalía's engagement ring is the same one fans spotted last summer, but the two singers seem very much in love — and that joy is reflected in their music. In a press statement about their new EP, per People, Rosalía said, "For us it's always love first and everything else later, but we skipped that this time so we could finish 'RR' and share it with the world. After more than 3 years these 3 songs are here and each one of them belongs to a different stage of love."
Alejandro added: "We always knew we wanted to do music together. However, with our relationship being the focus, we had to find the right time. A long time has passed by now and finding a way to fit all my feelings for her in three songs has been nearly impossible. This means I will be spending my days writing and writing many more songs about and with her. We're thrilled with this project. RR forever!"