The formalities of Christmas at Queen Elizabeth II's Sandringham country estate could have been lifted straight from an episode of Downton Abbey (including a schedule of festivities delivered by the Master of the Household, and five outfit changes in a day!) — but what about those British royal traditions that aren't as well-known? We're taking you inside the royal festivities, from a bit of rough and tumble on Christmas Eve to cider and movie nights. Keep reading for 12 traditions that might surprise you, and then find out how Princes William and Harry are keeping their late mother's legacy alive.
01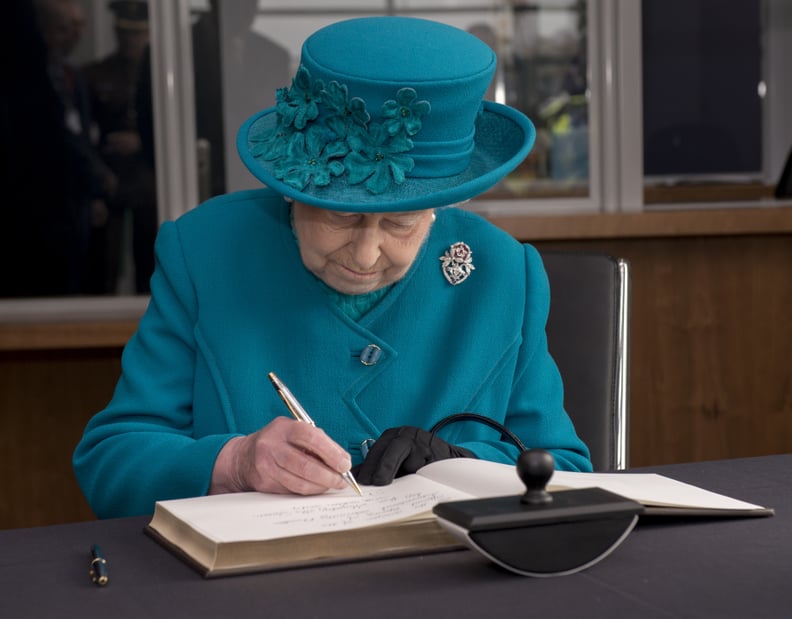 Christmas Cards Signed in the Summer
She's one of the hardest-working 89-year-olds in the world, so perhaps unsurprisingly, the Queen actually starts signing her Christmas cards during her Summer holidays. She will write on a stack of around 800 cards during her annual stay at Balmoral, signing off "Elizabeth R." (for "regina," the Latin word for queen) to politicians and heads of state, "Elizabeth" to friends, and her childhood nickname of "Lilibet" to her cousins.
Her staff receive gift vouchers and Christmas puddings, and she has Christmas trees from the Sandringham Estate sent to local schools and churches.
02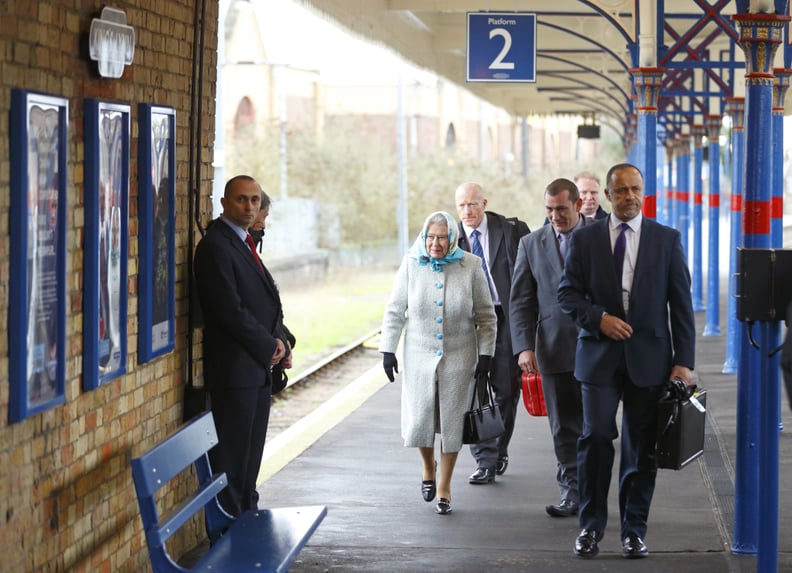 An $83 Ticket to Ride
The Queen, of course, has access to the royal train, but she prefers to travel down to the Sandringham Estate ahead of the Christmas festivities on a regularly scheduled service, along with members of the public. A single off-peak first-class ticket currently costs just £54.90 (around $83 US), but she will commandeer a whole carriage for her party. She usually arrives at the house between Dec. 17 and 20 to oversee the last of the preparations, and the rest of the family descends on Christmas Eve.
03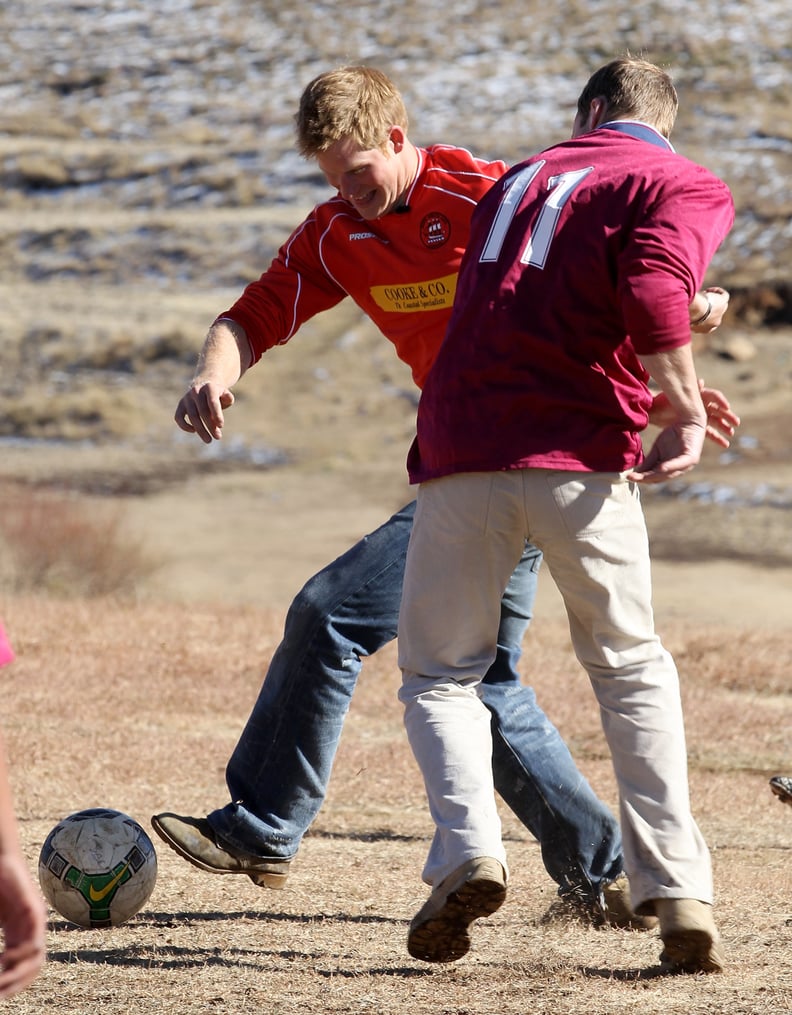 Getting Down and Dirty
In recent years, it has become tradition for Princes William and Harry to play a Christmas Eve game of soccer alongside workers from the Sandringham Estate. The brothers usually wear the socks of their favorite teams (Aston Villa for William and Arsenal for Harry), and of course, there's usually a bit of trash talk going down: several years ago, William shouted to the referee about his brother: "Give him yellow, give him yellow — backchat!" Other family members often watch, including Kate Middleton, and in 2014, her brother James played on Harry's team.
04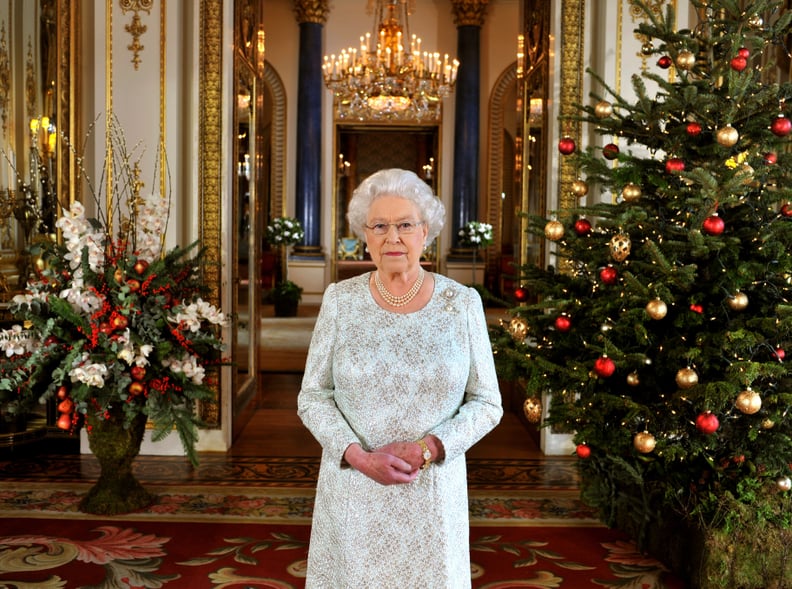 Afternoon Tea Inspired by Loose Change
On Christmas Eve, the family gathers for afternoon tea in the White Drawing Room at Sandringham, and former royal chef Darren McGrady has revealed that one of the family's favorite tea items is the "jam penny" — sandwiches cut into circles the size of an old English penny. He would also make scones the size of a 50-pence piece, although the Queen would crumble them up and feed them to her corgis.
05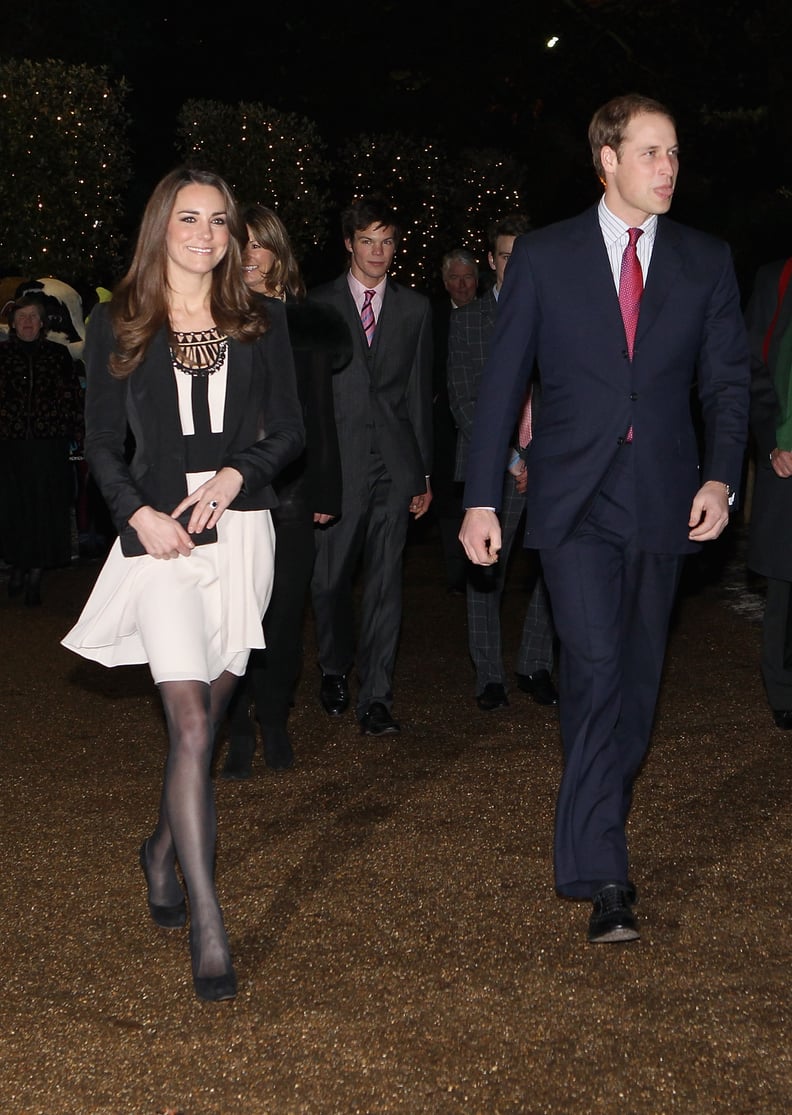 The Cider House Rules
When the family gathers for a black-tie dinner and drinks on Christmas Eve, the Queen favors a cocktail called the Zaza (made from Dubonnet and gin) and Prince Charles is a fan of cherry brandy, but William and Harry both enjoy a pint of Sandringham cider. The Queen's father, King George Vl, had an orchard of apple trees planted within the 20,000 acres of grounds. In recent years, the royal brothers have become fans of the cider, which is now produced on the estate.
06
An Uproarious Gift-Opening Event
After a genteel afternoon tea on Christmas Eve, the family open their gifts and the mood cranks up a few notches. It's a time that the Queen's nephew Viscount Linley has described as "a total uproar."
It has been well-documented that the royals are fans of gag gifts, but some less well-known examples include the light-up pepper mill that Prince Philip received one year, the leopard-print bath mat that Princess Diana gave Sarah Ferguson, and a shower cap that Harry gave the Queen with "Ain't Life a B*tch!" printed on it.
07
"Make-Do" Sleeping Arrangements
Believe it or not, the Sandringham house is considered "small" compared to other royal residences, so when there is a higher number of guests, they will often sleep in the staff quarters. The guest list used to include wider family members such as the Queen's nieces and nephews, but now that her own grandchildren have started families, the festivities usually just include her direct offspring — the maximum number that can be seated at the same table for Christmas lunch is 24 adults, and children are seated in the nursery. Other guests, like the Middletons, may be invited for the annual Boxing Day shoot.
When Princesses Beatrice and Eugenie were young and their parents were divorced, their mother, Sarah Ferguson, would often stay in Wood Farm (a cottage on the estate) so they could see her on Christmas Day. To incorporate the whole group en masse, the Queen hosts a family lunch at Buckingham Palace earlier in December, where the number of guests is closer to 50.
08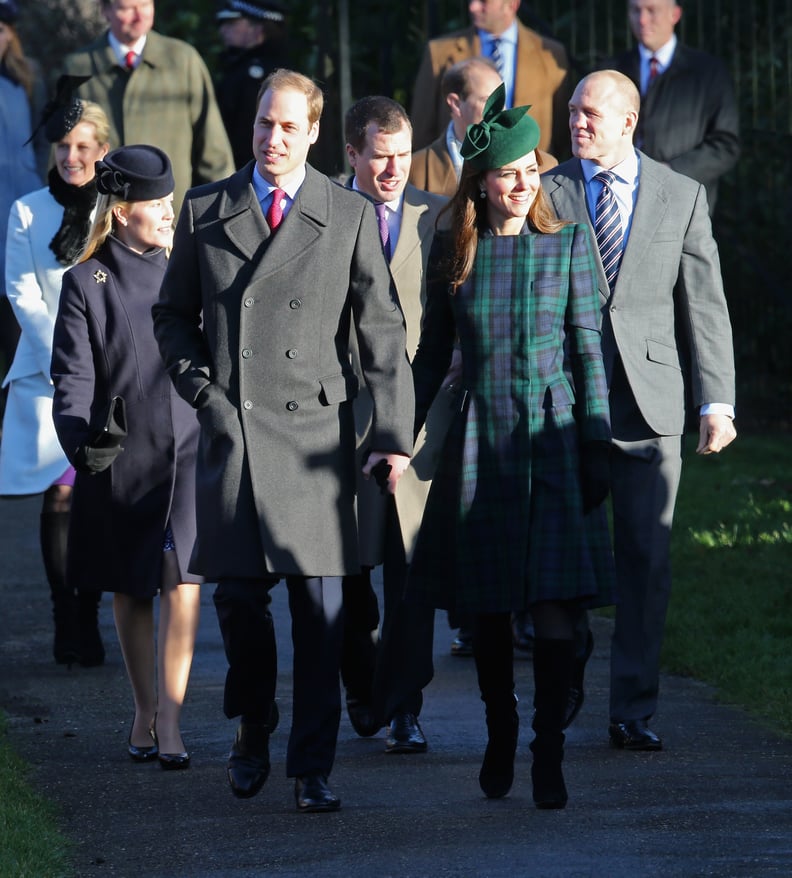 Two Church Services in Three Hours
The family rise early on Christmas Day and gather for breakfast before leaving the house for a 9 a.m. service at the church of St Mary Magdalene. This first service is a private one for the royal family — so the Queen can take communion — and has a more relaxed dress code than the later public service. After returning to the house for a change of clothes, the family attend a public service at 11 a.m. Fancy singing carols with William and Kate? You're too late! All churchgoing locals who want to attend the Christmas Day service need to pass security checks in the Fall.
The family all walk to the church, apart from the Queen, who is driven. Her companion is usually daughter-in-law Sophie, Countess of Wessex, but in 2013, it was her granddaughter, the heavily pregnant Mia Tindall, who hitched a ride. Will Prince George go to his first Christmas Day church service this year? Maybe not. William and Harry were both five when they attended for the first time.
09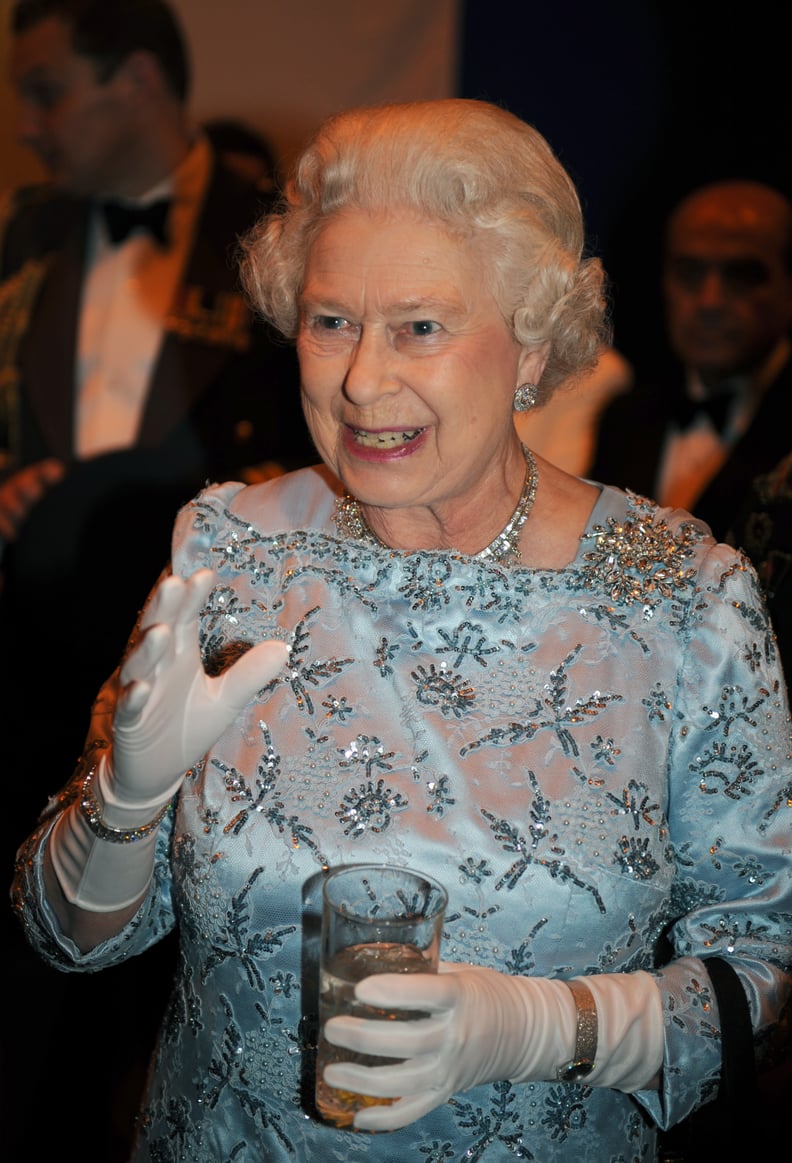 French Menus and Monogrammed Crystal
Parlez-vous francais? Whether it's for a state banquet or a family occasion, the Queen's menus are always written in French, and Christmas Day is no exception. The family sit down to lunch in the Red Drawing Room — which is actually painted green — for turkey, sausages wrapped in bacon, brussels sprouts with chestnuts, and root vegetables. They eat from a blue and white Copeland dinner service and drink from crystal stemware engraved with "EllR."
10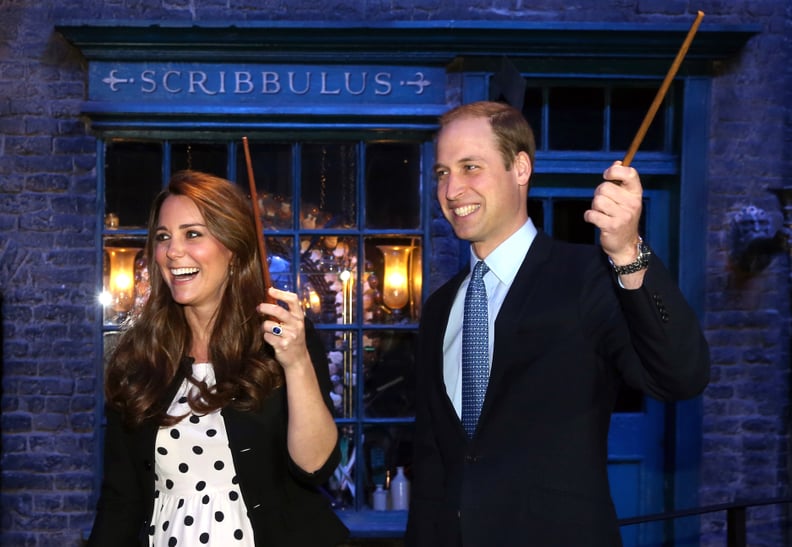 Movie Night in the Ballroom
After the public church services and dress-coded sit-down meals have been taken care of, the royal family might just gather in the evening to watch a movie, just like other families around the world (that is, if other families watch movies while surrounded by a grisly-looking selection of wall-mounted swords and knives). The ballroom at Sandringham is often used for more formal occasions, but there is a screen installed on one of the walls that can be pulled down and have a film projected onto it. It just so happens that this room is home to a large collection of bladed weapons that were gifted to Queen Victoria's son Edward during his tour of India and the Far East.
11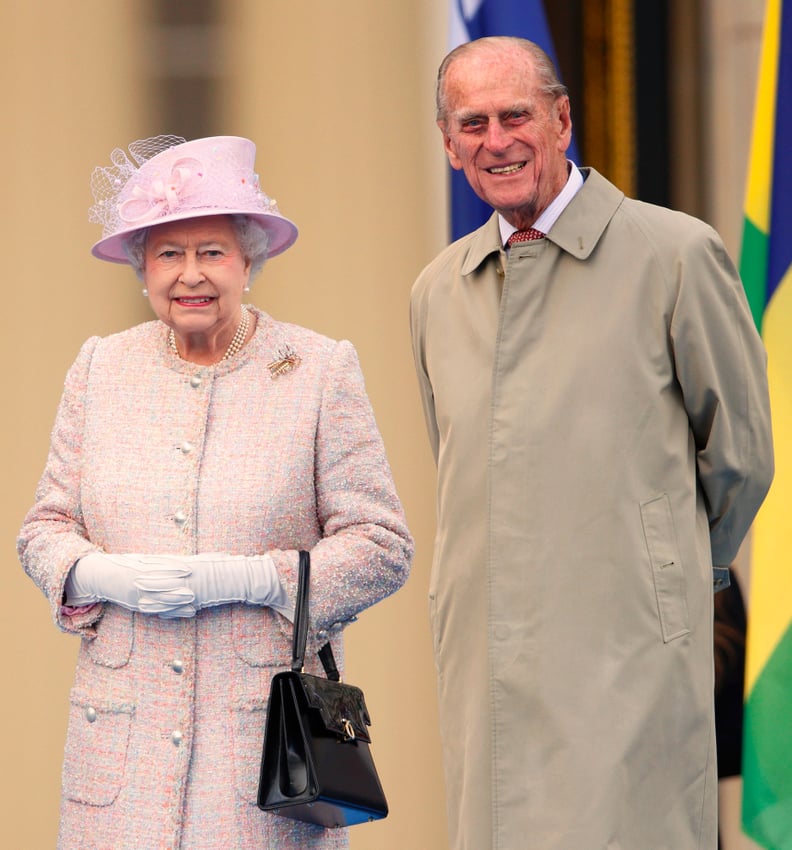 Celebrating Until February
Most guests leave on Boxing Day to see other family members — Camilla, Duchess of Cornwall, will head off to spend time with her children and grandchildren, while William and Kate often take the time to celebrate with the Middletons — but the Queen and Prince Philip, Duke of Edinburgh, remain until the second week of February, and the Christmas decorations stay up until then. Elizabeth stays on to honor her father, who passed away at Sandringham on Feb. 6, 1952.
12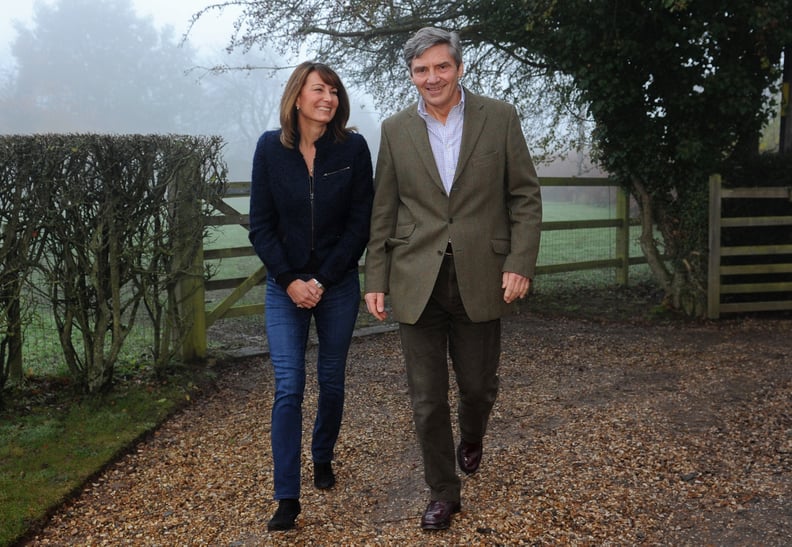 Some Rules Are Meant to be Broken
Twenty years ago, close family members would not have been permitted to spend Christmas away from Sandringham, so Princess Diana never celebrated the day with the Spencers after her marriage to Prince Charles. However, times they are a-changin', as it seems William and Kate are alternating Christmases with each side of the family. Their first holiday as a married couple in 2011 was spent at Sandringham, but the following year, when Kate was pregnant with Prince George, she and William stayed with her family in Berkshire. In 2014, they attended church with the rest of the family but hosted lunch for their parents at their own home in Anmer Hall.