There's No Bad Blood Between Taylor Swift and Marilyn Manson as Proof From This Photo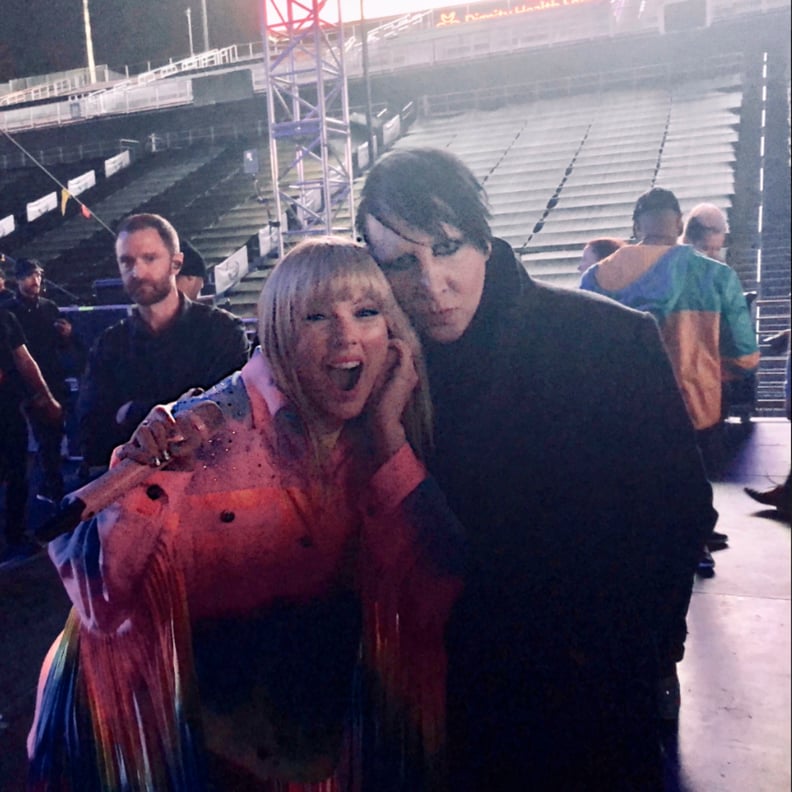 When it comes to celebrity friendships, some are years old, some are a match made in entertainment heaven, and some are totally and utterly unexpected. You can file Taylor Swift and Marilyn Manson under the latter as this is the most surprising celebrity friendship we've seen since Snoop Dog and Martha Stewart. And that's saying a lot.
The pair of musicians was pictured at the iHeartRadio Wango Tango concert in Los Angeles, where Taylor did a very colorful performance. It appears she ran into Manson on stage before or after the show, and she looks absolutely thrilled with this particular celebrity run-in.
Unsurprisingly Taylor's fans have some feelings about the celebrity meet. Some fans are joking about how the pair show off both sides of their personalities: "Let this photo of Taylor Swift and Marilyn Manson serve as a visual representation of my soul," tweeted one fan, with another saying, "I have three moods Taylor Swift, Marilyn Manson, and the irritated man in the background." Then there are those who are pleading for a collaboration from them: "11:11 I wish for a collaboration between Taylor Swift & Marilyn Manson"; "Can't wait to hear Marilyn Manson on the new Taylor Swift album," others tweeted.
Read on to see some of the best fan Twitter reactions, because one thing is for sure: they're passionate about the meetup.