Tommy Dorfman Discusses the Importance of the Equality Act
Tommy Dorfman Stresses the Importance of Passing the Equality Act: "We're Under Attack"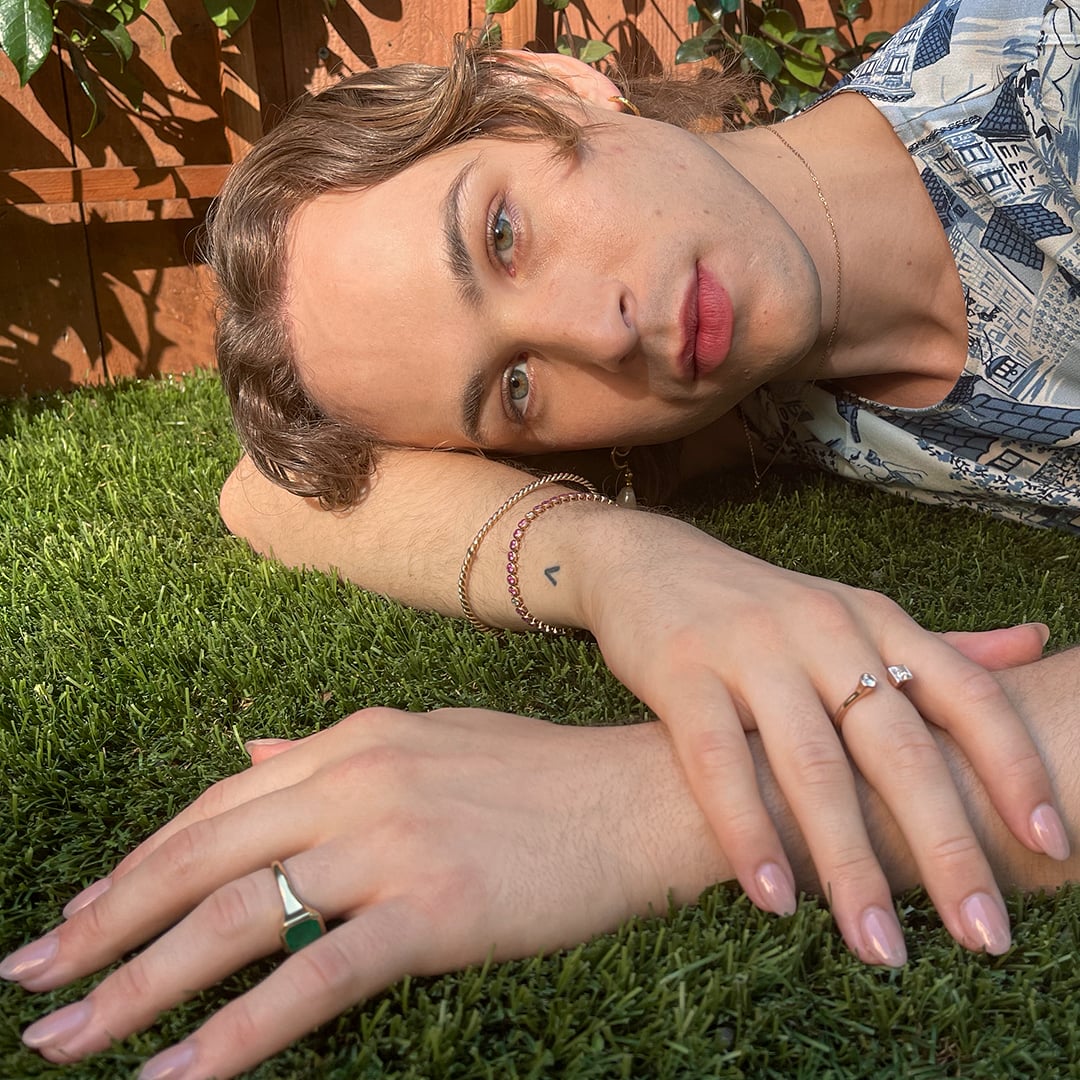 Image Source: The Body Shop North America
Tommy Dorfman is known for raising their voice and using their platform to spread awareness around important social justice issues. For Pride this year, the 13 Reasons Why star teamed up with The Body Shop to encourage customers to support the Equality Act, which shields LGBTQ+ people from discrimination in the workplace, schools, and other key areas of life. "Being part of the trans community, we're under attack in more ways than I can even fully comprehend in my brain," Tommy told POPSUGAR. "There are 145 anti-trans bills that have been introduced across the US just this year alone, which is jaw-dropping. Just in the US, six [in] 10 trans people feel like they are actively discriminated against, which has an insane impact mentally on their well-being emotionally, spiritually, and physically." For Tommy, this is more than a partnership, it's a "movement to advance our equality not just for trans people, but for LGBTQ+ people all around."
"[It's a] movement to advance our equality not just for trans people, but for LGBTQ+ people all around."
When I asked Tommy what the Equality Act means to them, Tommy's answer was simple yet powerful: "safety." "Like the bare-bones, human-rights safety," they said. "The ability to walk in your neighborhood freely, to work, to care for yourself, to have a place to live. If you're a child, participate in sports and feel like school is a safe place for you." The Body Shop is encouraging consumers to visit its Equality Hub to educate themselves about the challenges the LGBTQ+ community faces and to sign a petition in support of the Equality Act. For each signature, it will donate $1 to Equality Federation, an initiative rooted in serving and supporting state-based LGBTQ+ organizations in the US.
In a recent Instagram post, Tommy noted that there are four times more anti-trans bills being proposed this year than there were in all of 2019. In order to amplify LGBTQ+ voices and encourage fruitful allyship, Tommy emphasized the importance of continuing to pay attention and finding ways to get involved in your community. "I think having discourse on a local level is really important," they said. "I understand that over 70 percent of the country feels that trans people deserve equal rights, but it doesn't really matter if we have so many local laws that can prevent the safety and well-being of trans people. So it's really important now more than ever to figure out what local organizations you can donate your time and resources to. By resources, I mean financially and also mentally and physically, where you can show up and engage in conversations." Tommy also suggested looking for activists in your local area who are already doing the work and supporting them. "Amplifying the right legislators and people running for office over the next few years, who will fight for the safety and protection of trans and people, is really important," they added.
In a time when there's so much hate and violence against the LGBTQ+ community, it can be discouraging for some to want to continue to speak up and out, but Tommy draws inspiration from idols like model Munroe Bergdorf, actor Indya Moore, and author Kimberly Drew. "The internet can be such a dark and toxic place, and also, it can be a really exciting, uplifting communal space," they explained. "So I look at people like Munroe Bergdorf, Indya Moore, or Kimberly Drew, who used their platforms in really wise, conscientious, impactful ways. I'm inspired by them."
You can sign the Equality Act petition on The Body Shop's equality hub. From May 31 to Aug. 29, The Body Shop will donate $1 for each signature collected to Equality Federation, up to a maximum donation of $25,000.