Viola Davis's Quotes in Vanity Fair's July/August 2020 Issue
Viola Davis on the Challenges of Being a Black Actress: "There's Not Enough Opportunities"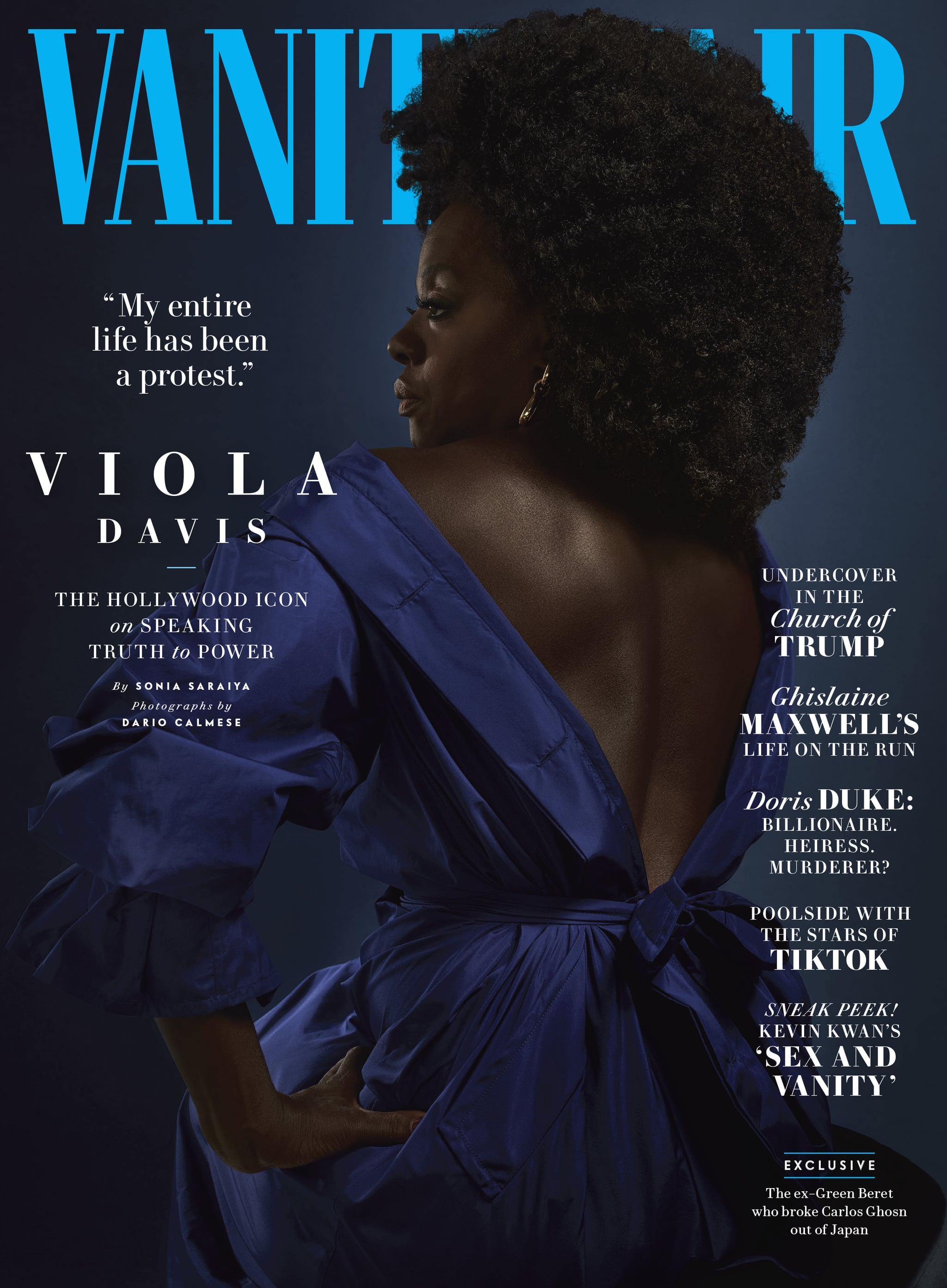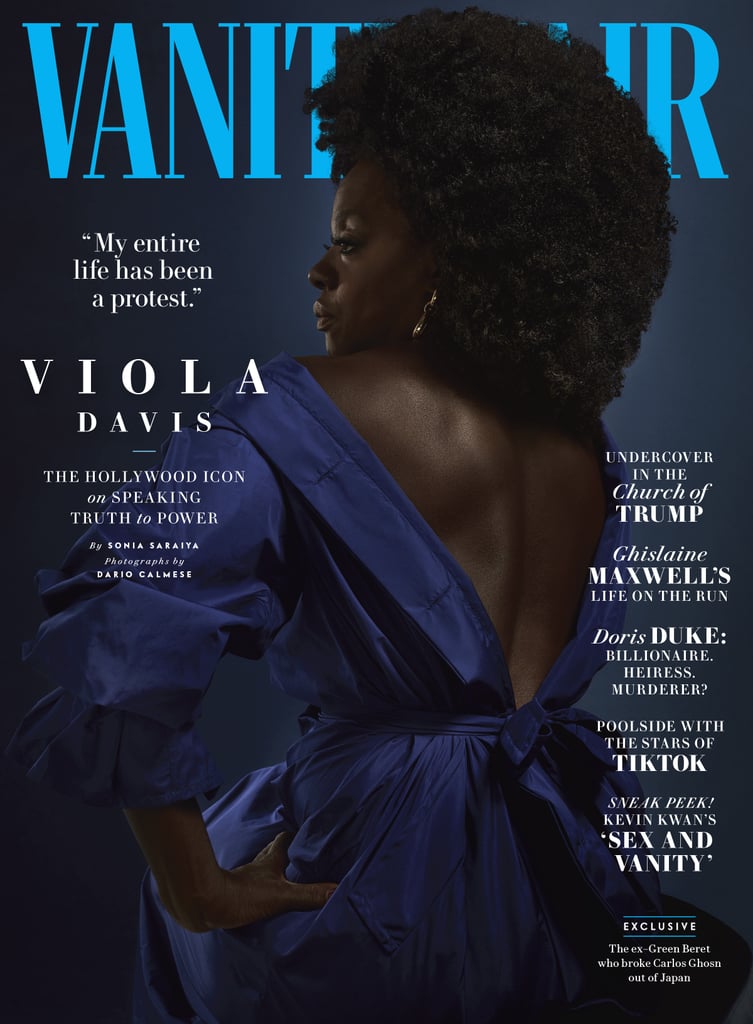 Image Source: Dario Calmese / Vanity Fair
When Viola Davis was younger, she "did not exert [her] voice because [she] did not feel worthy of having a voice." Now, the 54-year-old actress knows the importance of speaking up. In an interview for Vanity Fair's July/August issue, she discussed the recent social justice protests, the challenges of being a Black actress, and how she found her self-worth. Shot by Dario Calmese, Viola's gorgeous spread made history, as it marks the first time a Black photographer shot a Vanity Fair cover.
Viola has been vocal about the obstacles Black women face for years. In a recently resurfaced interview, she opened up about how she's had to hustle her whole career, yet she's nowhere near where her white counterparts are. "Not as far as money, not as far as job opportunities — nowhere close to it," Viola explained. She recently participated in a neighborhood demonstration with Yvette Nicole Brown as a way to "call for justice for [George] Floyd and all the other Black men and women unjustly killed by the police." Continue reading for some of Viola's best quotes from the Vanity Fair issue.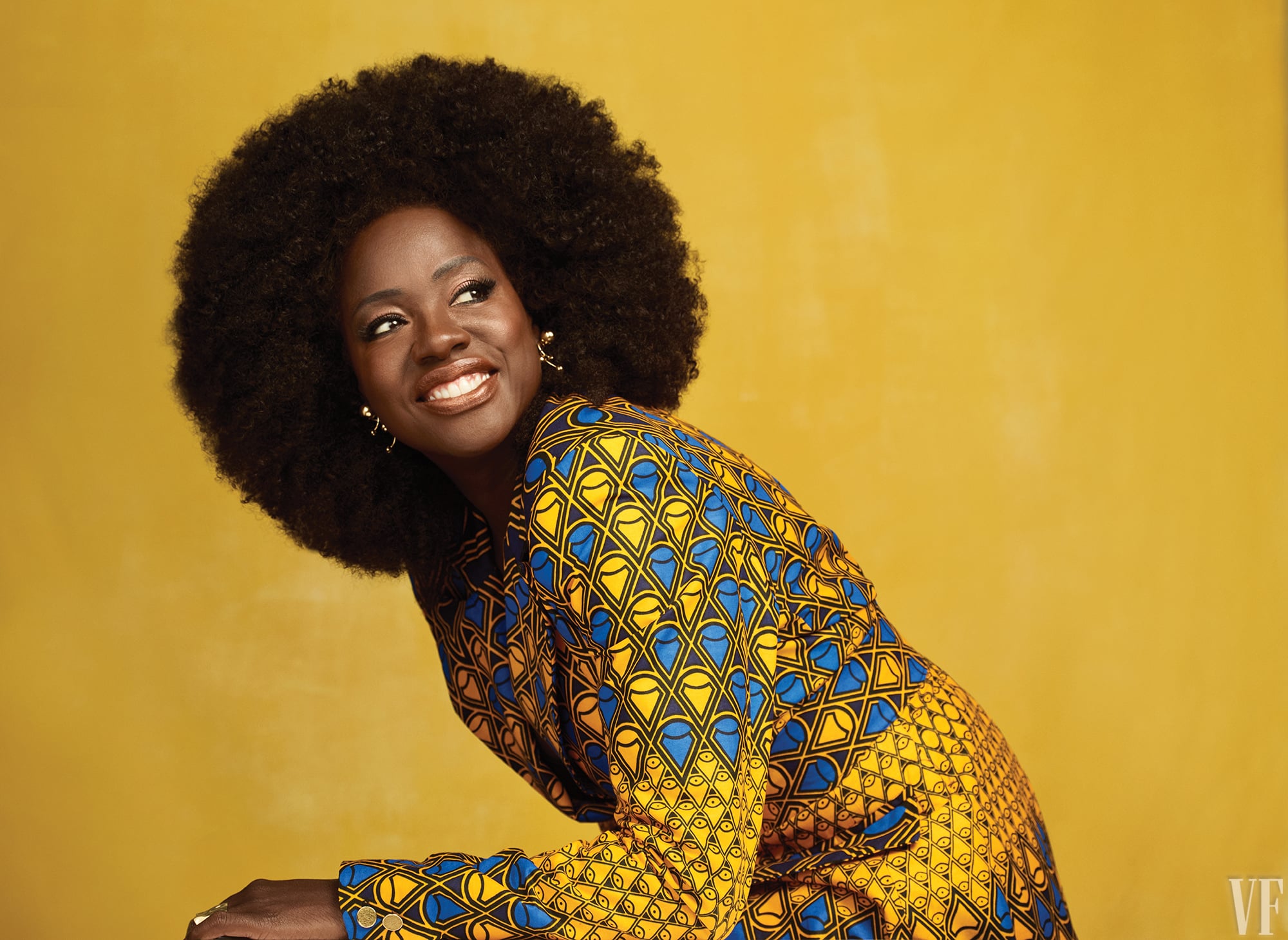 Image Source: Dario Calmese / Vanity Fair
On whether she had protested before her recent neighborhood demonstration: "I feel like my entire life has been a protest. My production company is my protest. Me not wearing a wig at the Oscars in 2012 was my protest. It is a part of my voice, just like introducing myself to you and saying, 'Hello, my name is Viola Davis.'"

"The dark-skinned Black woman's voice is so steeped in slavery and our history. If we did speak up, it would cost us our lives."

On finding her self-worth through the support of her mother and sisters: "[They] looked at me and said I was pretty. Who's telling a dark-skinned girl that she's pretty? Nobody says it. I'm telling you, Sonia, nobody says it. The dark-skinned Black woman's voice is so steeped in slavery and our history. If we did speak up, it would cost us our lives. Somewhere in my cellular memory was still that feeling — that I do not have the right to speak up about how I'm being treated, that somehow I deserve it. I did not find my worth on my own."
On the lack of opportunities available to young Black actresses: "There's not enough opportunities out there to bring that unknown, faceless Black actress to the ranks of the known. To pop her!"
On how commenting on harassment and money is especially fraught for Black talent in Hollywood: "We know as women, when you speak up, you're labeled a bitch — immediately. Unruly — immediately. Just as a woman. As a woman of color, there is very, very, very little you have to do. All you have to do is maybe roll your eyes, and that's it."
On her role as Aibileen in The Help: "I was that journeyman actor, trying to get in. . . . Not a lot of narratives are also invested in our humanity. They're invested in the idea of what it means to be Black, but . . . it's catering to the white audience. The white audience at the most can sit and get an academic lesson into how we are. Then they leave the movie theater and they talk about what it meant. They're not moved by who we were. There's no one who's not entertained by The Help, but there's a part of me that feels like I betrayed myself, and my people, because I was in a movie that wasn't ready to [tell the whole truth]."