5 AAPI Artists to Stream All Year Long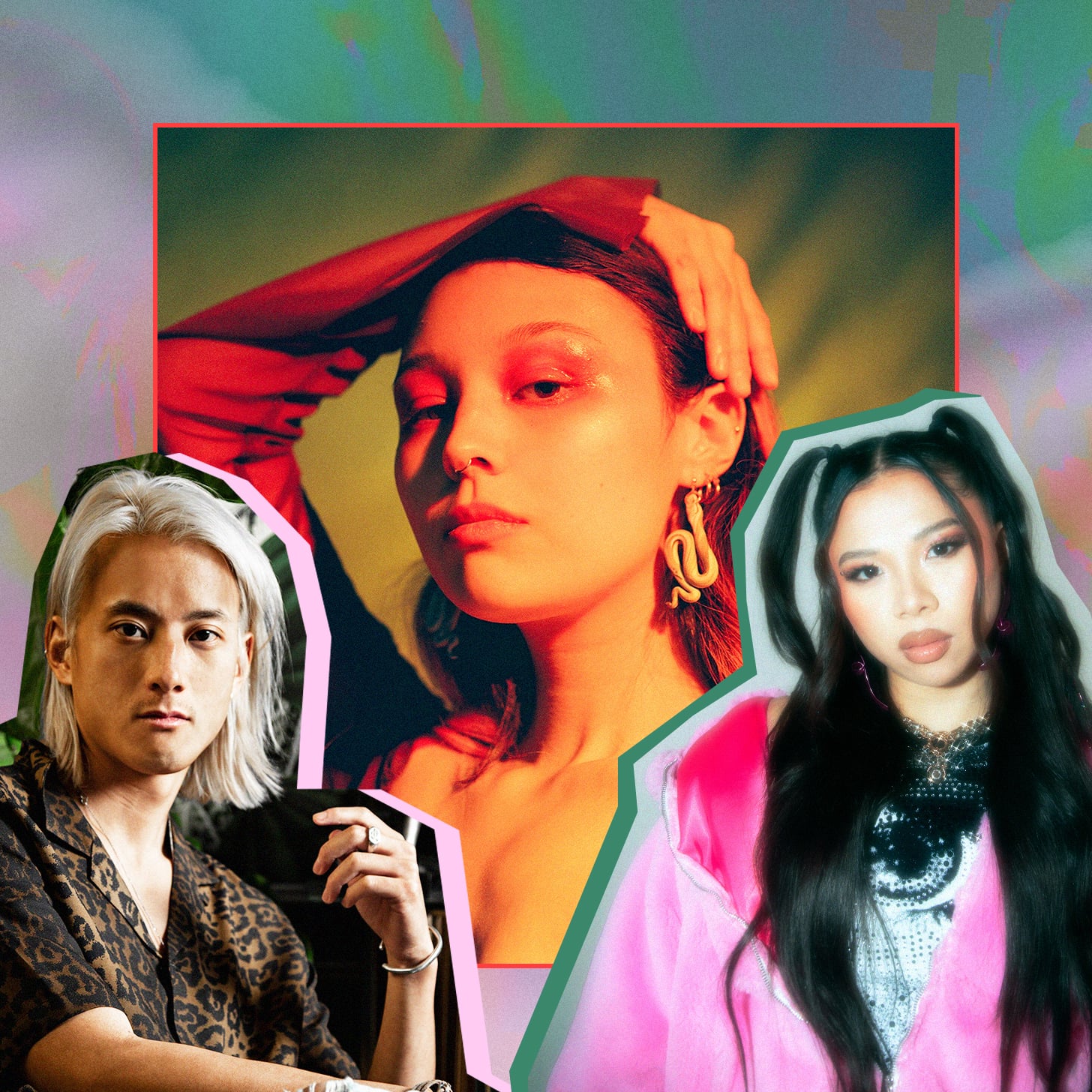 Image Sources: Elephante: Alex Lopes; Thuy: Sarah Ohta; Luna Li: Felice Trinidad; Unsplash; and Photo Illustration: Becky Jiras
In recent years, a handful of Asian American musicians have made a name for themselves in the American music scene. There's indie rock artist Mitski, Michelle Zauner of the genre-defying band Japanese Breakfast, and house DJ and producer Yaeji. The list grows a bit longer if we count Grammy-winning mainstream artists like H.E.R., Olivia Rodrigo, Bruno Mars, and Anderson .Paak, all of whom have some Asian heritage. However, they're the notable exceptions in an industry in which Asian Americans and Pacific Islanders (AAPI) are still grossly underrepresented and underpromoted, despite the wealth of musical talent that exists within the community.
In contrast, many K-pop stars — the majority of whom hail from South Korea — are now more successful and famous in the US than most AAPI artists. This striking paradox speaks to the formidable challenges AAPIs face in the US music industry and beyond. The success of bands like BTS and Blackpink shows what's possible when creativity and influence aren't bound by limitations and stereotypes imposed on them simply because of race or ethnicity.
We're highlighting five talented AAPI artists who deserve a spot on your playlist. They're creating great music and doing so against great odds. It's no secret that AAPI representation within the American music industry still has a long way to go, but these artists tell POPSUGAR that they believe things are changing for the better.
Here, meet the brave, talented young musicians helping to make that happen by breaking barriers, shattering stereotypes, and paving the way for future generations.
Beth Ann McDowell
Minnesota-bred singer-songwriter Beth Ann McDowell is arguably one of the most talented yet underrated indie artists today. A Korean American adoptee, McDowell trained in classical piano and sang in one of Minnesota's most prominent youth choirs as a child. Later, she traveled to Italy, where she played in an Italian rock band and collaborated with other local musicians. McDowell credits her time in Italy with heavily influencing her sound. "I fell in love with Franco Battiato's album 'Mondi Lontanissimi.' His incorporation of classical elements and synth sounds really shaped my songwriting," she says. She adds that soundtracks to international films like Federico Fellini's "Amarcord" and Jean-Luc Godard's "Masculin Feminin" — and works by Korean directors Kim Ki-duk and Park Chan-wook — have also inspired some of her songs.
McDowell calls her music "ethereal new wave," with elements of both "dream-pop" and "alt-rock." Her latest album, "The Sim Is Real," also contains hints of country and folk rock and even nods to her Italian influences, as heard in her cover of Rino Gaetano's "Sei Ottavi." Her soothing vocals connect these disparate tracks on the album, which was produced, recorded, and mixed by R. Walt Vincent, who has worked with indie legends like Liz Phair and Pete Yorn.
When asked about the rise of K-pop coinciding with the continued dearth of popular AAPI artists, McDowell points out that even famous K-pop stars face a considerable amount of backlash. "One thing I notice on Twitter when BTS is trending is that there is always an undercurrent of resentment or negativity from some non-AAPI Twitter users. And I think to myself, 'Are they upset because they are Asian? Am I being too judgy? Is it resentment because they have such a huge following that their popularity can't be ignored, but they wish they could ignore it?' So I'm not even sure if K-pop is really truly embraced, or if maybe this resentment is just common with any artist or band that becomes hugely successful. What is it they say — if you have haters, then you've made it? Maybe that just goes with the territory?"
Devyn Moon
Take a listen to one of Devyn Moon's tracks, and you'll immediately know their music is something special. The Houston-born, nonbinary producer and singer-songwriter — formerly known as LYTA — combines smooth, jazzy vocals with R&B, hip-hop, and electropop to create their signature sound. Moon, who often finds inspiration for their music while driving, describes their songs as "vibes from my Camry." "They're a mixture of ice and fire," Moon says. "The emotions that pour over you as you drive."
If Moon's sound seems a bit hard to pin down, that's probably because it contains elements of influences ranging from Paramore to Erykah Badu to Tame Impala. Now 24, Moon has already performed at SXSW and the world's largest Asian American virtual music festival. Prior, their debut album was selected by The Houston Chronicle as one of Houston's best albums in 2018.
But Moon admits that their musical journey hasn't been easy. "I think in the beginning when I would mention I was a Vietnamese Asian American artist, people assumed I was making international music in Vietnamese. It was kind of weird, and it was a lot harder to break into the industry before the whole 88rising/K-pop era came along," Moon says.
As their success grows, Moon makes a conscious effort to bring other AAPI artists along with them, such as Kenji Chong, who choreographed the music video for "Remedy," and Jheru, who raps in their latest track "Much Love." Moon believes that, although AAPI writers and filmmakers have made progress in Hollywood, AAPI representation in the music industry is still sorely lacking. "But it's getting easier," Moon says. "I think we are well on our way up there. And hopefully being an AAPI artist won't be as rare; we'll stop being pigeonholed under that category and one day just be 'artists.' It's been a long time coming, but it's happening."
Elephante
Composer, producer, and singer-songwriter Elephante mixes electronic dance music with pop, blues, rock, and other genres to create high-energy bangers like "Dopamine" and soaring ballads like "Down This Road." Raised in Michigan by Taiwanese immigrants, Elephante (real name: Tim Wu) was trained in classical piano and later taught himself to play the guitar. He started writing songs in middle school and dreamed of becoming a professional musician, but he wasn't sure someone like him could make it. "[Music] was the thing that I loved more than anything," he tells POPSUGAR. "When I was growing up, there weren't a lot of Asian people making music — I think there were probably none in pop music at the time . . . I think that was one of the reasons why it felt unlikely that I could actually become a musician, just because I never saw anyone who looked like me doing the things that I wanted to do."
After graduating from Harvard, he landed a gig with a top consulting firm, but he quickly realized it wasn't for him. He quit his job to pursue music full-time and started the Elephante project in 2013. As for the meaning behind his stage name, he says it refers to the phrase "the elephant in the room." "The elephant in the room when I was working in the consulting job was that I hated it and wanted to make music," he says. "So it's about embracing that elephant and becoming the person that I was always meant to be."
It seems he made the right decision. His first two EPs, "I Am the Elephante" (2016) and "Glass Mansion" (2018), have amassed hundreds of millions of streams, with the latter ranking No. 1 on iTunes' US Dance chart. He has sold out two national tours, held multiple residencies — including two in Las Vegas — and performed at Lollapalooza.
Currently, Elephante is in the middle of a 19-date tour to promote his first full-length studio album, "Heavy Glow." AAPI artists who've collaborated with him, such as Hoang and Sabai, have joined him on tour. "Something I've become more passionate about recently is trying to promote and put on up-and-coming Asian creatives, just because I feel like I didn't have a lot of that growing up," Elephante says. "I feel like I want to give back and give other artists the opportunities that I did not necessarily have when I was coming up."
"For me, the biggest hurdle was overcoming the social conditioning and the expectations that I grew up with that Asian people can't be popular musicians," he says. "Throughout my career, I've had a lot of impostor syndrome, being like, 'Can I really do this?'"
Though he hesitated for over a decade before chasing his music dreams head-on, Elephante believes it's a bit easier these days for aspiring AAPI artists to follow their passion. "I think there's a generation of young, Asian potential creatives who are seeing everything that's happening now and the way this culture is shifting," he says. "Seeing all the Asian people succeeding in the creative world, I think for a lot of those kids growing up now, they're gonna see them and be like, 'Oh, I can do that.' And I think it's gonna open a complete [new] world. I think kids now are gonna be able to jump in earlier and have faith that they also can do it."
Luna Li
Technically, Luna Li hails from Canada, which also celebrates Asian Heritage Month in May. Li, whose real name is Hannah Bussiere Kim, is a Toronto-based Korean Canadian singer-songwriter. Her blend of psychedelic and indie rock and dream pop has caught the attention of multiple music critics and indie icons alike. She was named in 2022 as one of NME's top 100 emerging artists and has opened for acts like Chvrches and Japanese Breakfast.
The super-talented songstress and multi-instrumentalist (you can see her playing six different instruments in this video) largely finds inspiration in nature and the moon (hence her stage name). Her debut album, "Duality," which dropped earlier this year and features collaborations with Jay Som, Dreamer Isioma, and Beabadoobee, is an ethereal symphony of elaborate string arrangements, calming vocals, and retro vibes that transport listeners to a dreamy, magical universe. "Each song had some element of light and dark — where there's happiness, there's still uncertainty; where there's anxiety, there's also beauty; and where there's tension, there's freedom," Li says about her album.
As an artist of Asian heritage, Li found it challenging to carve out a career as an indie musician. "I have definitely felt out of place in musical communities where there just wasn't anyone else there who looked like me," she tells POPSUGAR. "It took me a while to really find my path; I went into the classical-music world for a moment after high school because there were many more people who looked like me in that space."
It wasn't until she realized she didn't want to pursue classical music that she began creating her brand of indie pop and rock. "I felt like I had to forge my own path," she says. "It took me a while to get to a place where I felt like I could truly be myself without having to tone down or erase my Asian-ness or femininity."
Li hopes that future generations of Asian artists will have it easier. Last year, she told i-D magazine, "I especially want young girls and young Asian girls to feel seen and heard. Representation is super important to me — growing up, I never saw people who looked like me playing in bands or taking space onstage."
Thuy
R&B singer-songwriter Thuy (pronounced like "twee") grew up wanting to be a pop star, but she didn't think she'd have any chance of succeeding in America. "Back then, there weren't a lot of artists who looked like me, so I never thought it was a feasible career choice," Thuy, who is Vietnamese American, tells POPSUGAR. But that all changed one fateful day when she followed her boyfriend into a studio session. "I saw what being an artist was like, and I immediately knew this was the path for me," she says. In 2015, she released her debut single, "Hands on Me," which launched her music career.
Now, she's a fast-rising star whose soulful, silky vocals have been streamed over 95 million times. Her debut EP, "I Hope U See This," released last October, includes songs that deal with heartbreak (as in "Chances"), self-confidence (best captured in the catchy self-empowerment anthem "In My Bag"), and love (expressed perhaps most beautifully in "Universe"). Last month, she dropped her latest track, "Inhibitions," featuring Filipino American rapper P-Lo.
Named one of People magazine's Emerging Artists to Watch in 2022, Thuy hopes her experiences will inspire others to follow their dreams. "Growing up, there were not a lot of artists of Asian descent to look up to. So now being in this position and going on this career path, I know I'm part of paving the way," she says. "I'm blessed to be in this position, but it is a lot of responsibility. At the end of the day, I understand that what I'm doing is important."
Image Sources: Alex Lopes, Sarah Ohta, Felice Trinidad,
Unsplash
and Photo Illustration: Becky Jiras