Alyssa Milano Quotes on Insatiable Fat-Shaming Controversy
Alyssa Milano Stands by Netflix's Insatiable: "These Issues Are Better in the Open"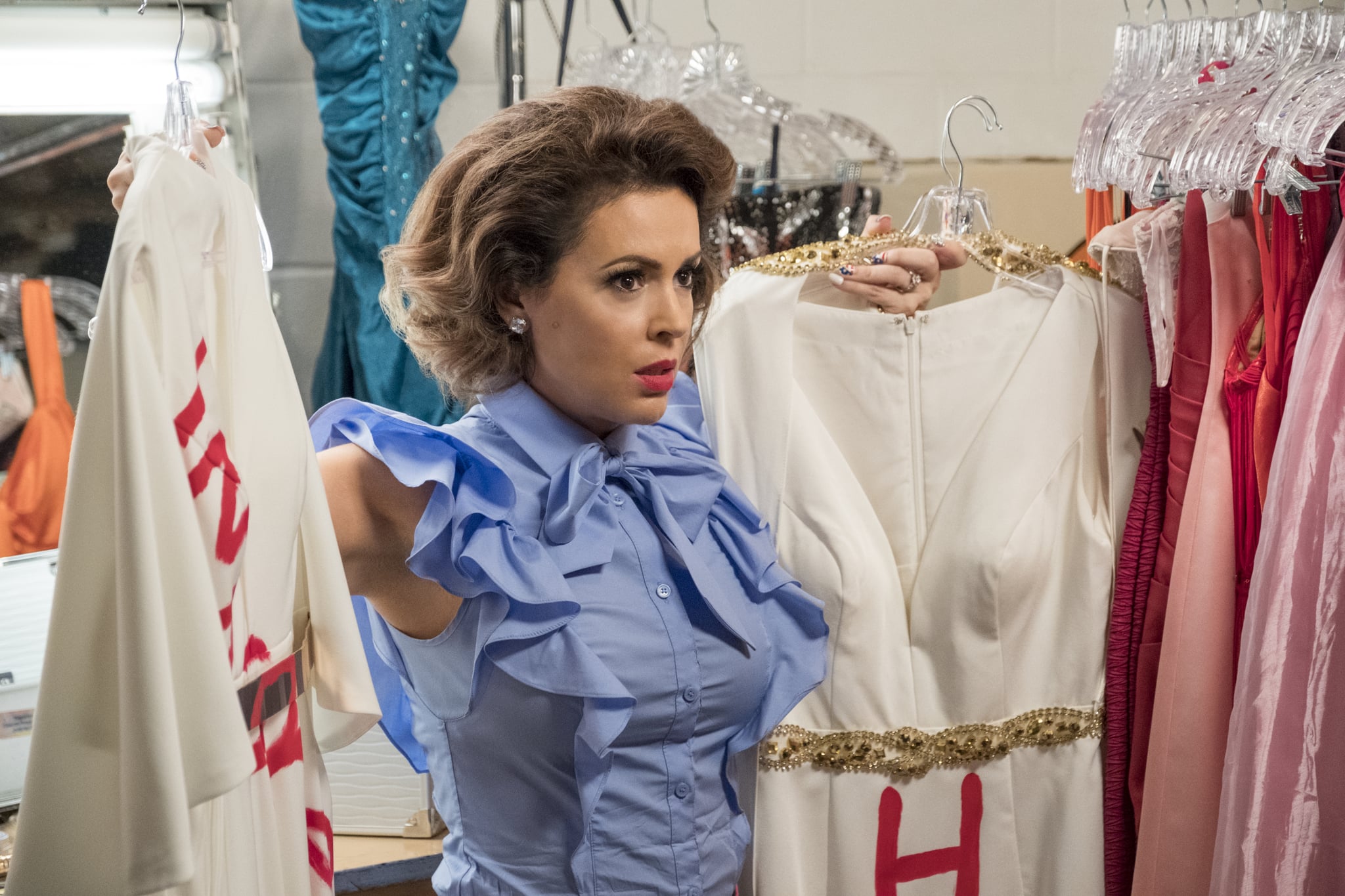 Netflix's new series Insatiable has been under fire since the release of the show's trailer a few weeks ago. The "coming of rage story" sees slender Disney actress Debby Ryan slipping into a fat suit in the first episode to play Patty, an overweight teenager whose classmates ridicule her weight and appearance. When Patty loses the weight as a result of having her jaw wired shut (after she's punched by a homeless man trying to steal her candy bar . . . ), she decides to get revenge on everyone who's done her wrong. The black comedy has been met with backlash for several reasons but is largely drawing criticism for the fat-shaming premise the series is built on.
Charmed alum Alyssa Milano stars in the series as the social-climbing wife of a beauty pageant coach and has spoken out about the controversy a few times. Amid the first wave of negative reactions to the trailer, Milano responded to an outraged tweet saying, "We are not shaming Patty. We are addressing (through comedy) the damage that occurs from fat shaming. I hope that clears it up."
"The show is really about the damage that happens from fat-shaming. It touches on how we have all felt that we are not enough."
More recently, the actress addressed the issue of fat shaming in an interview with Us Weekly. "The show is really about the damage that happens from fat-shaming. It touches on how we have all felt that we are not enough," she explained. "How do we fill that void? Some people get anxiety attacks, some eat. I'm a firm believer that these issues are better in the open." Her thoughts echo those of Netflix's vice president of original content, Cindy Holland, who touched on the subject during the Summer TCA press tour on July 29. "Ultimately, the message of the show is: what's most important is that you feel comfortable in your skin," Holland said. "And fat-shaming itself, the criticism is embedded in the DNA of the show."
Milano also explained how her Insatiable character, Coralee, is another lesson in learning to feel comfortable in your skin. The seemingly shallow housewife is one of the few to befriend Patty after her transformation and deals with her own demons concerning her trailer park roots. "A lot of Coralee's growth comes from acceptance of her past. She doesn't have to hide to show she's fabulous."
Despite the backlash, Insatiable made its debut on Aug. 10, and there's still potential for a second season.