Source: Courtesy: Lionsgate Entertainment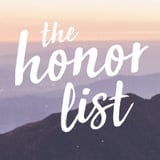 We've partnered with The Honor List to share star Meghan Rienks's tips for building friendships that lasts a lifetime. Get the movie on iTunes May 11 and on DVD on May 15!
It's a long journey to find "The One" — the one friendship that last a lifetime, that is! Discovering a kindred spirit that shares your quirky sense of humor and obsession with avocado toast is a major milestone, but keeping the friendship strong over the years is even more important. To learn how to cultivate a meaningful friendship, we caught up with social media sensation and star of The Honor List Meghan Rienks. You may have seen her on the small screen in shows like the Amazon Prime series Sneaky Pete and Hulu's Freakish, and the actress's latest project is an inspiring peek into the ways friendships grow and change over the years. Read our exclusive interview to learn the celebrity's top tips for recognizing and maintaining a lifelong friendship, and be sure to check out Rienks in The Honor List, on iTunes May 11 and DVD on May 15!