Brooklyn Nine-Nine Season 2 Details
Here's What We Know About Season 2 of Brooklyn Nine-Nine
If you don't love Brooklyn Nine-Nine, chances are, you're not watching it. Andy Samberg's cop comedy scored big at the Golden Globes this year (despite being nearly overlooked for Emmy nominations), and season two is airing on Sunday, Sept. 28. That's right: it's now airing right after The Simpsons on Sundays. Fox invited a group of reporters to Brooklyn Nine-Nine's LA set this Summer, and we got some good details from the creators and cast about the second season of the hit. As a reminder, the first season ended with Jake (Samberg) getting "fired" from the NYPD and going undercover in a drug sting. Here's what's in store next!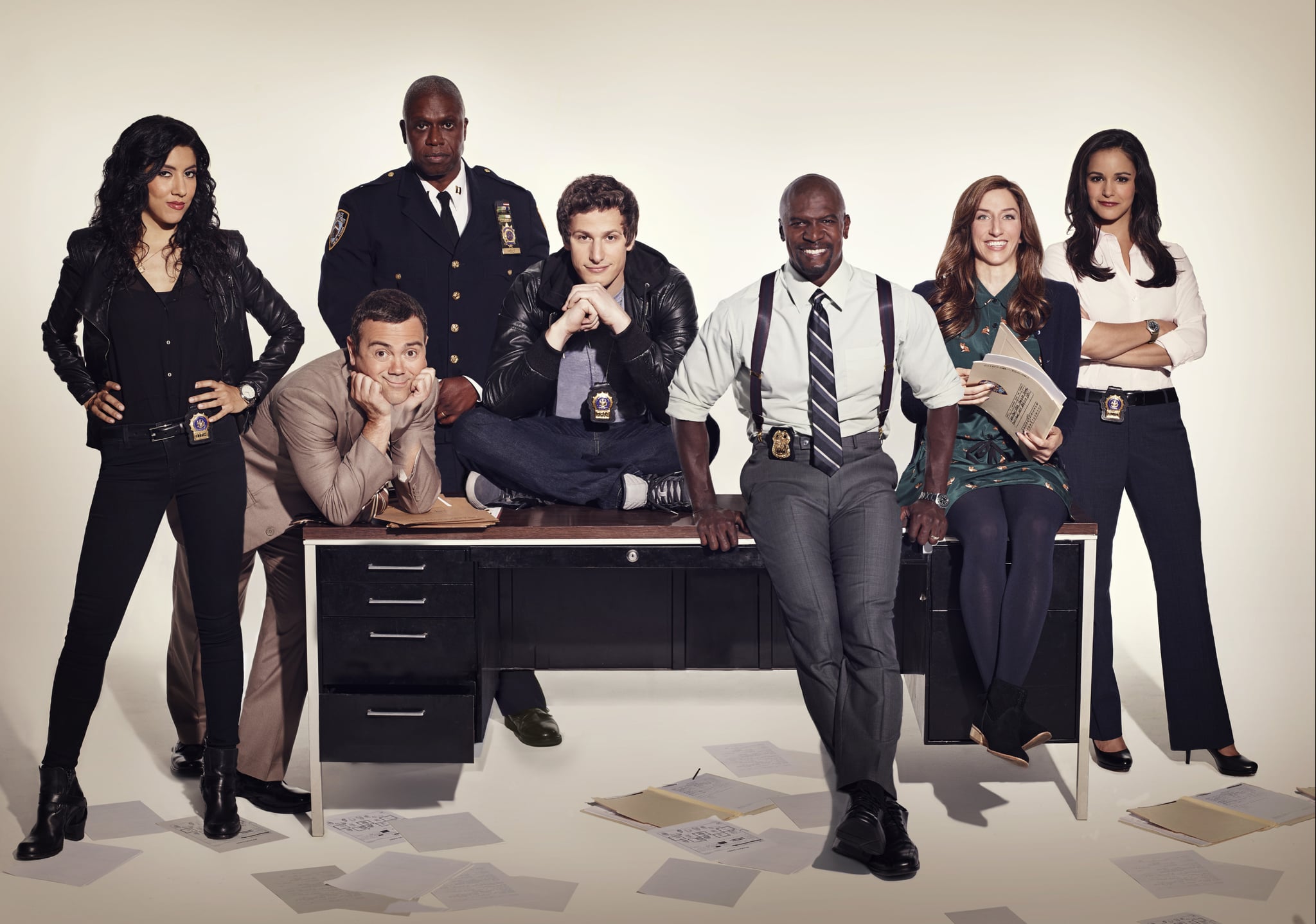 There will be a time-jump. Creator Dan Goor confirmed that no, the series will not pick up directly after Jake professes his feelings for Santiago (Melissa Fumero), and Gina (Chelsea Peretti) and Boyle (Joe Lo Truglio) wake up next to each other. Unfortunately, this could mean we pick up days, weeks, or months after we last see the characters. So much could occur!
Jake and Santiago will get together . . . at some point. The creators and stars joked about how writers have a few "plays" they generally run with romances between TV leads — but they're determined to let Jake and Amy's romance take its own time. Sigh! However, creator Mike Schur did give us some hope: "We wouldn't have done the cliff-hanger at the end of season one if we had no intention of following that story into season two and perhaps beyond, but it's not going to be the main focus of the show. It's going to be a thing. It's going to be one of the elements of the show that we are following as the year goes on."
They might be going super dark for season two. Things were looking bleak for Jake at the end of season one, and the cast (jokingly) assured us that storylines for the new season will be super dark. "It's going to make Law & Order SVU look like a cartoon," said Samberg. "The second episode is just called 'Tears,'" said Goor. OK, so that's probably not true. But it's still funny.
Jake will be reunited with his team. "The show is Jake and the squad," said Goor. "We don't want to have him on a dark island for too, too, long, but I don't want to give anything away." Does this mean his undercover operation is a bust? Or maybe just that Jake and the team are having late-night Skype sessions?
There shall be guest stars! While they didn't name any new names, Schur did let on that Patton Oswalt might be back as one of the Fire Marshalls. "It's definitely the way we like to write," he said. "We introduce people, integrate them into the world of the show, and, then, if the opportunity arises, it's like, 'Hey, get that guy back here. He's a funny person.' Guest stars are great, and we like to do that."
Stay tuned for more details, and check out all the cool stuff we found on the Brooklyn Nine-Nine set!