Is Cristina Coming Back to Grey's Anatomy?
Grey's Anatomy: Every Reason We Have to Believe Cristina Will Return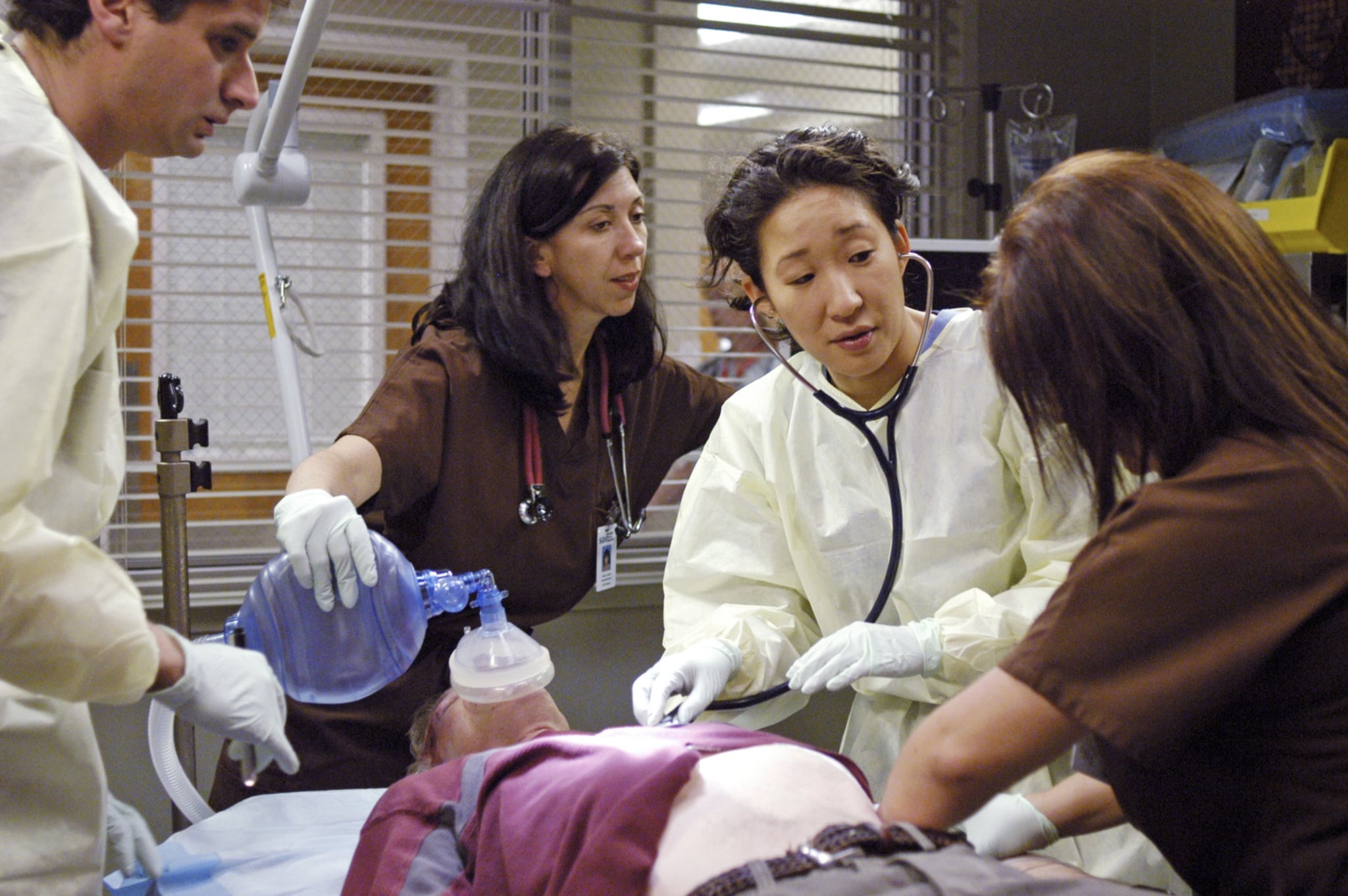 How has Grey's Anatomy managed to survive without badass cardiothoracic surgeon Dr. Cristina Yang for the last three seasons? Well, the popular medical drama has devoted quite some time to exploring Meredith's often precarious yet devoted sisterly bonds to Maggie and Amelia. As much as we love this new dynamic, there's no one quite like Mer's unapologetic soul sister — or "person," as Mer puts it. From the pilot episode to Cristina's departure in season 10, Meredith and Cristina grow together, rising through the ranks from clueless interns to fearless attendings as they support each other through the worst of times. And we really do mean the worst of times: shootings, plane crashes, you name it.
Last Summer, Sandra Oh, the talented actress behind Cristina, sparked some hope in Grey's fans. She tweeted a picture with her Grey's Anatomy ex-husband Kevin McKidd, who plays trauma surgeon Dr. Owen Hunt, and former Grey's Anatomy screenwriter Tony Phelan.
Hangin w/ the Usual Suspects @TonyTphelan & @TheRealKMcKidd last nite pic.twitter.com/ga0HPvB5hZ

— Sandra Oh (@IamSandraOh) June 10, 2016
Was it a merely a benign gathering of old chums, or were they discussing some Grey's business? It's most likely the former, but no one ever really knows when it comes to Shondaland. After all, the show has featured cameos from past main cast actors, like Kate Walsh and Isaiah Washington. On the matter of Cristina's return, McKidd casually commented in a recent interview that he'd "love it if she came back," and that he thinks "she might eventually for fun, for maybe a couple of episodes."
With Amelia and Owen's marriage on the rocks in season 13, some of us are speculating that Oh may return to add a plot twist or some unprecedented drama. Cristina is killing it in her career right now in Switzerland, and we couldn't be happier for her . . . but we wouldn't necessarily object to her return.
While promoting her new comedy film Catfight on Access Hollywood Live, Oh said that she doesn't think she'll come back to Grey's Anatomy, but gave a more evasive and uncertain answer about the possibility of returning for the series finale. Hinting that she had previously talked to showrunner Shonda Rhimes about it, Oh said: "I just don't know. It would just have to feel right." That's not a no!
We don't definitively know whether or not Cristina will be coming back, but if Oh does come back, it'll likely be a cameo or guest star appearance rather than a recurring role. If you miss seeing Oh on prime-time television, she'll be guest starring as a social worker in a three-episode story arc in the ABC series American Crime. For now, we'll just be rewatching throwback Grey's episodes and crying over this brilliant character brought to life by Oh's tour-de-force performance.