Don Draper Comeback
All the Signs Don Draper Is Headed For a Comeback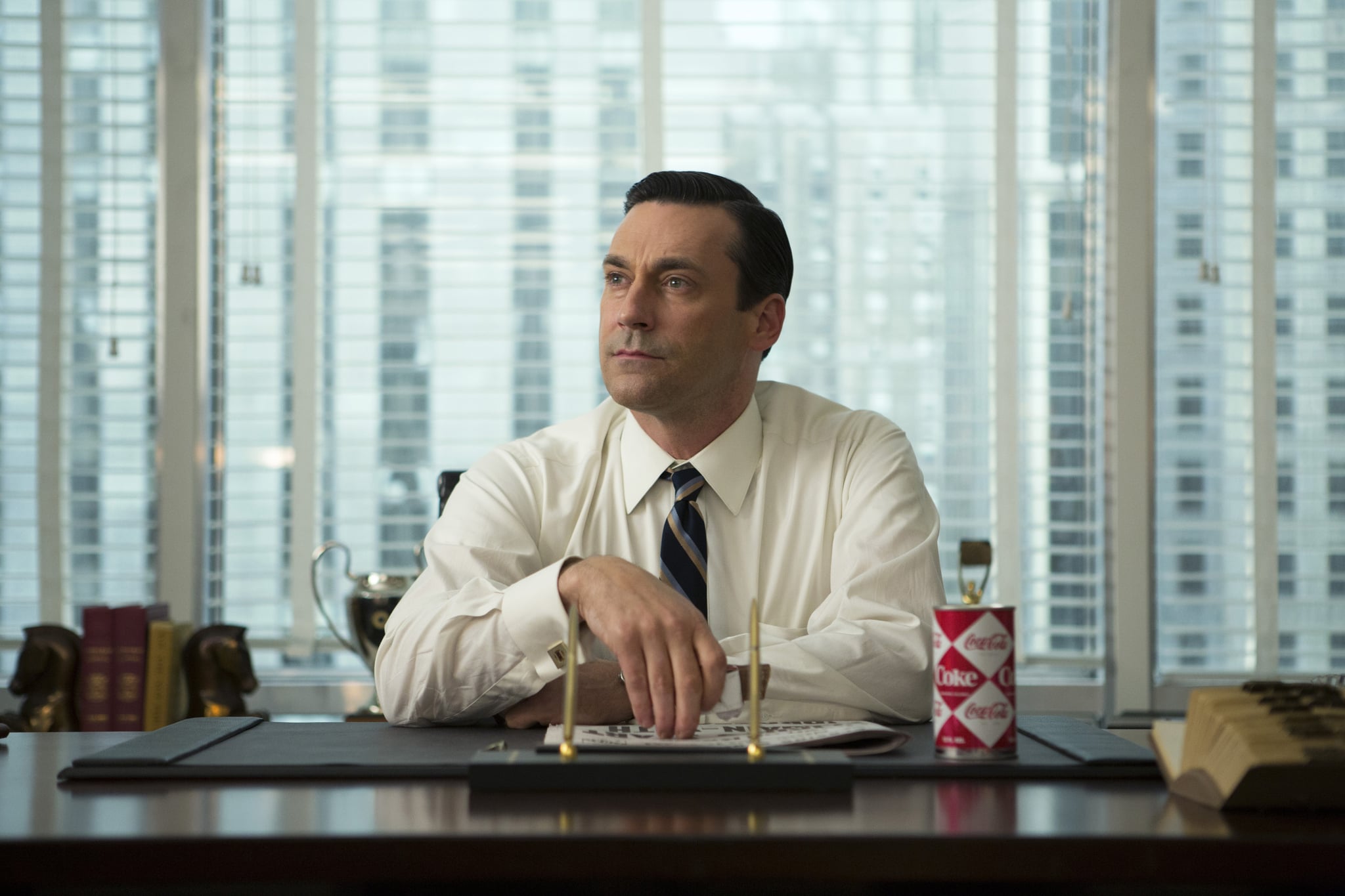 Source: AMC
"Are you just going to kill yourself and give them what they want?" Mad Men's Freddy Rumsen asks a hungover Don Draper at the end of episode four in season seven. AA member Freddy knows a thing or two about sobering up, and he gives Don some black coffee and advice straight up: "Do the work, Don."
The episode is a humiliating hour for the former creative director and partner of Sterling Cooper & Partners. Don found himself summoned to the office of his former secretary and protégée, Peggy Olsen, to get the mundane assignment of writing 25 tag lines. It's a shocking reversal of power, and Don can't handle it. He throws his typewriter, plays solitaire instead of working, and recklessly gets wasted on a bottle of vodka he steals from Roger Sterling's office. Not drinking on the job is one of his conditions for working and keeping his partnership shares, but Don proceeds to get stupid drunk. Lucky for him, Freddy swoops in to save him before too many people catch on. While this might all be proof that disappointing Don will never change, there were also hints that he just might. Here are signs that we're in for a long-awaited Don Draper comeback.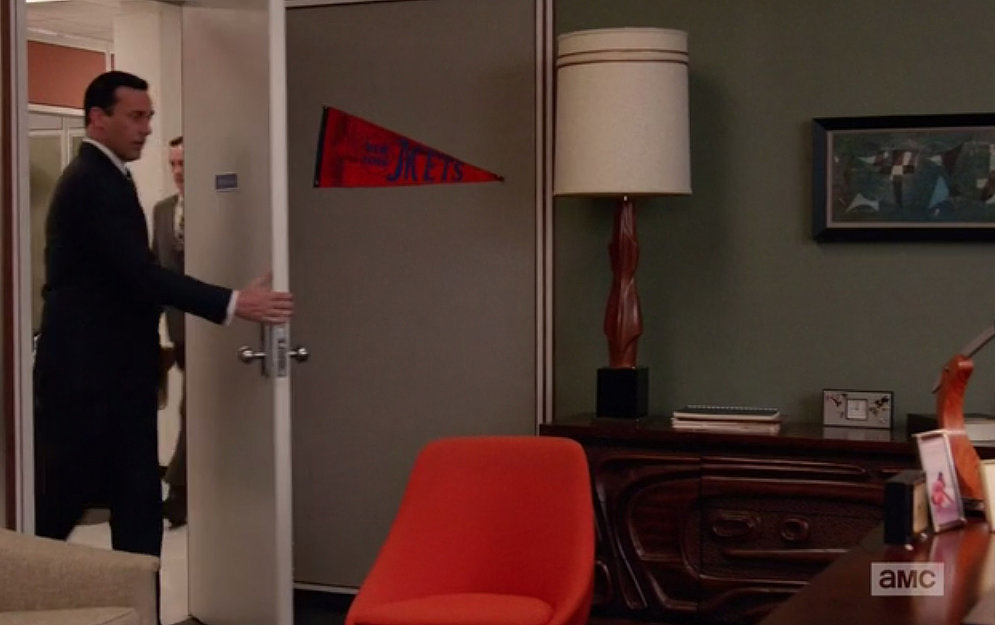 Source: AMC
The Mets Won the World Series in 1969
The current season takes place in 1969, the same year of the Amazin' Mets. After eight years in the big leagues, the expansion team was considered one of the worst teams, as they had never had a winning season. But after a pretty disappointing first half of the '69 season, something clicked with the team. With the help of first baseman and MVP Donn Clendenon, the team went on to win the World Series against all odds.
In episode four of season seven, we see Don happen upon a Mets pennant left over from when the tragic Lane Pryce occupied the same office. Since it's still springtime, the Mets would not have started their hot streak yet, but Don decides to hang it up, after originally throwing it in the trash. Could we see a turnaround for Don similar to the Mets' resurrected 1969 season?
Don's on a Carousel
Showrunner Matthew Weiner is known to send messages with his song choices. The final song for this episode is "On a Carousel" by The Hollies, which plays as Don finally gets to work on those tag lines for Peggy. This is a not-so-subtle reference to Don's famous Carousel pitch from the season one finale, "The Wheel," which has already been referenced by Kenny Cosgrove this season as an example of Don's vanished greatness. The lyrics go, "Riding along on a carousel, trying to catch up to you/ Riding along on a carousel, will I catch up to you?" These words clearly can stand in for Don's current predicament of trying to get his job back, but the song could hint that more iconic Don Draper creative is on the horizon.
He Confronted the Devil
"You talk like a friend, but you're not. You go by many names. I know who you are." While Don is speaking to computer man Lloyd Hawley, it appears Don confronts the devil himself in an episode filled with references to death — the hanging telephone, Roger's grandson shooting his secretary, Pete's father-in-law's heart attack, to name a few. Think about it: the devil goes by many names, including Lucifer, Satan, the prince of darkness. Maybe this bizarre rant by Don, who has clearly hit rock bottom — or the deepest depths of hell — means Don is finally ready to confront his demons. You might recall in season six, Don picked up Dante's Inferno. In that story, Dante must travel through the nine circles of hell before he can recognize and reject sin. The ninth and final circle is treachery, and the traitors are guilty of betraying a special relationship. Don, as the founder of SC&P, clearly feels betrayed but so do his colleagues. There are various parallels in Don's life to Dante's journey. Round one of the ninth circle, for example, involves Caïna, who killed his brother. Remember Don feels responsible for the death of his half-brother, who committed suicide early in the series after Don rejected him.
After surviving hell and coming face to face with the devil, Dante ascends to Purgatory. Might that be where Don is headed next? In Purgatory, motives are scrutinized more than actions, and love is an important theme. Maybe the next step for Don is righting the wrongs he's inflicted on his loved ones. And of course, after Purgatory comes redemption in Paradiso.
The Monolith Signals a Quantum Leap
This latest episode is titled "The Monolith." Literally a monolith is a large upright block of stone, and that pretty much represents how the creatives in the agency feel about the new computer — it's just a characterless block. But "The Monolith" is also a major part of Stanley Kubrick's 2001: A Space Odyssey, a film that receives many references throughout the episode (there was tons of moon watching, for example). In that story, black monoliths appear when humanity is going to make a major jump forward. Could this be an indicator of a big evolution for Don? Below, check out a monolith from Kubrick's film and one from the Mad Men episode, shown in the form of a door when Don exits the elevator.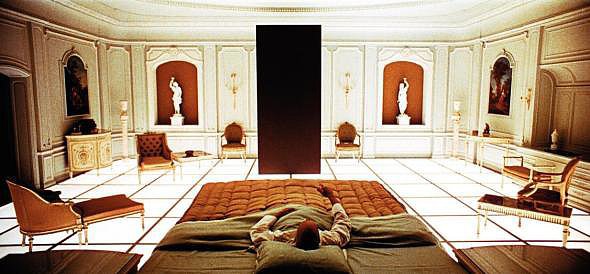 Source: Warner Bros.

Source: AMC
Of course there are signs that Don's doomed — mostly his actions. Perhaps the sad Mets pennant represents what could have been, Don's wasted promise. And we can't ignore the symbolism of him ending up in Lane's office. We're just hoping for a rebirth.