Interview With Kaitlyn Bristowe From the Bachelor
Chris Soules Approves — Will Kaitlyn Bristowe Be the Next Bachelorette?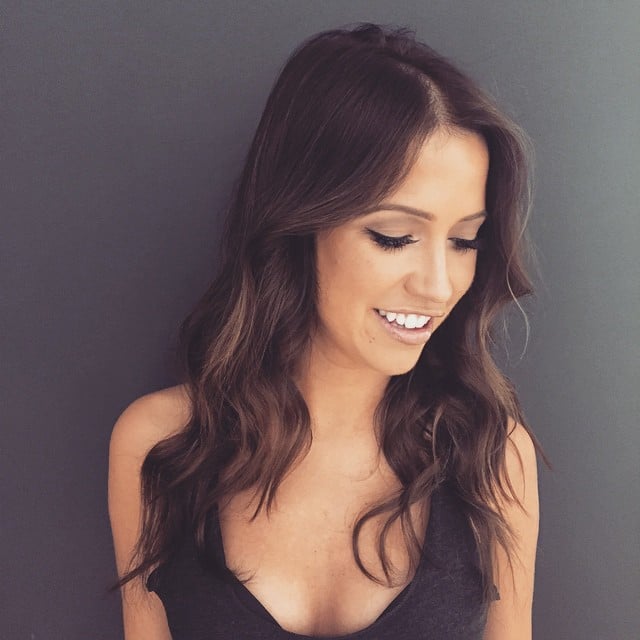 Source: Instagram user kaitlynbristowe
Our hearts broke a little when we watched Chris Soules send Kaitlyn Bristowe home in the overnight dates episode of The Bachelor. Kaitlyn, a 30-year-old Canadian dance instructor, started the season off to a rocky start with her dirty opening line — "You can plow the f*ck out of my field any day" — but over the course of the season, she won us (and Chris) over with her sense of humor, fun-loving attitude, rap skills, and classy behavior as she fell in love with the farmer from Iowa. But while her dismissal was heartbreaking — we were as shocked as she was — maybe she will get another chance at finding love on the show.
It's pretty clear she's a fan favorite (or should we say, "favourite") and front-runner for The Bachelorette. And not only does former star of The Bachelor Sean Lowe think she's the "only viable option," Chris told us Kaitlyn would be his pick as well. He said, "She would be fun to watch. She's got a great personality, she's beautiful, and she's at a point in her life where she's ready to be married, and she deserves that."
But how does Kaitlyn feel about joining The Bachelorette club? Kaitlyn told us, "Right off the bat I thought, 'Are you kidding me? I won't be over it, there's no way.'" She adds that now she has closure. "You deal with it and move forward," she said. "I would be excited to [be the bachelorette] because I did see how if you have that opportunity and you let those guards down and you do let yourself have those feelings, you can find love in the most mysterious way."
Read the rest of our interview with Kaitlyn now.
POPSUGAR: How did you stay sane and true to yourself throughout this process?
Kaitlyn Bristowe: To take a step back from social media and phones and always responding to people, it was actually quite therapeutic for me. I found it relaxing to just be me and not have to answer to anybody and not to have to worry about anything but myself. There were times where I had a little breakdown when I'd want to talk to family, but the main goal was really important to me. So I had to reiterate to myself, "This is two months, if you make it that far, and your family is always going to be there and they'll support you, so this is your time to really be you."
PS: What was the first thing you told your friends and family when you got home?
KB: I can't even pinpoint one thing, it's everything. I think I was just excited to tell them that "tough Kaitlyn" really got in touch with her feelings and that was really great for me.
PS: Watching the show, it was really evident how much you changed over the course of the show from the jokester at the start to someone really in love.
KB: Yeah, I really tried to be authentic. I wasn't going to go into it as someone I'm not, and someone I am is I make jokes and I love humor. So I wasn't going to hide that or put that aside for this. What I learned from it is that it shouldn't be a defense mechanism.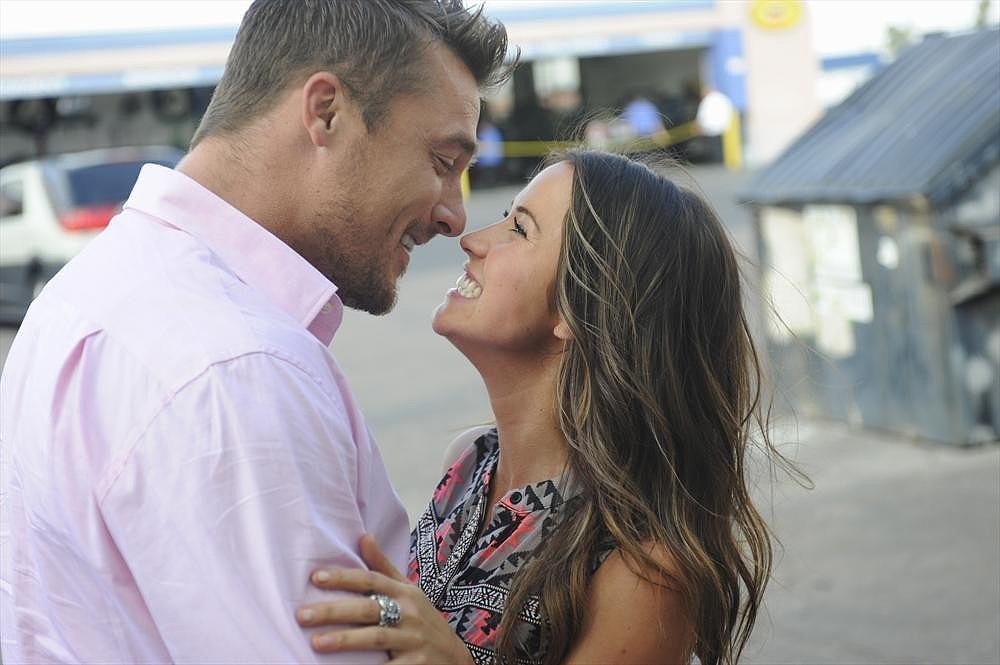 Source: ABC
PS: Have you dated since the show?
KB: I was crushed when I got back, genuinely crushed. Guys from my past, obviously, came up and wanted to reconnect, and I just really wasn't emotionally there to go through that at that moment. And I was so busy that I just kind of put that on the back burner for now.
PS: How do you make friends with someone who's dating the same person as you?
KB: That's something I don't think anyone could understand unless you're in this situation. I think you just go in with an open mind and you go in knowing that that's what it is. Some people can handle it and some people can't handle it. You're spending so much time in the house with the girls, and it's bound to happen that friendships develop and it surprised me. I'm happy with friendships that have come out of it, but I think we all knew that once it got to a certain point you don't really get into detail about the relationship with Chris.
PS: Do you really think you can be in love with more than one person at a time?
KB: It's definitely a hard one for me to grasp. It's not that I disagree with it or don't think it's possible, because I think I was part of it. At the end of the day, you just have to trust your gut and go with who you think is the best suited for you. You're in a unique situation where there are 25 great human beings in front of you for you to fall in love with in a romantic setting, so it is possible. It's just a weird thing for the brain to access those feelings.
Was there anything about yourself you found annoying after watching yourself on TV?
KB: Yes, two things. My laugh, which I'm not ever going to change; it sounds like a donkey or a hyena, and I'm perfectly fine with that because I'll never hold back on laughter — it's one of my favorite things to do. And I say "like" a lot. I've been really working on it, though, but I remember watching and when I'd get nervous I'd say "Like I don't know, like I'm just starting to feel . . . " and I'm, like, "ugh, stop saying 'like!'"