Will Jamie Ever See William Again on Outlander?
Outlander: Here's When Jamie Will See His Son, William, Again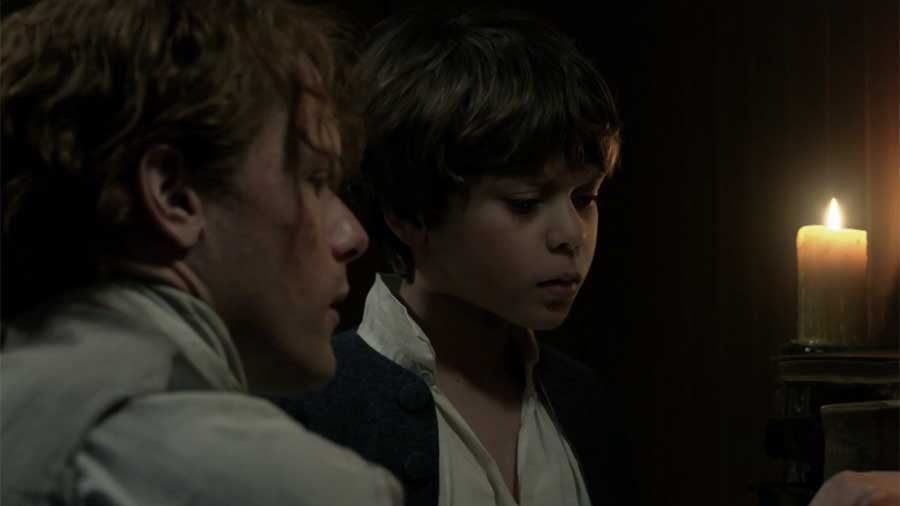 There wasn't a dry eye in my house during the Outlander episode appropriately titled "Of Lost Things" when Jamie has to say goodbye to his son, William, who is now ostensibly the third child Jamie has lost. First, he and Claire lose their baby Faith in France, and then he sends Claire through the stones when she's pregnant with Brianna. Now, Jamie has a child he has essentially helped raise, but because no one can know that William is actually the illegitimate son of the stablehand, Jamie has to leave Helwater because William's resemblance to him is beginning to show.
Lord John Grey does the best he can for Jamie — he and Isobel are going to raise William, so Jamie knows his son will always be loved, well cared for, and want for nothing. Plus, Lord John secures Jamie a pardon, which means he can return to Lallybroch without fearing for his family's safety.
Still, it's a gut-wrenching goodbye, for both Jamie and us viewers. But is this the last time Jamie will ever see his son? Read on to find out, but be warned of spoilers from the books, so stop reading if you don't want to know.
The short answer to if Jamie will ever see his son again is yes, but the long answer is that it is going to be a few years before that happens.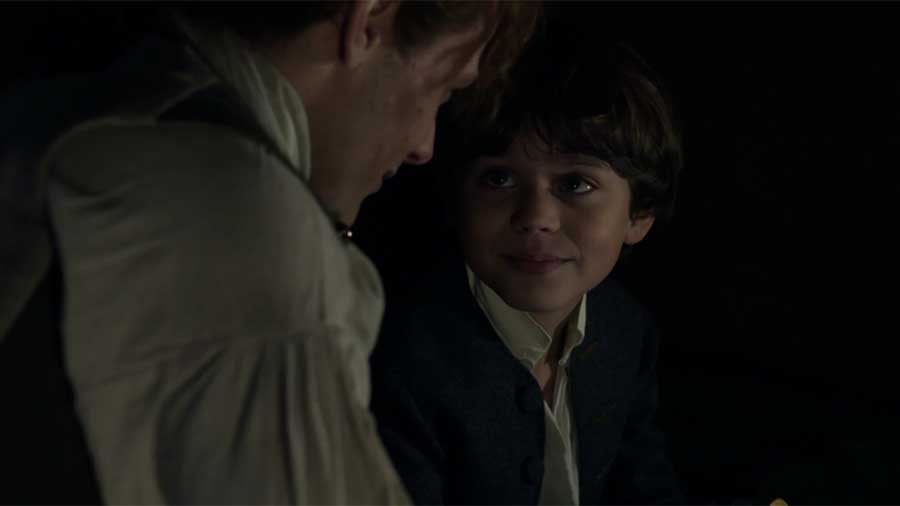 In book four, Drums of Autumn, Jamie and Claire have settled in America on their own little plot of land they dub "Fraser's Ridge." In 1768, when William is 10 years old, he and Lord John visit the Frasers while on their way to Isobel's estate in Virginia (Isobel has died of flux at this point). While there, John is laid up with measles, so while Claire works to heal him, Jamie and William get to have a little father-son bonding time, though William still does not know that Jamie is his father.
Then, in book six, A Breath of Snow and Ashes, William meets his half-sister, Brianna, though he doesn't know who she is . . . but she knows he is her half-brother. At the time, it is 1776 and William is preparing to fight for the British in the Revolutionary War. Book seven, An Echo in the Bone, then picks up with William, now age 18, as part of the British army. It jumps back just a few months in time to show him meeting Brianna from his perspective, and then it follows William throughout his time in the war, from 1776 to 1778, when William finally meets Jamie and realizes the truth behind his paternity because the resemblance between them is so strong now that William is a grown man.
It isn't until book eight, Written in My Own Heart's Blood, that Jamie and William finally have an honest conversation about their relationship, but as to just where William might fit into the Fraser clan (if at all, because he doesn't really consider Jamie his father), that remains to be seen as of yet in the books.
Got it?
To summarize, William may appear in season four of Outlander because maintaining Lord John and William's relationship with Claire and Jamie is important to the overall story. But then we won't really see him again until maybe the end of season six, but more likely season seven, if the show is still going (fingers crossed).