Joan Rivers's Best One-Liners
25 Outrageous One-Liners That Prove Joan Rivers Will Live On Forever
If you watched the Joan Rivers documentary, A Piece of Work, you know that the late legend kept drawers of old jokes. The celebrated comedian, who passed away Thursday at 81, was a groundbreaking stand-up and late-night mainstay for years, and her one-liners were some of the best in the business. Rivers wasn't afraid of making controversial jokes, nor did she shy away from making fun of herself. She was a true legend and one who will be missed. Remember her with some of her most-infamous one-liners, and never be afraid to laugh at yourself.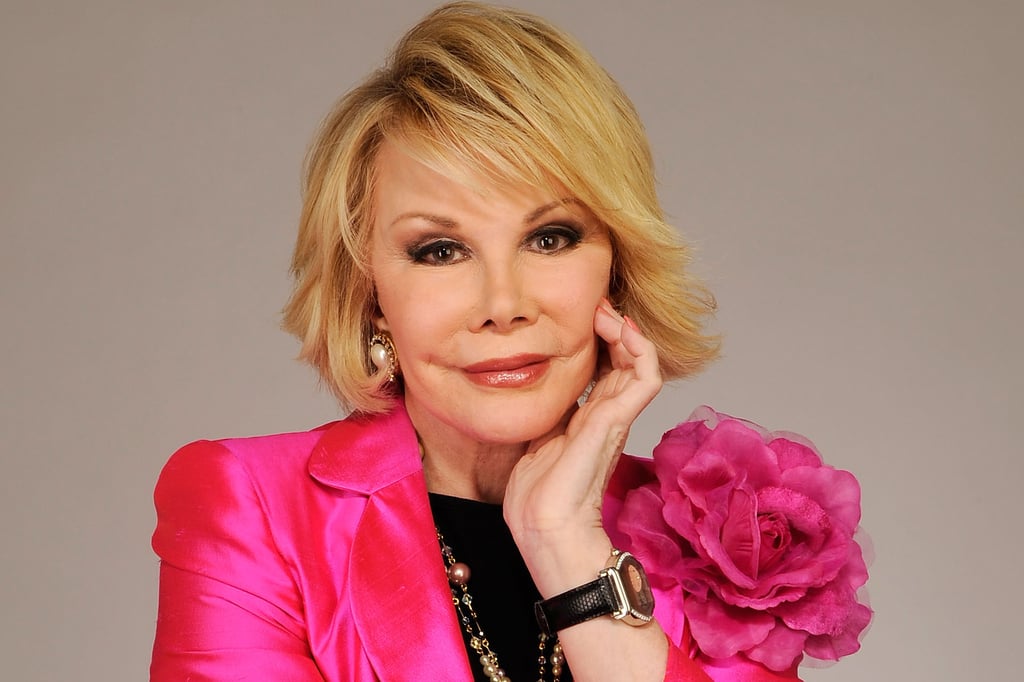 "I hate thin people. 'Oh, does the tampon make me look fat?'"
"I have no sex appeal; if my husband didn't toss and turn, we'd never have had the kid."
"My face has been tucked in more times than a bedsheet at the Holiday Inn."
"She's so fat she's my two best friends."
"I now consider it a good day when I don't step on my boobs."
"I must admit I am nervous about getting Alzheimer's. Once it hits, I might tell my best joke and never know it."
"I wish I had a twin so I could know what I'd look like without plastic surgery."
"Elizabeth Taylor has more chins than the Chinese telephone directory."
"My best birth control now is just to leave the lights on."
"I've had so much plastic surgery; when I die they will donate my body to Tupperware."
"If you don't want gays in the military, make the uniforms ugly."
"I had a Jewish delivery; they knock you out with the first pain; they wake you up when the hairdresser shows."
"Grandchildren can be so f*cking annoying. How many times can you go, 'And the cow goes moo and the pig goes oink'? It's like talking to a supermodel."
"I don't exercise. If God had wanted me to bend over, he would have put diamonds on the floor."
"At my funeral, I want Meryl Streep crying in five different accents."
"Never be afraid to laugh at yourself. After all, you could be missing out on the joke of the century."
"People say that money is not the key to happiness, but I always figured if you have enough money, you can have a key made."
"The fun of working on the road means stealing from hotels. I've been doing it for so long I have a set of towels from the ark."
"Thank god we're living in a country where the sky's the limit, the stores are open late, and you can shop in bed thanks to television."
"I'm no cook. When I want lemon on chicken, I spray it with Pledge."
"A child can be taught not to do certain things, such as touch a hot stove, pull lamps off of tables, and wake Mommy before noon."
"You know you're getting old when you buy a sexy sheer nightgown and don't know anyone who can see through it."
"The first time I see a jogger smiling, I'll consider it."
"When a man has a birthday, he takes a day off. When a woman has a birthday, she takes at least three years off."
"I hate housework. You make the beds, you do the dishes, and six months later, you have to start all over again."