The Leftovers Premiere Recap
The 5 Creepiest Scenes From The Leftovers Premiere
Those who have read Tom Perrotta's haunting book, The Leftovers (myself included), probably anticipated that HBO's adaptation would be just as bizarre. However, I definitely didn't expect the events from the book to be even creepier when translated onto the small screen. The show, which takes place three years after a large portion of the Earth's population mysteriously vanishes into thin air, premiered this week and is off to an engaging and mysterious start — thanks in part to leading man Justin Theroux. There are enough moments in the premiere alone to make me gasp, look away, and gag just a little. Take a look to see if you agree.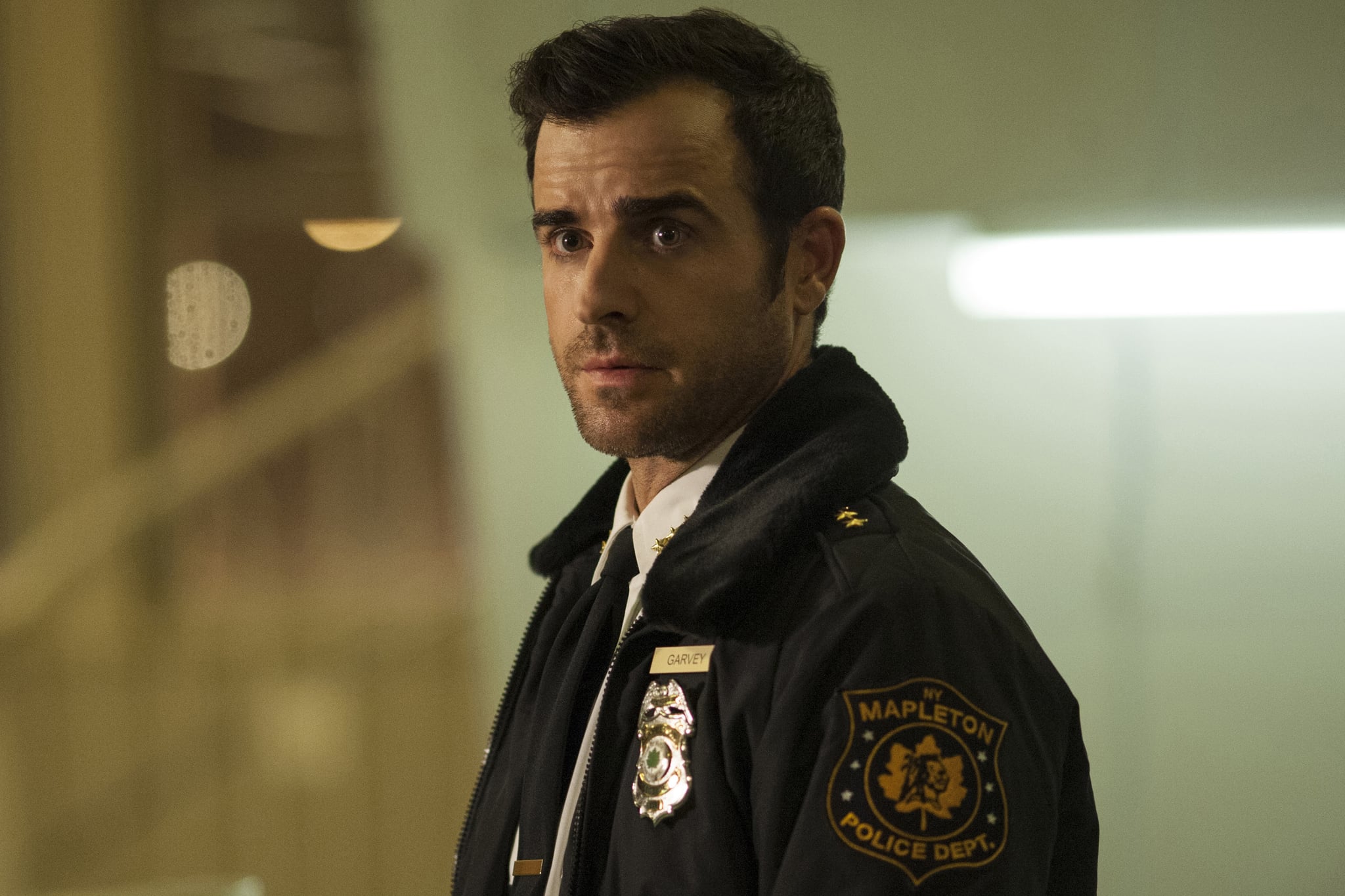 When Dean shoots the dog. Main character Kevin (Justin Theroux) is going for a nice jog when he sees a stray dog in his path. It's a really humanizing moment, until random guy Dean (Michael Gaston) just shoots the dog in the head. Like, blows a hole in his head. Way to start this show on the grossest note possible, HBO.
When Jill chokes her friend. Kevin's daughter Jill (Margaret Qualley) goes to a party and plays an extreme game of spin-the-bottle, and her "assignment" is to choke her friend . . . while he masturbates. It's so icky to watch, especially since they're both just in high school, and definitely something I wish I could un-see.
The cigarette stalkers. This is a part of the book that's way weirder to actually see. While cop Kevin is serving and protecting, his wife Laurie (Amy Brenneman) has taken up residence with the Guilty Remnant, the cult-like group of people who have taken a vow of silence. Their primary purpose (so far) is to make people who are trying to get on with their lives remember those who disappeared. They dress in all white, chain-smoke cigarettes, and just stare at people. Just the vision of Laurie and her partner standing across the street from Meg (Liv Tyler)'s house is enough to give me chills.
When Wayne threatens Tom. Kevin's son Tom (Chris Zylka) is running with a strange crowd, and part of his job is literally driving people to see "Holy" Wayne (Paterson Joseph). Who this guy is and why people seem to worship him, I'm not sure. What we do know is that Wayne wants Tom to stay away from Christine (Annie Q.), one of the girls on his property. This scene is just creepy enough to be effective.
The final scene. Kevin encounters a deer on his way home at the end of the episode and it's beautiful, until a pack of rabid dogs viciously attack it — as in, they descend and tear it apart. While Kevin had been horrified at the prospect of shooting a dog just the day before, he barely hesitates when Dean motions for him to pick up his own gun and start shooting. It's a really powerful commentary on the world they're now living in and how quickly things can change.
What did you think of the premiere?