Maggie Grace and Jason Ritter Interview For About Alex
Maggie Grace and Jason Ritter Have a Lot of Feelings About Game of Thrones
Maggie Grace and Jason Ritter's characters, Siri and Ben, have a complicated relationship in their new film About Alex (read our review), but in real life, they are the best of friends. When we were chatting with Grace at the Tribeca Film Festival, Ritter couldn't help but sneak in, too — even though he and his costar Max Greenfield had already shared some embarrassing stories with us. The duo explained the whole cast's dynamic — including how Jane Levy and Aubrey Plaza bunked up because one of them was scared of ghosts — and revealed some heartrending behind-the-scenes moments that were left on the cutting-room floor. And if you haven't seen the first season of Game of Thrones, be forewarned: Grace spills a major character death that Liam Neeson actually ruined for her a long time ago.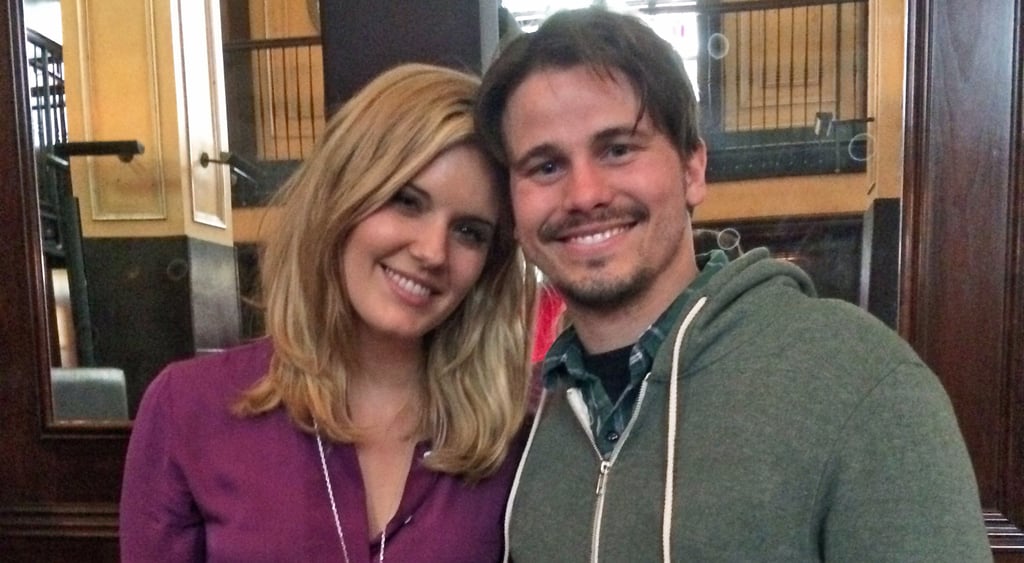 Source: Alyse Whitney
POPSUGAR: The chemistry in this film among the whole ensemble is fantastic. Did the camaraderie come in a natural way?
Maggie Grace: I think so. There was a really cohesive, holistic feeling and just this lovely group of really unselfish people that Jesse [Zwick] put together really well. Everyone was laid-back, funny, and able to laugh at the absurdity of situations. Everyone was there because they wanted to be. No one's getting rich off this. So everyone was game-on and sleeves rolled up and happy to be there every day. It was nice! No trailers and no fussing.
PS: And this was a short shoot. How long did you have to film the whole movie?
MG: The whole movie was like a month. Four weeks. We were in an abandoned ski chalet.
PS: Was it like camping up in the Catskills, or did you have a little comfort, too?
MG: Yeah, well Jane [Levy] got really scared the one night so she had to move in with Aubrey [Plaza].
Jason Ritter: Well, she came to my house the first night.
MG: She has a ghost issue.
JR: She knew that I would still be awake playing video games.
PS: Now that you're here, Jason, one of the most poignant scenes for me was when your characters connected. It was very physically and emotionally raw. Did you prepare for that together?
JR: The way I see it is that there are two people who are really lost in that moment. And for Siri, it's like you see someone and you want to help them and you want to heal them, then you both feel broken. We talked a lot about that scene and we weighed it a bunch of different ways that day, too. It was interesting to see the one they chose.
MG: To be honest, I don't think all of the actors even agree on the backstory around that. Because there's different versions of the script, frankly. There was an earlier version that was different, that characterized that triangle very differently.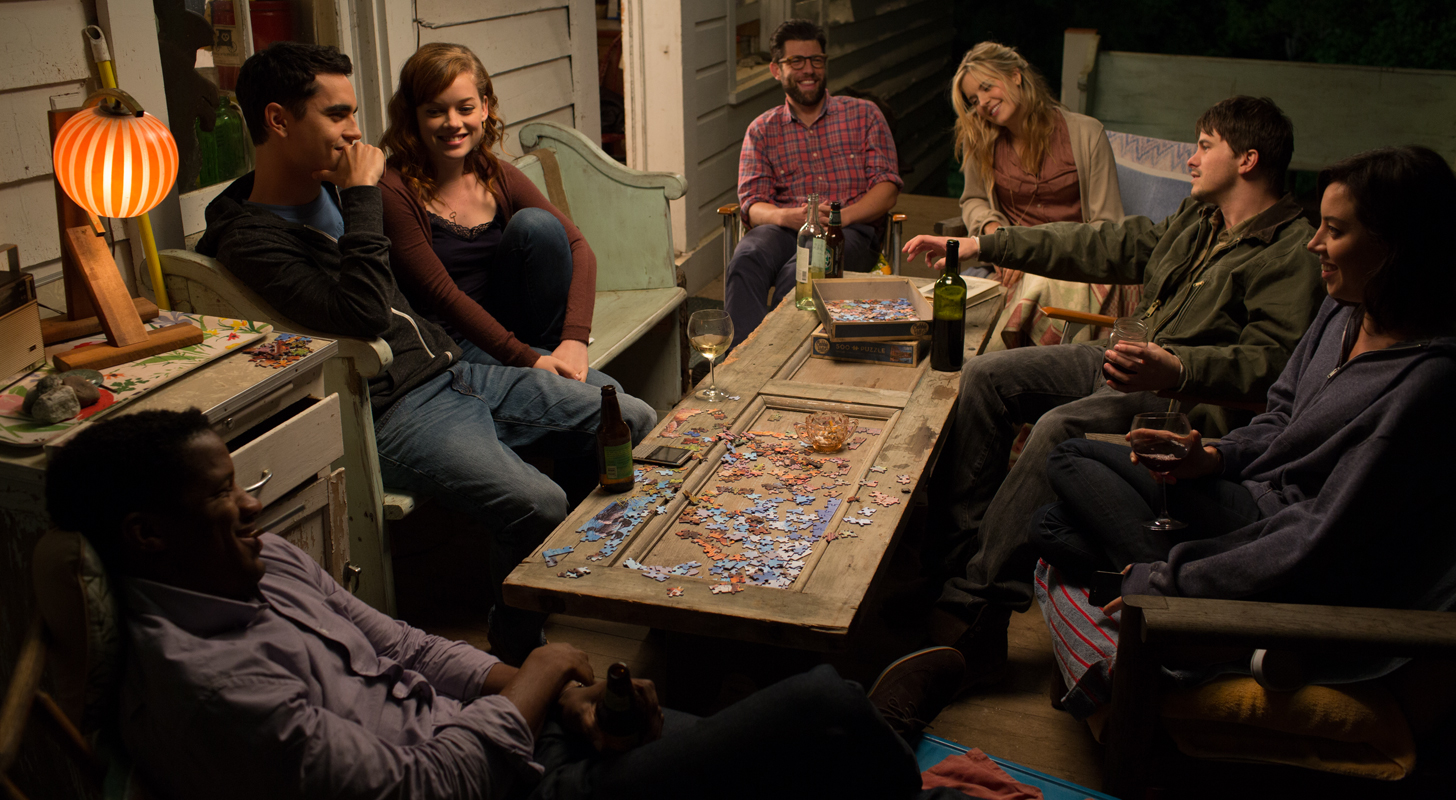 Source: The Bedford Falls Company
PS: Do you think that you will gravitate more to TV or film now? Jason, Jesse actually told me a story about how he was the one to write Sarah and Mark's breakup on Parenthood. I cursed him for it.
JR: I cursed him for it, too. But yeah, I would love to do something. I love working in TV a lot. To me, it almost doesn't matter what the medium is. First of all, because there's not as much as a difference [between TV and movies].
MG: It's becoming blurred.
JR: Yeah, it's becoming blurred. It's not the TV versus movie stigma or weird thing.
MG: What I love most now is that they are actually doing the series pickup as a schedule to what suits the story. Like they'll do Sherlock for three episodes because that's what the story supports. There's an interesting thing happening right now. I think television is one of the most interesting places to work only because when film started out in the '20s and '30s, people didn't see that many. They couldn't afford to, and not that many came to their town, so they'd be really impressed, like, "It's amazing! Wow, it cost a dime, and it's amazing!" And now I think we're so jaded and we're so one step ahead of the game. You have these really sophisticated filmgoers that have seen hundreds and hundreds of films, many times over. And so this whole Joseph Campbell hero's journey story structure? We know the gig's up. We know the hero's gotta fail before he's going to succeed. We get it. But then in television, you can chop Sean Bean's head off — and nobody sees it coming.
JR: What?! I haven't gotten there! [Laughs] Just kidding.
MG: Sorry, Game of Thrones spoiler. Liam Neeson did that to me. He was like, "Oh yeah, when they chopped his head off," and I was like, "WHAT? I hate you!"
JR: I clicked a link on a website that was like "Red Wedding," and I was like ooh, click! Bad idea.
MG: I actually do have a pilot, though. It's called the Untitled John Cusack Project right now. We need a title. We just wrapped a couple days ago. Serialized drama, very character driven, and dark and smart and hopefully it will stay that way. So we'll see.
PS: When can we expect you two to team up again? You have We'll Never Have Paris coming up.
JR: Yeah, we did that together!
MG: I only do Jason Ritter movies. That's my new career track. Two in a row.
PS: Can you tell us a little bit about how your characters interact in the movie?
MG: Actually, we don't.
JR: I come in and out. I sort of dip in that movie. Maggie is the leading lady, the star. I have a couple scenes. But that's a really funny, beautiful movie. I liked it a lot.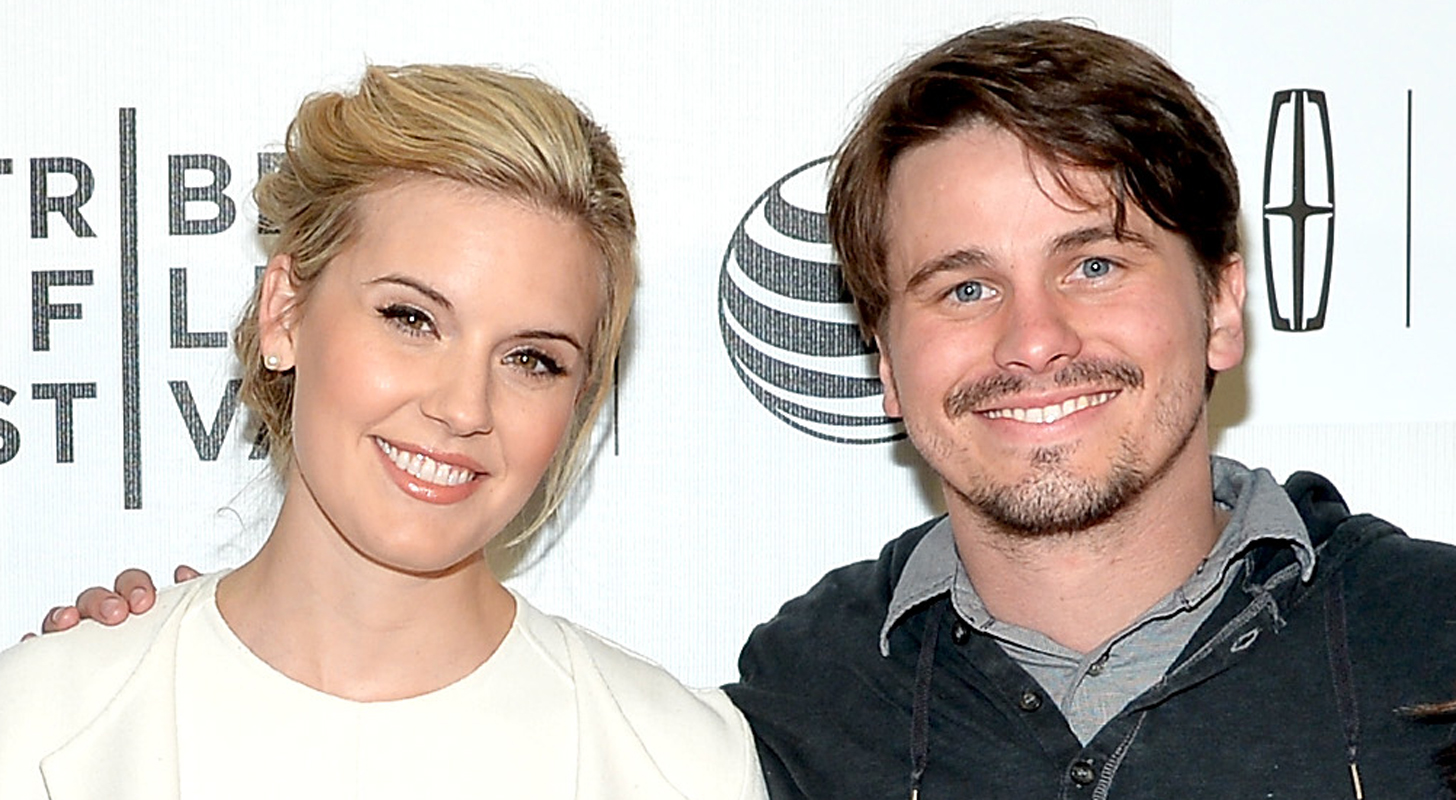 Source: Getty / Mike Coppola
PS: Since this was set in your characters' college years, do you have any embarrassing stories about what you did in the '90s?
MG: Well, I personally brought the criss-cross part trend to Worthington Christian High School. That was a low point in my personal style. Criss-cross, like a diagonal, zig-zag part. I brought that. I scaled that sh*t.
PS: You could bring that back.
MG: Oh yeah, I was also really into velour sweater sets.
PS: Does it say anything on the butt, like a Juicy sweatsuit?
MG: Oh god, no. Well we weren't allowed to wear sweatsuits.
PS: There was also a memorable dance scene in the film. What type of song comes on and you just cannot stop dancing? Jason said dubstep . . .
MG: Dubstep is a little negative for me but love-step? Jason Ritter can really rock it.
JR: I do — I really like love-step.
MG: "Come on Eileen," too, also does it for me for some reason. "The Weight" by The Band is a song with gratitude. I can't help but sway to that, though it's not really a dance-y song. Certain Billy Joel — I mean, old stuff. And unfortunately "Thrift Shop" by Macklemore. It just makes me damn happy.
PS: What are you supposed to do? It's not like a song that you're supposed to cry to, like "Same Love."
JR: Exactly. Oh, god, that's a beautiful song.
MG: I'm like an uptight white person cliche right now. [Laughs]