Men in Black International Entertainment Weekly Cover 2019
6 Otherworldly New Tidbits About Men in Black International, Straight From the Stars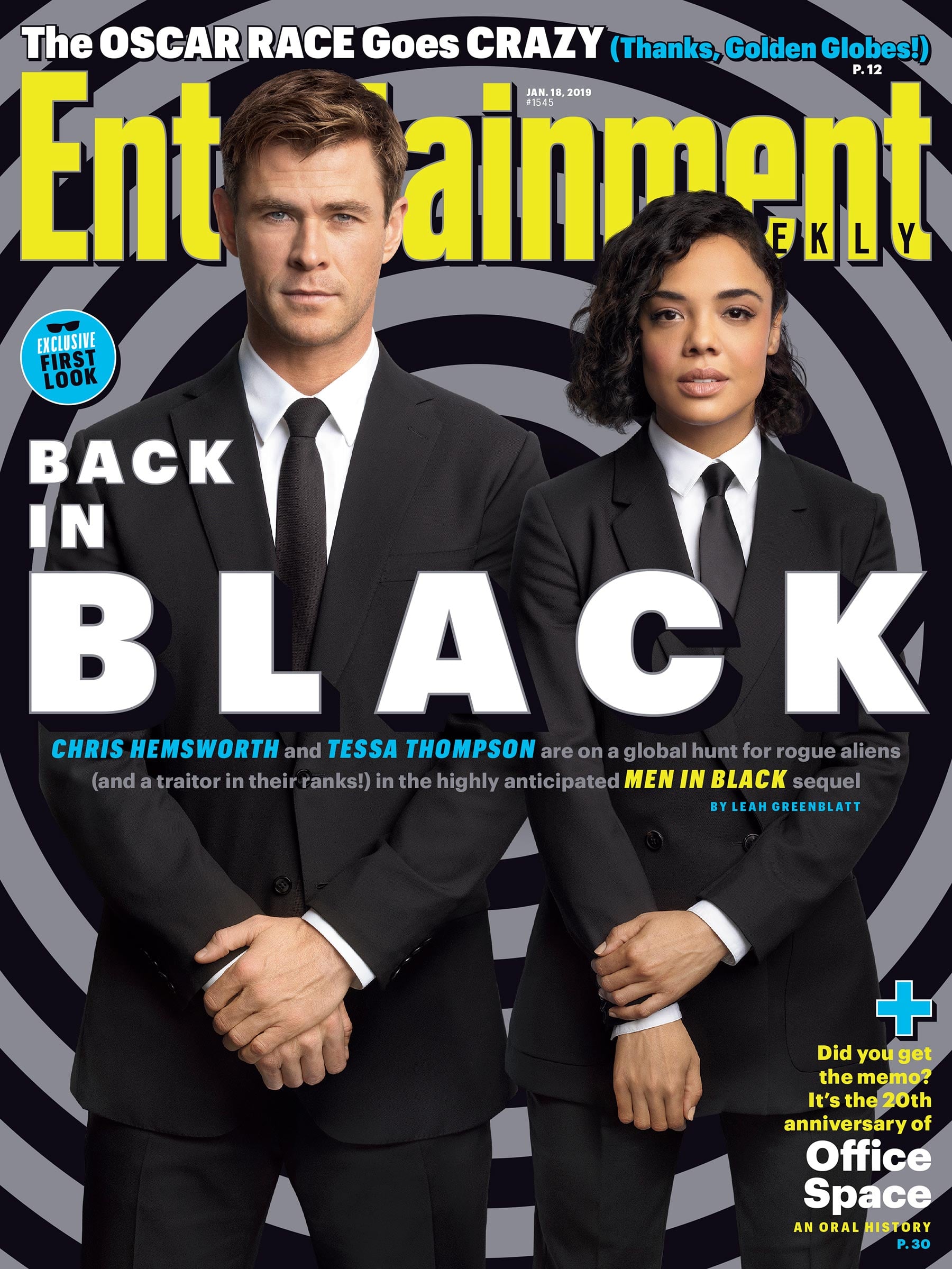 Anticipation is building for the all-new Men In Black International, which already boasts an incredible cast and a jam-packed first trailer. Now, thanks to Entertainment Weekly we're getting even more exciting tidbits about the film, which is kind of a sequel and a reboot all rolled into one. "[It's] a sort of reinvention, an opening up of the original franchise that aesthetically is a lot different," star Chris Hemsworth said in the cover story. "Like the geography of this one, we're not just in New York — we're in Istanbul, Italy, London."
So, what else have we learned from this piece? As it turns out, it's a mini treasure trove of hints as to what we can expect when the film hits theaters on June 14. Buried in the text are little factoids about the alien critters we'll be meeting, a new cast member, and some hilarious quotes about Hemsworth's difficulty breaking out of his superhuman Thor mindset for the film's stunts. Let's break down the coolest new things that we've learned.
The film will attempt to capture a different era. Production designer Charles Wood noted that the original films alluded strongly to a 1960s vibe, but this time around it's different. "We're actually taking it back in time and saying that International exists in many cities around the world, and maybe even started a century ago."
Tessa Thompson is having a BLAST as the first "Woman in Black." "I think you do have the chance inside all of this escapism to say something, and make a movie that has heart and that has satire and that holds up a mirror to our stuff," she told EW. "I think that's possible, without preaching."
Chris Hemsworth was kind of stuck in Thor mode. "Thor's stunts are wildly complicated, but it feels like an atomic bomb goes off with each of those [hammer] hits. Everything is sort of magnified to a level that is so nonhuman. Whereas this, we have to keep grounding it," Hemsworth revealed in the story. "There's always a part of it where I'm like, 'Can I do a flip or just sort of leap from this building to that one?' and they're like, 'Nah, humans don't do that sort of thing,'" he said with a laugh. "So they have to rein me in occasionally."
Rebecca Ferguson is in the film as a "seductive alien" named Riza. Ferguson has quite the impressive resumé, but is perhaps best known for her role in The Greatest Showman. This role is really outside her box. Her character reportedly has "Saturn-ringed hair and third arm," and "would look right at home in Beetlejuice's waiting room."
Kumail Nanjiani's "new alien sidekick" character, Pawny, comes with his own baggage. "He's the last survivor of an alien race that had been hiding out on Earth disguised as a chess set," Nanjiani revealed, "and he has some major self-esteem issues."
The "Les Twins," Laurent and Larry Bourgeois, contributed with some wildly acrobatic fight scenes. "The twins are out-of-this-world incredible, amazing," Hemsworth gushed. "It's like some sort of high-speed, very postproduction altered state." One scene, set on a busy London street, reportedly required wirework because of its complexity and supernatural demands.